2,168 slov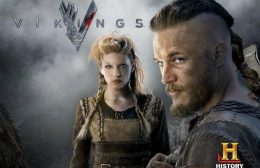 English original here
Rozesmutněn nad ztrátou Perníkového táty (Breaking Bad) jsem několik let hledal seriál, kterým bych ho dokázal nahradit. Bez úspěchu. Čas od času jsem zkusil pár epizod nějaké série, jen abych znovu a znovu na vlastní kůži pocítil hloubku močálu, do něhož jsme zapadli. Domek z karet, American Horror Story, Pravá krev a ano, i Upíří deníky – vyzkoušel jsem všechno. Výsledek byl vždy stejný: někdy v průběhu třetího nebo čtvrtého dílu jsem se musel sám sebe zeptat: "Proč se na tu šmíru vlastně dívám?" Nezklamal snad jen Volejte Saulovi, ten ale tvůrci dávkují velice skoupě a beztak je to jen matný odlesk Perníkového táty.
Když jsem si na to v rozhovoru s jedním mým pohanským přítelem postěžoval, navrhnul mi zkusit Vikingy z produkce History Channel. "Je to skvělé!" tvrdil. "V prvním díle se objeví Ódin." Pro staříky, kteří si pořád ještě myslí, že History Channel vysílá výhradně dokumenty (zpravidla o Hitlerovi, díky čemuž si ve své době vysloužil přezdívku "Hitlerův kanál"), bychom měli objasnit, že se tento program vydal podobnou cestou jako "umění" (arts) v A&E (někdejší kanál "Arts and Entertainment" /Umění a zábava/), tedy míň "A" a místo něj samá "E". Vikingové jsou historický seriál zachycující dobrodružství Ragnara Lothbroka, hrdiny islandských ság, s velkou pravděpodobností skutečné historické postavy, která žila v 9. století v Dánsku.
Než jsem do Vikingů dostal, chvíli mi to trvalo. Pustil jsem si první epizodu a ano, byl tam: Ódin, jak brázdí bitevní pole a hledá tam padlé válečníky. Sledujeme ho očima našeho hrdiny Ragnara, a tak není jasné, zda je přítomen skutečně, nebo jen v jeho představivosti. Musel jsem uznat, že tento úvod vzbudil můj zájem, celá věc však bohužel rychle nabrala sestupnou trajektorii. V jedné scéně například odsuzuje místní jarl vraha k trestu smrti stětím sekerou. Vikingové však nic takového nepraktikovali – vrahy posílali do vyhnanství ("mimo zákon"). To se nikdo neobtěžoval naťukat do Googlu, jak Vikingové trestali zločince? Nepřizvali si snad technické poradce?
A mělo být ještě mnohem hůř. Hlavní záporákem (první řady) je jarl Haraldson (Gabriel Byrne), paranoik který vidí spiknutí a úklady v každém stínu. Jeho ženou je přitažlivá a potměšilá Siggy (Jessalyn Gilsigová), jež svého muže ponouká do stále pošetilejších podniků. Aby odhalil možnou neloajalitu podřízeného, vyzve jarl cizího muže, aby se se Siggy vyspal. Když nešťastník po dlouhém váhání nabídku přijímá, nechává ho Haraldson zabít. V tomto momentě jsem se ocitl ve stejném místě, kam se velice záhy dostanu při sledování všech nových televizních počinů: někde, kde věci prostě nepůsobí správně. (Později vám názorně ukáži, proč se tato místa najdou v tolika současných programech.) Zažili jste při sledování nových seriálů totéž? Jaký měla ta scéna smysl? Měla snad jen ukázat, že Haraldson a jeho choť jsou nejen zlí, ale taky lehce šílení? Trochu diváky podráždit něčím lechtivým? S tímto problémem se tvůrci potýkají zas a znovu: jejich hrdinové opakovaně dělají věci nejen zvrácené, ale často při bližším zkoumání taky nesmyslné.
Po této podivné scéně (kdy jsem bojoval s nutkáním celý seriál odepsat) tedy divák od Haraldsona čeká nějaké spektakulární padoušství. To se však nakonec smrskne na odpor proti Ragnarovu plánu plavit se na západ a hledat tam nové země k plundrování, zčásti proto, že se bojí Raganarovy rostoucí popularity, zčásti proto, že je to obyčejný postarší opatrnický chlapík. Tento konflikt tak dodává první řadě hloubku a komplexitu pořadů Afterschool Specials na ABC, na kterých jsem v 70. letech vyrůstal. Když jarl Haraldson umírá a vládcem se stává Ragnar, je to úleva a seriál získává na zajímavosti.
Ragnara hraje australský model a herec Travis Fimmel, v zásadě přesvědčivě, i když místy trochu moc tlačí na pilu svým excentrickým projevem. V první řadě je ještě oddaným manželem a jeho žena Lagertha (Katheryn Winnicková) má v příběhu důležitou úlohu. Scénáristé si při psaní vypůjčili něco málo ze ság – a spoustu dalšího vymysleli. Podle očekávání se tak vyžívají ve vikinské tradici, plné vyobrazení drsných a silných Amazonek. Stejně tak očekávatelná je i skutečnost, že autoři berou jako fakt to, co bylo takřka s jistotou míněno jako fikce. Lagerthina postava je zajímavá, ale z manželovy přízně ji po první sezoně vytlačí Ragnarova nová láska Aslaug (Alyssa Sutherlandová), dcera Sigurda (zde se scénáristé přidržují ság a člověku nezbývá než si povzdechnout nad tím, proč tak nečinili častěji). Střihem, který zprvu působí ukvapeně, ale nakonec se ukazuje být umně využitým nástrojem vyprávění, se druhá série posouvá o několik let dopředu. Lagertha se vrací jako samostatný jarl a ještě zajímavější hrdinka. Spolu s ní se objevuje také Ragnarův syn Bjorn. Ten vypadá přinejmenším na dvacet, zatímco v první sezoně by mu málokdo hádal víc než deset. (Vikingové zjevně dospívají velice rychle. Určitě za to může skause.)
Odtud příběh pádí četnými zvraty a kotrmelci kupředu. Vikingové podnikají nájezdy. Uzavírají spojenectví. Porušují je. Bojují mezi sebou. Dochází k všemožným konfliktům a seriál tak je jen zřídkakdy předvídatelný. Tady však musím zmínit i jeden z jeho největších nedostatků: cenou za tuto nepředvídatelnost totiž často bývá až dech beroucí nahodilost a svévolnost příběhových zvratů. Pokračuje také problém s postavami, které dělají věci tak nějak mimo svůj charakter. Divák sice stojí o zajímavé a složité hrdiny, jejich činy však musejí dávat smysl. V případě Vikingů jako by tvůrci až příliš často nevěděli, jakého člověka se vlastně pokoušejí vykreslit. Postava tak začne jako dobrá, pak se z ní stane záporná, znovu dobrá a zase záporná (nebo naopak: od záporáka k hrdinovi, zase k záporákovi a opět k dobru).
Ragnarův bratr Rollo (Clive Standen) začíná jako jeho oddaný loajalista (přestože je zamilovaný do jeho ženy Lagerthy), časem se mu však bratr začne zajídat natolik, že ho (v dost neuvěřitelném příběhovém kotrmelci) zrazuje. Přesto se snadno dočkává odpuštění, projeví svou věrnost – jen aby se znovu zařadil mezi záporné postavy. Ještě patrnější je to po smrti jeho ženy Siggy. Jistě si vzpomínáte, že Siggy byla manželkou jarla Haraldsona. Když zemřel, vdala se za Rolla. Zprvu ji sledujeme jako zlovolnou a mocichtivou intrikánku, po sňatku s Rollem se náhle stává oddanou chotí, která pomáhá Aslaugh s péčí o děti, následně znovu pletichaří proti Ragnarovi a nakonec zachraňuje děti Aslaugh před utonutím a sama v ledové vodě umírá. Když totiž scénáristé nevědí, co by ještě s postavou provedli, jednoduše ji nechají umřít. V první řadě mají Ragnar s Lagerthou syna a dcerku. Po neúspěšných snahách udělat děvče jakkoliv zajímavým ji tvůrci nechávají podlehnout nákaze, která vesnici příhodně zbaví také řady dalších přebytečných postav.
Nejvíc to bije do očí při sledování osudu nebohého Athelstana (George Blagden), mnicha zajatého Ragnarem při vyplenění kláštera v Lindisfarne (ano, toho). Ragnar si ho přiváží s sebou do Dánska jako otroka. V jednom z – při sledování seriálu tak častých – momentů v duchu "není-možné-že-to-udělali-protože-to-působí-jako-pěst-na-oko" Ragnar zbožného Athelstana přizve k sobě a Lagerthě do manželské postele. Mnich odmítá. Znovu jsem bojoval s nutkáním seriál natrvalo odložit. Viking, který nechá otroka píchat vlastní ženu? Vážně? Člověk si musí znovu klást otázku, co se to tu vlastně děje. Chtěli scenáristé přidat (znovu) něco peprného? Nebo jen potřebovali další záminku odhalit už tak přehnaně odhalovanou horní polovinu Fimmelova těla? (Ten pracoval mj. jako model pro společnost Calvin Klein.)
Z Athelstana se ale k mému překvapení stal skutečně zajímavý hrdina. Zbožnému křesťanovi učarují Vikingové a jejich bohové natolik, až se nakonec podle všeho chystá zříct své víry. V jednom díle se Ragnar s rodinou i Athelstanem vydávají do velkého pohanského chrámu v Uppsale, kde sledujeme zdařilý pokus o znovuvytvoření možné podoby chrámu i s modlami Odina, Thóra, a Freyra a zlatým řetězem kolem celého posvátného místa. Byla to první epizoda, z níž jsem byl nadšený, i když ani zde se autorský tým neubránil problémům, jako byli zdeformovaní kněží à la 300. Jo, a všichni po obřadu baští halucinogenní houbičky a pořádají orgie.
Athelstanova rozpolcenost funguje, protože i my jsme cizinci hledící na vikinskou společnost z vnějšku a dokážeme se s ním tak ztotožnit. I my vězíme až po uši v žido-křesťanské šlichtě, rozervaní a přitahováni k pohanským způsobům předků. Mezi Ragnarem a Athelstanem se rozvine silné a bezmála dojemné přátelství. Zápletka se dále vystupňuje, když Athelstan začne mít živé vize a dokonce stigmata. Nakonec se tak rozhodně zříká pohanství a svůj nárameník, dar od Ragnara, odhazuje do vod zátoky. (Po zhlédnutí této scény jsem si konečně objednal prsten Grimfrostu.) Zrovna když se zápletka s Athelstanem konečně stává zajímavou, sprovozují ho scénáristé ze scény.
Když už jsme u těch stigmat, celá ta křesťanská věc je v seriálu pojatá jaksi podivně. Na jednu stranu jsou Vikingové dílem se silně protikřesťanskými prvky, což mě uráží. Aby nedošlo k omylu – jsem silně protikřesťansky smýšlející pohan. Považuji se však za inteligentního odpůrce křesťanství a perspektiva tvůrců seriálu samozřejmě není pohanská, ale liberální. Křesťané jsou tak vyobrazení jako popletení, pokrytečtí, krutí a především sexuálně prudérní. Ne že by to snad nebyla pravda – pro liberála je to však kompletní obrázek křesťanství, a tak jsou Vikingové v seriálu divocí, bezstarostní a sexuálně nevázaní. Ano, skutečně je to takto pitomě prvoplánové. Jak to vyjádřil výše zmíněný pohanský kamarád, liberálové nenávidí křesťany, protože ti měli standardy a pohany milují, protože podle jejich mínění žádné neměli. Na křesťany tak hledí skrz prsty kvůli jediné věci, která na nich je pozitivní.
Athelstanovi se stigmata začala objevovat poté, co je při jedné výpravě do Anglie zajat a coby odpadlík od víry odsouzen místní křesťanskou správou ve Wessexu k trestu smrti ukřižováním. Problém je samozřejmě v tom, že křesťané takové věci nedělali – to jiní je dělali jim. I v tomto případě se byl někdo moc líný podívat na Google nebo zavolat na katedru středověkých dějin. Máme tu co do činění s lidmi s velice mizerným vzděláním, což je ovšem širší problém současné televizní tvorby. Stojí za ní generace, která už vychodila školy, co nestály za nic. Hlavně elitní vzdělávací instituce, kde studovala spousta hollywoodských scénáristů. Historie tak v jejich chápání připomíná kreslený seriál. Křesťani – fuj! Upjatí, neumí šukat; přibíjejí lidi na kříž… nebo něco takového. Pohani – sláva! Ve velkém pojídají houbičky… možná; pijí a veselí se; souloží rádi, hodně a nejsou při tom vybíraví.
Athelstana před smrtí na kříži zachraňuje král Wessexu Ecbert (Linus Roache, který alespoň zprvu předvádí skvělý výkon). Ecbert se řadí mezi početné defilé postav s nenaplněným potenciálem. Nejdřív působí jako zajímavý muž: křesťanský král fascinovaný pohanstvím a se skrytou soukromou sbírkou antických artefaktů, tedy sympatická postava s jistou hloubkou. Scénáristy to však zdá se brzy znudilo, takže ho tahem pera předělali na nesympatického padoucha. V další ze scén, po jejichž zhlédnutí jsem měl chuť se na seriál vykašlat, Ecbert dohlíží na veřejné mrzačení své snachy, odhalené cizoložnice.
Athelstanova stigmata se otevírají a vize začínají až dlouho poté, co by se skutečné rány vyhojily, což podrývá protikřesťanské pozice tvůrců. Proč se tyto věci Athelstanovi dějí, pokud je křesťanství takový švindl, za jaký jej scénáristé zjevně považují? A dějí se vlastně Athelstanovi? Nebo je to všechno jenom v jeho hlavě? Skutečné odpovědi se nám nedostane, Athelstana totiž scénáristé zabíjejí. Jak to tedy máme celé chápat? Dost možná to bude celý smysl – nic z toho totiž smysl nedává.
Seriál vytvořila parta nedovzdělanců s hlavami plnými nedopečených polopravd a mýtů o historii a ještě menším povědomím o tom, jak udělat fungující drama. Člověk si je tak představuje v nějaké aseptické konferenční místnosti, jak vytváří show pomocí útržků nápadů a myšlenek zapsaných na popisovací tabuli a samolepící bločky: "Už vím, ať Ragnar nabídne Athelstanovi trojku!" "Mám nápad, ukažme, jak si hrabě Odo dopřává sadomaso!" (Další hluboce neuspokojivý vývoj postavy, který bude asi lépe dále nerozvádět.) Tato generace spisovatelů nám přinesla Ztracené, milí přátelé. Nepochybně tak všechny ty nekonečné nesmyslné krkolomné zvraty považují za nesmírně "chytré".
Autorský tým Vikingů je dokonalým ztělesněním lidí, před nimiž nás Paddy Chayefsky varoval ve filmu Televizní společnost (Network). V tomto snímku (v seznamu mých favoritů před ním stojí už jen Klub rváčů) říká William Holden o Faye Dunawayové: "Je z televizní generace, o životě se učila z Bugs Bunnyho". Víte, svého času psali seriály lidi, jejichž životní zkušenost se neomezovala na televizi. Dřívější scénáristé četli knížky, někdy si ušpinili ruce, přetrpěli velkou krizi 30. let a bojovali ve válkách. A taky studovali skutečné dějiny, ne politicky korektní karikaturu, které se tak dnes na univerzitách říká – a i tu učí profesoři, co se o životě učili od Bugs Bunnyho. Dnešní generace hollywoodských scénáristů – podobně jako jejich vrstevníci obecně – je znepokojivě a podivně odtržená od skutečných, autentických lidských emocí, bez povědomí o lidské psychice či naší minulosti, a proto naprosto netečná k jakýmkoliv pocitům posvátné úcty nebo úžasu.
Největší kompliment, jaký snad dokáži Vikingům složit, je postavit seriál nad Hru o trůny (která je pro mě svou tupostí a ubohostí jednoduše nedívatelná). Jak už jsem zmínil, dostal jsem k seriálu se zpožděním, a tak jsem dodíval teprve třetí řadu. Možná čtenáře překvapím přiznáním, že se podívám i na novější díly – přestože mě varovali, že si Ragnar najde čínskou milenku (muselo k tomu dojít: humanoidi zodpovědní za show přece nemohli snášet kompletně bělošské obsazení donekonečna.) Postava Ragnara mě fascinuje a touha vidět reprodukci (jakkoliv nedokonalou) vikinského života je příliš silná. Spokojím se tedy i s drobty. Kromě toho má čtvrtá řada Volejte Saulovi začít až na podzim.
Překladatel: Tomáš Kupka
Source: https://deliandiver.org/2018/01/serial-vikingove.html
Enjoyed this article?
Be the first to leave a tip in the jar!