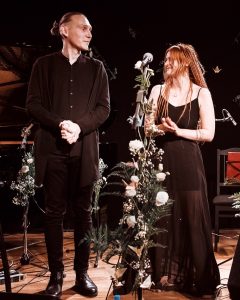 1,093 words
The mystery of human existence lies not in just staying alive, but in finding something to live for.
— Fyodor Dostoyevsky, The Brothers Karamazov (1880)
I first heard her name whispered over cocktails at the Decabrist bar on St. Isaac's Square in St. Petersburg. Some of my friends had been hanging out with sound engineers from the Assault and Battery 2 Studio in northwest London, where they had listened to early takes of Iamthemorning's track "Gerda," off their 2014 Belighted album:
Acquaintances whose taste and judgment I trusted reported that they had seen the flame-haired Marjana Semkina sing such beautiful lines as:
White light slowly becoming me
I can barely feel what I feel
White light on my skin,
My journey begins with
Dissolving in the air
They said that her partner Gleb Kolyadin, a dead ringer for a young Thranduil, the bad-tempered King of the Mirkwood elves in Tolkien's The Hobbit, was classically trained and rehearsed fastidiously at his keyboard. Over raised glasses of Tolstoy Tang, they were raving about the Russian duo's new release, Lighthouse (2016). They described it as a journey through mental illness inspired by the poetry of Sylvia Plath and the Bloomsbury Group's Virginia Woolf, and it had won Album of the Year at the progressive rock awards and included tracks such as "Libretto Horror":
I have myself ridden across the great Kazakhstan steppe and seen, at a mirage-like distance, the Baikanur Cosmodrome, where I was told Semkina's father had worked, and where she was brought up in poverty two thousand kilometers east of Moscow. I was both intrigued and magnetically drawn to her story: "A terrible climate. No rain. So much desert. No food. No money. No clothes."
Sinking into soft, red cushions in the Borsalino Bar in the Anglettere Hotel, watching car headlights throw prism spectrums across the frosted trees through the window, I switched on my iPod and began listening to a voice that was a curious mixture of Kate Bush and Tori Amos. The music was as fresh and revolutionary as Igor Stravinsky was when he wrote The Firebird, Petroushka, and The Rite of Spring – and it could potentially be just as sensational within the narrow sphere of the chamber progressive rock genre, if given half the airplay.
Suddenly, I found myself transported back to Kazan, on the banks of the Volga, walking the streets of the ancient Kremlin and looking up at the tiered tower of Soyembika, the blue-and-gold dome of the Annunciation Cathedral and the needle-pointed minarets of the Kul Sharif Mosque. Memories returned of drifting amongst Tartars in traditional tubeteika hats in the Koltso shopping markets, eating street food from stalls during the Karavan Festival on a warm May day. I chewed chak-chak doughnuts as I drove forty minutes out of the city in the company of a reluctant taxi driver to visit the serene Raifa monastery, near the small town of Bolgar, to see for myself the miracle-working icon of God's Mother of Georgia in the main shrine, and the church complex's unique library dedicated to Russian culture.
These locations would be very familiar to Semkina, who lived there after leaving Kazakhstan and began working with Kolyadin in 2010. Several years before, the young songstress won her "exceptional talent" visa so that she could fulfill her long-term ambitions to live somewhere near the seaside in Britain and continue to build her expanding repertoire in collaboration with musicians like King Crimson's drummer, Gavin Harrison, and Riverside's Mariusz Duda.
This is an alchemical combination that has now delivered Iamthemorning's most morbid and macabre concept album, The Bell, which is set in Victorian England and fuses rock and folk with Kolyadin's delicate and dramatic classical touches, underpinning Semkina's haunting vocals. Her pitch-perfect vocal chords delivering lines like, "No one seems to care that I break into millions of pieces." The album is a mixture of gothic and grand guignol. Semkina says it is all about human cruelty and rumbling pain, and gives a respectful nod to the influence of Shostakovich's song cycle, The Songs and Dances of Death, while simultaneously referencing freak shows, Anatomical Venus cadavers, serial killers, spousal abuse, and limp, pre-Raphaelite bodies lying breathlessly pale on moonlit riverbanks.
Kolyadin's cascading chords interweave dramatically with Semkina's seraphic voice in songs like "Freak Show":
It is a track that is ostensibly about the crowd's fascination with human abnormalities, such as the American midget Tom Thumb, whose funeral drew twenty thousand onlookers; Siamese twins like Chang and Eng Bunker; and Miss Rosina, born without arms and legs, who learned to crochet with her feet. In other words, the same sort of characters who populated Tod Browning's infamous and deeply unsettling 1932 movie, Freaks. Semkina hints that this is the same fascination we retain for watching obese, three-hundred-plus pound people on TV today. The lead singer's gallows humor is clearly displayed in live performances where she offers introductory comments such as, "Here's another song about a dead girl!" as they slip seamlessly into "Sleeping Beauty," a track about the Anatomical Venus, where she lifts the line from the children's nursery rhyme, "here comes a chopper to chop off your head."
The chanteuse goes on to use her Slavic intonation to cleverly bend a rhyme out of "hers" and "hearse" in "Six Feet." It's a tune inspired by the troubled, laudanum-infused relationship between Dante Gabriel Rossetti, the poet who founded the Pre-Raphaelite Brotherhood, and Elizabeth Siddal, the artist's model. The legend holds that Rossetti had some of his unpublished verse buried with Siddal, and later insisted that it be dug up, only to find that Siddal's coffin was full of golden hair.
Semkina's own take on the gory story is that Siddal was buried alive, which is the overall theme of The Bell: In Victorian England, it was a fad to be buried in "safety" coffins which were fitted with bells as a wave of paranoia swept across the country about the possibility of being mistakenly pronounced dead and waking to find oneself entombed in the oozy, worm-filled dark.
Which brings me back to Dostoevsky and a quote from his seminal novel, Crime and Punishment (1866):
The darker the night, the brighter the stars,
The deeper the grief, the closer is God! 
This band could only be Russian – a fact that Marjana Semkina acknowledges when she says, "I guess we are deeply rooted in our Russian heritage." It is a blessing in disguise, because in today's globalized and pre-packaged Western celebrity culture, such refined originality rarely – if ever – gets the recognition it deserves, and The Bell is an evocative masterpiece that deserves our attention.