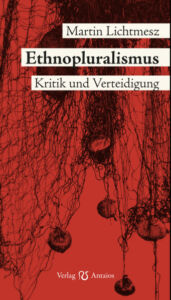 [1]106 words / 1:52:43
Greg Johnson is joined by Martin Lichtmesz and F. Roger Devlin to discuss Lichtmesz's book Ethnopluralismus: Kritik und Verteidigung (Ethnopuluralism: Critique and Defense). Topics include:
00:02:00 The meaning of ethnopluralism
00:08:30 Johann Gottfried von Herder [2]
00:24:00 Canada
00:30:00 Universalism
00:40:00 Globalism
00:45:00 Four types of ethnopluralism
00:55:00 Claude Lévi-Strauss
01:10:00 Imperialism
01:20:00 Leviathan and its Enemies
01:25:00 Final thoughts
01:31:00 Entropy questions
You can read F. Roger Devlin's review of Ethnopluralismus here [3].
You can read Martin Lichmesz's chapter on Herder in English here [4].
To listen in a player, click here [5]. To download, right-click the link and click "save as."
https://counter-currents.com/wp-content/uploads/2021/09/CCR20210905.mp3
[5]
*  *  *
Don't forget to sign up [6] for the weekly email Counter-Currents Newsletter for exclusive content, offers, and news.