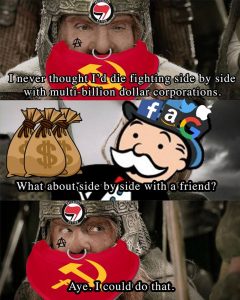 [1]175 words / 57:40
To listen in a player, click here [2]. To download the mp3, right-click here [2] and choose "save link as" or "save target as."
Greg, John, and Frodi reconvene the weekly podcast with a round table on recent events: our latest deplatforming, the Alt-Lite civil war, YouTube censorship, YouTube "victim" Caleb Cain, apostate Derek Black, legislative paths to roll back censorship and deplatforming, etc.
0:00: Introduction
0:13: Donations, Our 2019 Fundraiser, the Latest Deplatforming Attack
9:13: The Alt-Lite Civil War: Good riddance to bad rubbish (Caolan & George); too bad about Lauren Southern; we wish her a trad happy ending.
23:47: YouTube Wasn't Broken: Low-agency squish-head and aspiring liberal YouTuber Caleb Cain presents himself as a victim of YouTube's intellectual feast. Legacy Media mouthpieces froth in panic at too much uncensored debate.
24:57: An excursus on the psychology of apostates, e.g. Derek Black
29:33: Back to Caleb Cain
49:10: Greg outlines legislative paths to rollback corporate censorship.
Articles mentioned:
[give_form id="93964″]