2,043 words
Tommy Robinson's Armistice Day rally has come and gone. Fortunately, it was not as bad as I and a lot of people feared — but it was bad enough.
To recap, after a successful 100,000-person pro-Palestine protest in London in October, the organizers scheduled another, even larger protest for November 11. November 11 is Armistice Day in Britain, the anniversary of the end of the Great War ("on the 11th hour of the 11th day of the 11th month, the guns fell silent"). The Great War was a demographic catastrophe for Britain, and Armistice Day is for honoring the memory of the British who fell in that struggle.
Then, on November 5, controlled opposition Zionist shill Tommy Robinson got reinstated on Twitter/X and immediately announced a counter-protest. There were rumors that the demonstrators intended to vandalize the Cenotaph, a war memorial dedicated to the more than one million British who died in the world wars. There is some uncertainty as to where exactly the rumor came from, and it didn't make a lot of sense considering that the Cenotaph is not anywhere near where the demonstration was to take place. Nevertheless, Tommy accepted the rumor as fact and called on all British patriots to rally to the Cenotaph's defense on Armistice Day and protect it from the anti-Semitic, terrorist-sympathizing Islamists marching for Palestine.
The timing of Tommy's return was suspicious, and everyone with an IQ above room temperature said his counter-protest was a trap that would be used to shift media attention away from the protesting immigrants to the safe target of the "far Right." The event was unanimously disavowed by the entire dissident Right — but Tommy charged on.
The following are some of the headlines from major news outlets after 300,000 pro-Palestine demonstrators and maybe 200 Tommy Robinson supporters converged on London on the same day.
Politico: "Far-right thugs, football hooligans blamed for violence at London March."
Guardian: "Hundreds of thousands rally for Gaza in London as police arrest far-right protesters".
CNN: "300,000 join pro-Palestinian rally in London as scores of counter-protesters arrested."
New York Times: "Right-Wing Counter-protesters Clash with Police in London."
Robinson's supporters who showed up amounted to less than 1% of the number of pro-Palestine demonstrators — but all the headlines were about the former.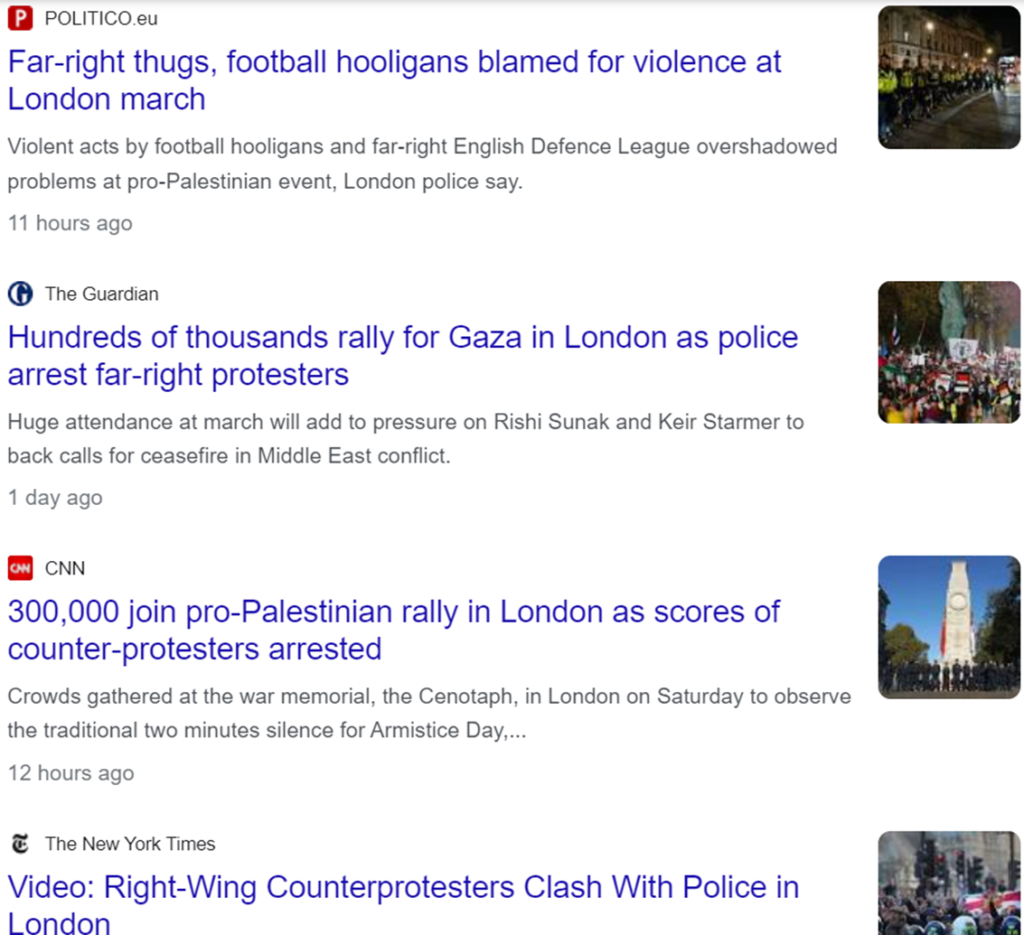 One of the reasons I don't like the idea of real-world events is that the margin for error is microscopic. For it to be a win, you can't have anything go wrong, as any nationalist event will always be defined in the media by its worst moment. One can give the greatest speech of all time, but if someone pulls a gun in the parking lot, that's going to be the headline. Planning can mitigate some of the risks, but there are always wild-card variables that you can never be sure of until you are there. What will the police do? How many antifa will show up? Or a totally random bystander could chimp out and start trouble.
On November 11 Tommy Robinson's mob opened the day by assaulting the police. Thus, he dug himself into a hole right at the outset. Then, when Team Robinson arrived at the Cenotaph, it was being cordoned off by police — so Tommy's crowd pushed through the officers. From there it didn't matter what happened for the rest of the day, as the media had their story. A three-second clip of Tommy supporters attacking the police was all they needed to run the narrative they had prepared.
TOMMY ROBINSON ZIONIST ALT-RIGHT FAIL TO CAUSE DISRUPTION ATTACK POLICE INSTEAD pic.twitter.com/DugMUfLwC7

— Sulaiman Ahmed (@ShaykhSulaiman) November 12, 2023
Hundreds of people turned out to central London led by far-right figure Tommy Robinson claiming they wanted to 'protect the Cenotaph' on Armistice Day – before violence broke out and those in attendance rained down missiles on Met Police officers. pic.twitter.com/5STt2b2tLK

— Martha (@MGonigle) November 11, 2023
The organiser , Suella Braverman gone into hiding and her far right dog handler Tommy Robinson escaped a Taxi

This is British politics today

— hazrat hussain (@hazrath57017729) November 11, 2023
While the two minutes' silence was marked respectfully and without incident on Whitehall, officers have faced aggression from counter protestors who are in the area in significant numbers.

The counter protestors are not one cohesive group. There are different groups moving away…

— Metropolitan Police (@metpoliceuk) November 11, 2023
After Tommy and his supporters managed to get into the Cenotaph, they held a respectful two minutes of silence and then things settled down, but the damage was done. Tommy did an hour of meet-and-greet before marching his followers into Chinatown and then all of a sudden escaping in a taxi. This was odd, since he ostensibly came to London to protect the Cenotaph, and yet he left the scene before the protesters had even finished assembling. In other words, Tommy called together some Islamophobic yobs and soccer hooligans under than banner of British patriotism and then let them loose in the middle of a pro-Muslim march. The excuse from the Tommy camp for his departure was that he was afraid that his presence would attract trouble and that he left to protect his supporters.
But things didn't end there, as there were further shenanigans when Tommy's supporters when some masked ne'er-do-wells began throwing things at the police.
Tommy Robinson runs away from the mob he incited… in a Pride taxi.

You couldn't make it up. pic.twitter.com/zLXdUlpL1Q

— Supertanskiii (@supertanskiii) November 11, 2023
The explanation from the Tommy camp was that these masked individuals were clearly bad actors as evidenced by the fact that they were wearing masks. But earlier in the day, Tommy himself had defended those of his supporters who were wearing masks by arguing that they feared getting fired and that some live in Muslim neighborhoods. This is fair enough, but afterwards they turned around and used the same thing in order to distance themselves from them.
https://t.co/c0dElSu7QG pic.twitter.com/YuMYdXJ375

— Tommy Robinson 🇬🇧 (@TRobinsonNewEra) November 11, 2023
Another attempt at damage control was that Tommy and his people are now saying that they deeply resent the media for referring to them as "counter-protestors" given that they were merely in London to pay their respects to the war dead at the Cenotaph. This is clearly an attempt to rewrite the narrative, since Tommy openly billed the event as a showdown with the pro-Palestinian demonstrators. The day before the event, Robinson tweeted a photo of himself getting a hair cut with the caption "Getting the Barnet cut , gotta look good for the 100,000 jihadist supporters who will be baying for my blood in our capital city tomorrow." The implication was that he — and presumably his supporters — would be going head-to-head with the pro-Palestine demonstrators. This ended up not happening, but he certainly encouraged that expectation.
Getting the Barnet cut , gotta look good for the 100,000 jihadist supporters who will be baying for my blood in our capital city tomorrow pic.twitter.com/S1yUC3aMfK

— Tommy Robinson 🇬🇧 (@TRobinsonNewEra) November 10, 2023
The London police did a good job of separating the Robinson supporters from the pro-Palestine protesters, although they had their own motives for doing so. The police arrested 82 Robinson fans in order "to prevent a breach of the peace." Many headlines will mention that 120-something people were arrested on Saturday, but the fact is that 82 of them hadn't done anything wrong and yet were arrested for what they might have done.
There is a remembrance event underway at the Cenotaph. Officers have prevented those not involved getting onto Whitehall so it can take place without disruption, as we committed.

They have faced unacceptable violence, including people throwing missiles and a metal barrier.… pic.twitter.com/tHnnKyRrKL

— Metropolitan Police (@metpoliceuk) November 11, 2023
Luckily for Robinson, in Elon-era Twitter/X nationalists are more capable of countering mainstream media narratives. Even when the media has a winning hand, they cannot help but overplay it by lying. Team Tommy has been critiquing the news stories about the event and pointing out all the lies and distortions, such as the fact that some of them referred to Tommy as the leader of the English Defence League (EDL) when he had in fact left it in 2015, and that some outlets had accused Tommy himself of throwing something at the police when it was actually one of his supporters. But mostly what Team Tommy has been doing is posting videos of mischief by the pro-Palestine demonstrators and asking why the media isn't showing that, despite the fact that the latter has been doing things that are far worse.
Late on Saturday, British Prime Minister Rishi Sunak issued a statement on the day's events which potentially foreshadows the establishment's response:
I condemn the violent, wholly unacceptable scenes we have seen today from the EDL and associated groups and Hamas sympathisers attending the National March for Palestine. The despicable actions of a minority of people undermine those who have chosen to express their view peacefully.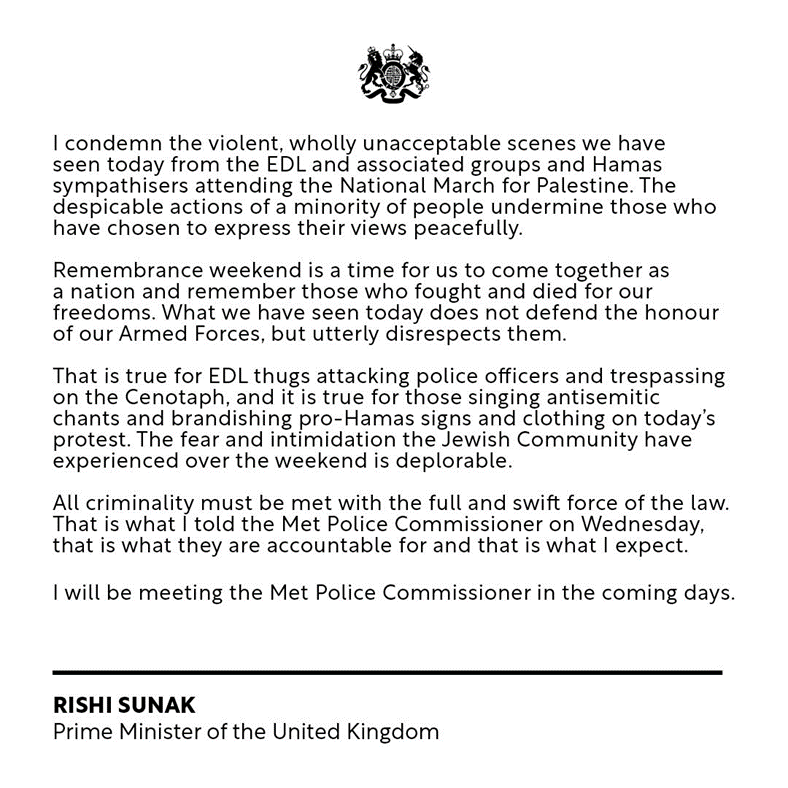 Sunak conspicuously referred to the pro-Palestine demonstrators as "Hamas sympathizers" for obvious propaganda reasons. He was also setting up a moral equivalency between the pro-Palestinian demonstrators and the "far Right." I should have anticipated that move, but I did not. I had assumed that there would be a faceoff between the Tommy yobs and the Palestine supporters, yet the police prevented it. The reason is now clear: Had the two sides actually fought, those watching at home might have chosen a side. Tommy's side might have seemed sympathetic to Zionists and Islamophobes who hate Muslims, and those who support the Palestinians might have been sympathetic to those who hate the" far Right." But now they appear to be morally equivalent. Tommy yobs and Palestine supporters are like the Sharks and the Jets: different races, but the same thugs.
Sunak continued:
Remembrance weekend is a time for us to come together as a nation and remember those who fought and died for our freedoms. What we have seen today does not defend the honour of our Armed Forces, but utterly disrespects them.
Sunak's tactic is clear: Tommy Robinson supporters claim to care about the war dead, but they actually dishonored them with their behavior. The establishment is thus the real nationalists. More Sunak:
That is true for EDL thugs attacking police officers and trespassing on the Cenotaph, and it is true for those singing antisemitic chants and brandishing pro-Hamas signs and clothing on today's protest. The fear and intimidation the Jewish community have experienced over the weekend is deplorable.
This was where I started to become alarmed. Sunak mentions "EDL thugs" attacking police officers — and trespassing on the Cenotaph. This makes me wonder if the British establishment is planning to go full scorched earth à la January 6 and arrest not just violent demonstrators, but also throw the book at them merely for trespassing.
Sunak's next statement did not alleviate that worry.
All criminality must be met with the full and swift force of the law. That is what I told the Met Police Commissioner on Wednesday, that is what they are accountable for and that is what I expect. I will be meeting the Met Police Commissioner in the coming days.
All criminality will be punished. Taken at face value, that would include trespassing. It could be hyperbole or political bluster, but if you take him at his word, it is a commitment to a harsh response.
Thus, in the end Tommy Robinson managed to kill two birds — the "far Right" and the pro-Palestine movement — with one stone. Granted, the pro-Palestine march had its optical blunders. For example, there is a viral video going around of a Muslim ranting about Hitler having had the right idea on how to deal with the Jews:
"Hitler was right"

More from the "peaceful march" for Palestine in London today pic.twitter.com/N8d4UNxO23

— Hen Mazzig (@HenMazzig) November 11, 2023
The day was a defeat for nationalism, and I have a feeling that the honeymoon for the pro-Palestine movement is coming to a close soon as well. But was the day a win for Tommy? He is certainly back in the headlines, although his support is not what it used to be. 200 people is a paltry turnout – although of course it was also short notice. Whether or not his audience is still there, as long as Tommy Robinson remains useful to the establishment as a boogeyman, we will keep seeing him.
Enjoyed this article?
Be the first to leave a tip in the jar!
* * *
Like all journals of dissident ideas, Counter-Currents depends on the support of readers like you. Help us compete with the censors of the Left and the violent accelerationists of the Right with a donation today. (The easiest way to help is with an e-check donation. All you need is your checkbook.)
For other ways to donate, click here.