The Counter-Currents 2023 Fundraiser
Choose Victory
Alex Graham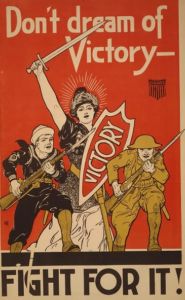 862 words
Like all journals of dissident ideas, Counter-Currents depends on the support of our readers. So far this year, we've raised $85,795.40, or 28.6% of our $300,000 goal. I want to thank everyone who has donated so far. (Please donate here!) And now, Alex Graham offers a few words on why victory is only possible if we truly believe in it — which means ignoring the doomsayers and doing what it takes to win.
*  *  *
The concept of "positive thinking" is often bandied about in self-help circles. Its proponents allege that thinking "positive" thoughts can manifest in professional success and personal fulfillment. Critics retort that positive thinking breeds complacency and willful blindness toward reality.
My own position is somewhere in between the two. The reckless application of "positive" platitudes as a panacea for every ill is misguided. Indeed, it can worsen one's mental state, as one is perpetually haunted by the awareness of the chasm between reality — or one's perception of it — and the perfect fantasy one envisions. The avoidance of problems and the repression of negative thoughts and emotions does not eliminate them; it simply causes them to fester and explode in one's face.
One must therefore acknowledge reality and face it head-on. At the same time, all other things being equal, the manner in which we interpret reality has the power to shape our reality. Certain perspectives are more conducive to success and flourishing than others. Catastrophizing and rejecting plausible, optimistic interpretations of events dooms one to failure, and one's dire pronouncements become self-fulfilling prophecies. It is in one's best interest to adopt an optimistic approach.
The doomers among us fancy themselves as hard-headed realists. They point out that the downward demographic trends in white countries are projected to continue, that Trump failed to build the wall, and that public-relations disasters such as Charlottesville and Hailgate sabotaged our momentum. These are all empirically true facts that must be addressed and cannot be ignored or wished away. But the conclusion that defeat is inevitable and the white race is doomed does not automatically follow from these facts.
Jonathan Bowden once observed that most radical Right-wingers are pessimistic introverts. On top of having an innate predisposition for melancholy, many people on the Right have become so demoralized by current events — and, in some cases, personal struggles related to their involvement in the movement — that they are unable to acknowledge positive developments. This is a common reaction to experiencing chronic disappointment. Many people on the Right fail to recognize this bias and take it into account.
The situation may look bleak, but there are several causes for optimism. As Greg Johnson recently reiterated, "significant numbers of white Americans have a positive racial identity, reject the ideas of white guilt and white privilege, believe that whites are treated unfairly by the current system, and believe that it is morally right for whites to politically organize to pursue their collective interests." 46% of Americans agree with the statement that "immigration is causing my country to change in ways I don't like." The truth is on our side, and much of the general public has the potential to be receptive to our message.
Radical Rightists are not the only ones who are prone to catastrophizing. If anything, Leftists are even more prone to it, as they have higher levels of neuroticism. Leftists frequently interpret benign social interactions as "microaggressions" and believe that their opponents want them to "die." Anyone who points out that their conjectures could be incorrect is "gaslighting" them and "invalidating" their "lived experience." Yet, they cannot point to evidence that definitively confirms their suspicions. The venomous hostility and homicidal impulses they ascribe to white Trump supporters are constructs of their imagination, a mere interpretation of what they observe.
Right-wing doomers can readily spot Leftists' distorted thought patterns, but they are blind to their own. What they consider "realism" is in fact — to borrow terms from cognitive behavioral therapy — "magnification" and "selective abstraction," or exaggerating and ruminating on the negative while ignoring the positive, as well as engaging in emotional reasoning whereby one interprets one's feelings as an accurate reflection of reality: "I feel discouraged, so the situation must be hopeless."
The contention that all is lost is merely an opinion and cannot be proven. We cannot state with certainty that we will win, either, of course. In that case, we can perform a simple cost-benefit analysis: holding the former belief confers no advantages, and accepting it as fact will simply ensure that we lose. But if we choose to believe that we will win, the scales will tip in our favor.
In order to win, we first have to believe that victory is possible. I urge readers to choose optimism and choose victory.
*  *  *
There are many ways to help, but the easiest is with an e-check donation. All you need is your checkbook.
You can explore all your donation options on our newly-redesigned Donate page.
Also, check out our Paywall page!
For a preview of events in the coming year, check out our birthday page.
Remember: Those who fight for a better world live in it today.
Thank you again for your loyal readership and generous support.
Greg Johnson
Editor-in-Chief