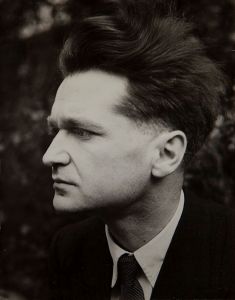 1,279 words
Though I am certainly no Emil Cioran scholar, I can write about him from the point of view of having been impacted by him. Would-be Cioran enthusiasts beware, for his influence is not necessarily a bright one; after all, his ideas belong to a school of thought known as philosophical pessimism. Though I am sure he would hate it, I am going to attempt to extract some positivity from his writings.
I am focused much more on the past than the future. What makes Cioran's material absolutely vital is that it helps explain our history — in the most downtrodden, miserable way — and how the modern era came to be. Only after arming oneself with this knowledge and viewpoint can the man of thought properly shape his outlook on the future. It can be negative, as Cioran's certainly was, but no less truthful — which, in my opinion, is a prerequisite to reality and sanity.
Though most of my reading comes from recommendations on Counter-Currents or elsewhere in the greater dissident sphere, I found Cioran completely by accident. Perusing the shelves of a used bookstore in 2017, the spine of a book with the interesting title A Short History of Decay caught my eye. After reading the foreword by Eugene Thacker, who admitted to discovering him in the same manner, and where he states that "perhaps the only way to encounter Cioran is to stumble across him, as if by accident or by fate," I decided to give the book a try. It is an incredibly difficult read, but for me he can pack more meaning into a single sentence than almost anyone in the world of philosophy.
The very first page of the first chapter, under the subject Genealogy of Fanaticism, reads, "Even when he turns from religion, man remains subject to it; depleting himself to create fake gods, he then feverishly adopts them: his need for fiction, for mythology triumphs over evidence and absurdity alike." I applied this passage to the world around me: the worship of black people, the denial of crime statistics, feminists venerating the flooding of their homelands by misogynistic cultures, Marvel movie masturbation, the war on Christian values — and it immediately aligned; furthermore, nothing about it seemed overtly pessimistic. It's simply true.
But then I wondered, what can be done about it? On the next page Cioran adds, "Only the skeptics (or idlers or aesthetes) escape, because they propose nothing, because they — humanity's true benefactors — undermine fanaticism's purposes, analyze its frenzy." Again, my hair was blown back. Though I would never recommend simply doing nothing to combat our crazed world, what Cioran hints at here is merely side-stepping from the crosshairs; not with a how-to list, but with a mindset.
The introduction to Chapter Three addresses the concept of decadence and prejudice in civilization. Cioran states:
Prejudice is an organic truth, false in itself but accumulated by generations and transmitted: we cannot rid ourselves of it with impunity. The nation that renounces it heedlessly will renounce itself until it has nothing left to give up.
From this alone, it is clear Cioran is one of our guys. Speaking of the mindset required to push forward mentioned above, he expands, "It is then up to the enlightened individual to flourish in the void — up to the intellectual vampire to slake his thirst on the vitiated blood of civilizations."
Cioran's style of writing has been described as nothing more than a series of aphorisms, none of which are very connected. The philosopher himself acknowledged this, referring to them as "momentary truths"; not unlike the tweets and memes we're familiar with today. Cioran's approach, without a doubt, is much more elegant. But the nihilism persists and is unrelenting. Guillaume Durocher for his part described Cioran's writing at Counter-Currents thusly:
A patriotic, health-conscious régime would be well within its rights in banning Cioran's voluminous works from the bookshops as the corrosive scribblings of an insomniacal bipolar bookworm, though he could perhaps be tolerated in academic specialists' libraries and underground samizdat, where any damage would be limited.
A Short History of Decay goes on to address a plethora of topics: time, ennui, history, civilization, hate, culture, power, tolerance, knowledge — the list goes on. The more you read of his outlook on the world, the more his background begins to make sense. Born in 1911 in Transylvania, which was then part of the Austro-Hungarian Empire, to a religious family of Romanian descent, it was clear from an early age that Emil was gifted. Learning was important to him, and he was awarded a scholarship to the University of Berlin in the early 1930s. For a young man studying Nietzsche, Spengler, Heidegger, and hob-knobbing with other Continental thinkers of the era, it is no surprise that he was an early supporter of German National Socialism and Italian Fascism, as well as his native country's Iron Guard. Cioran's intellectual stances on Western Europe's Right-wing movements often chafed with Romania's highly traditional outlook, however, to the point that he soon left for Paris and never returned home.
It is worth emphasizing that, at the time, Paris had yet to become the arbiter of a dead culture, and a mind like Cioran's could still flourish there. Even to this day, Cioran and other French thinkers (though he was Romanian, Cioran lived in Paris and wrote in French for most of his life) sympathetic to fascism have, rather surprisingly, been let off rather lightly by today's intellectual establishment. The 2012 reprint of Decay has a positive blurb taken from a Los Angeles Times review on its cover, meaning an L.A. Times writer actually reviewed a book by a "Nazi." The same relative understanding is accorded to Louis-Ferdinand Céline, who arguably was much more supportive of the Germans leading up to and during the war; this, compared to the fate of someone like Ezra Pound, who did 13 years of prison time (albeit in a mental institution) for his pro-Fascist propaganda, is astonishing. (Listen to Michael Walker's excellent lecture on Céline and other pro-Fascist French authors of the war years and their fates, "Four French Collaborationists: Châteaubriant, Céline, Drieu, Brasillach.")
Though Emil Cioran would later renounce his early affinity for fascism, even going as far as removing sympathetic passages to it in revisions of his own work, it's no wonder that a pessimist, given what transpired in Europe in the 1930s and '40s, would do this. In fact, I would go as far as suggesting that it was historical events and the fate of fascism which bolstered Cioran's pessimism. And tellingly, A Short History of Decay, one of the most depressing and somewhat black-pilling books I've ever read, was published in 1949. He then went on to live the life of a typical Continental intellectual: reclusive, eccentric, unmarried, lazy — yet still principled.
To learn more about Cioran and to read excerpts from his works, see these other essays on Counter-Currents: 
Cioran's Political Writings:
Cioran's Philosophical Writings:
On Cioran:
* * *
Like all journals of dissident ideas, Counter-Currents depends on the support of readers like you. Help us compete with the censors of the Left and the violent accelerationists of the Right with a donation today. (The easiest way to help is with an e-check donation. All you need is your checkbook.)
For other ways to donate, click here.
Enjoyed this article?
Be the first to leave a tip in the jar!