Remembering Charles Lindbergh:

February 4, 1902–August 26, 1974
Anthony Bavaria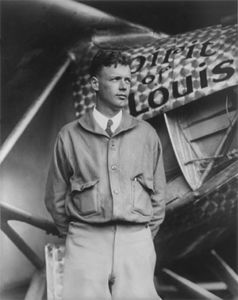 2,142 words
The life of Charles Augustus Lindbergh is a benchmark of Western Civilization. Sadly, a reading of his resume gives one the feeling that men of this caliber, or the attitudes of the times they lived in, have been permanently relegated to the past. But on his birthday, it's worth highlighting the achievements of his profound life, both cemented accomplishments as well as those unrealized, and use them as an inspiration and template for our own lives and the future of our civilization.
Personal Feat
"Lucky Lindy's" famed flight across the Atlantic, something considered impossible by even the most fervent of early aviation pioneers, is obviously well-covered territory, but there are some lesser-known specifics of this iconic triumph that, in my opinion, truly exemplify the above-mentioned bygone attitudes of men from a different era.
Few outside aviation and the aeromedical community are aware of the physical challenges Lindbergh underwent on the world's first transatlantic flight. The night before his planned departure, foul weather, a talkative bodyguard, and an understandably busy mind kept Lindbergh from falling asleep. This would have kept a normal person from embarking on a planned flight of over 30 hours, but there were competing teams of aviators and aircraft manufacturers also gunning to be the first to conquer the Atlantic; Lindbergh shrugged off the sleep deprivation, packed five sandwiches and a bottle of water, and sputtered down a muddy runway on the plains of Long Island, New York.
Barely a few hours into his flight, the lack of sleep caught up to the young aviator; he found himself incomprehensibly tired, which eventually resulted in routinely nodding off, only to wake and find himself spiraling seaward. Averaging only 100 miles per hour, his flight would be long and arduous. As he checked his navigation calculations, planned milestones of excitement resulted in only dread as he realized how much ocean still lay ahead; he kept busy wondering what he would do if he went down at sea, cursing himself for not bringing a raft or parachute due to weight concerns.
It's worth reiterating that due to the era's technological limitations, Lindbergh had no windscreen to look out of; the entire front of his aircraft's cockpit was a fuel tank, as weight and balance issues precluded it from being built elsewhere. Aside from a side-facing window, all he had to look at was an instrument panel, which was barely a few feet from his face. It wasn't until he encountered seagulls, an indication that land was nearby, that his deliriousness break. Almost two hours ahead of schedule, Lindberg finally sighted the coast, the southern shoreline of Ireland, right where he had planned. Visual navigation out of his side window proved to be difficult, as it was again night, but Lindbergh did find his way to Paris.
A unification of Westerners, their ideals, and shared love and respect for adventure occurred on a scale so great that Lindbergh actually feared for his life. A crowd of 150,000 Parisians stormed the airfield to greet their American counterpart and congratulate him on his victory. Lindy was torn from the cockpit and hoisted on the Frenchmen's heads and hands for nearly 30 minutes — "Despite having landed his plane, Lindbergh remained aloft," says Walter Hixson in his biography on the airman.[1] Eventually, French military aviators and police were able to extricate Lindbergh from the crowd and bring him to safety. After meeting the American ambassador to France and visiting the Tomb of the Unknown Soldier, Lindbergh finally rested after more than 60 hours without sleep.
It's important to note the significance of landing in Paris. Through the early years of aviation, the French were the pioneers of flight, having built some of the best planes and fielded some of the most daring airmen. Several Frenchmen had already tried to cross the Atlantic, and all of them died. Lindbergh made a point to honor those pioneers. After waking to a deafening chant of "Vive Lindbergh" outside his quarters, Lucky Lindy "expressed his sincere admiration for the lost French fliers and declared that they had had to contend with headwinds whereas his own flight, backed by tailwinds, had been 'easy.'"[2] He even met with the next of kin of several of the deceased aviators.
Politics and War
Like so many before him, Lindbergh sought to transition his newfound fame and fortune into influence. After years in the limelight, the kidnapping and horrible death of his infant son, and living abroad, Lindbergh became the spokesman of the America First Committee (AFC) and a proponent of their stance on non-intervention in the war in Europe. It is because of this that most people almost exclusively know of Lindbergh as a "Nazi sympathizer." No one echoes this sentiment more acutely and explains it than Bill Kauffman in the introduction to his outstanding book, America First!:
The AFC has received such uniformly bad press for half a century that today it exists, in the public mind, as a ragbag of foaming primitives and goose-stepping German-American beerhall bullies, sprinkled with a pinch of high-toned Mayflower descendants who barred Jews from country clubs. This is a victor's history, complete with demonization of the vanquished foe, and it is absurd.[3]
It really is amazing how those so ardently against war could be vehemently vilified. Today, an increasingly ridiculous amount of propaganda is required to maintain the illusion that Lindbergh was some raving, foaming-at-the-mouth Nazi. There's Philip Roth's 2004 novel, The Plot Against America, portraying a fictional timeline where Lindbergh defeats Roosevelt as President of the United States and installs some sort of bizarre, anti-Semitic utopia. HBO turned it into a miniseries; for an excellent background on it, see Giles Corey's four-part analysis on Counter-Currents. Another example is a terrible film I recently reviewed, Amsterdam, where only a Black-Jew-Basic Bitch alliance is depicted as capable of defeating Lindbergh-esque domestic American fascism. And of course, there's the favorite of every fair-weather Second World War enthusiast, The Man in the High Castle; I recently read a funny take on Amazon's television adaptation, stating the necessity of random portrayals of allegedly mechanized Nazi genocide to cover up the fact that the supposed dystopia in the show is actually more desirable than our current reality.
One need look no further than Lindbergh's own words on non-intervention and the "Jewish Question" to see how much of a Nazi he really was. In a September 1941 speech in Des Moines, Iowa, Lindbergh stated:
The three most important groups who have been pressing this country toward war are the British, the Jewish and the Roosevelt administration. Behind these groups, but of lesser importance, are a number of capitalists, Anglophiles, and intellectuals . . . I am speaking here only of war agitators, not of those sincere but misguided men and women who, confused by misinformation and frightened by propaganda, follow the lead of the war agitators . . . It is not difficult to understand why Jewish people desire the overthrow of Nazi Germany. The persecution they suffered in Germany would be sufficient to make bitter enemies of any race. No person with a sense of the dignity of mankind can condone the persecution of the Jewish race in Germany. But no person of honesty and vision can look on their pro-war policy here today without seeing the dangers involved in such a policy both for us and for them. Instead of agitating for war, the Jewish groups in this country should be opposing it in every possible way for they will be among the first to feel its consequences. Tolerance is a virtue that depends upon peace and strength. History shows that it cannot survive war and devastations. A few far-sighted Jewish people realize this and stand opposed to intervention. But the majority still do not. Their greatest danger to this country lies in their large ownership and influence in our motion pictures, our press, our radio and our government. I am not attacking either the Jewish or the British people. Both races, I admire. But I am saying that the leaders of both the British and the Jewish races, for reasons which are as understandable from their viewpoint as they are inadvisable from ours, for reasons which are not American, wish to involve us in the war. We cannot blame them for looking out for what they believe to be their own interests, but we also must look out for ours. We cannot allow the natural passions and prejudices of other peoples to lead our country to destruction.
Commenting on this speech, Kauffman states,
Just how these remarks qualify as anti-Semitic rhetoric remains a mystery. One may strongly disagree with Lindbergh's argument but it contains nothing repellent or even incontestably untrue.[4]
I imagine the average White Nationalist or dissident Rightist cannot read the above-cited words without a feeling of tragic despair, as if there was an alternate route that history might have taken that has been permanently lost. What makes it worse is the realization that, at the time of Lindbergh's speech, a vast majority of the country agreed with him; I've read various statistics that around 75-85% of the country wanted absolutely nothing to do with another conflict abroad, particularly in the majority white country's motherland of Europe . . . again.
Sadly, the Japanese attack on Pearl Harbor changed all of that. Overnight, American warmongers got their wish and the nation pivoted to a fever-pitch of bloodlust. Lindbergh immediately found himself on the outside. Having resigned his commission as a Colonel in the Air Corps Reserves in a gesture of solidarity with his isolationist compatriots, President Roosevelt refused to reinstate him. Instead, Lindbergh sought work in the world of defense contracting and convinced his new employers to send him to the Pacific Theater to train Marine Corps aviators on the flying characteristics of the new-but-flawed Vought F4U Corsair, as well as the Air Corps' stalwart long-range fighter, the P-38 Lightning. While overseas, Lindbergh flew over 50 combat sorties alongside military pilots, participating in bombing missions, strafing runs, and even shooting down an enemy aircraft.
Later Life and Views on Race
Charles Lindbergh was an unabashedly proud European man. In another speech he stated that "our bond with Europe is one of race and not of political ideology," and that the preservation of European blood and its associated way of life was paramount to the American aviator. This, too, was a common perception of the era.
Years after his death, it was discovered that Lindbergh had extramarital affairs with several German women, one of whom was an aristocratic East Prussian. He fathered several children from these relationships. Though Lindbergh's wife, Anne Morrow, was of good birth, when taking Lindbergh's views on Nordic racial preference into consideration as well as his own Nordic ancestry, it seems as if he wanted to continue this bloodline as much as possible. I liken this behavior to the all-too-common occurrence of a white man who has procreated with an Asian woman, has children, and then discovers the world of white identity politics, realizing that perhaps he should have procreated with someone who shares his background.
A Way Forward
If Lindbergh and his ideas were a threat to the order of his time, then his memory serves as an equal threat to the goals of our current oligarchy, who are the direct descendants of the war-era security state and managerial ruling class. This is why the modern America First movement, as well as Lindbergh's legacy, must be endlessly tarred-and-feathered. For those engaged in cultural guerrilla warfare, however, we need to use what the enemy discards, as what they consider weak makes us stronger.
Most importantly, Lindbergh set an example of character for us to follow. No one summarized Lindbergh's stellar disposition better than Wayne S. Cole in his essay "Charles A. Lindbergh and the Battle against Intervention":
Lindbergh fought with all the strength and ability he could command for a cause that he believed paramount for America and the world — and he lost. He suffered abuse and vilification. But he tried to fight fairly, to focus on the issues, and to avoid ad hominem assaults. He rarely answered critics. Lindbergh's strength, independence, self-reliance, and courage made him less dependent on public approval than most might be. He said one must expect such attacks in public life. He went on to new challenges and accomplishments. Nonetheless, the attacks surely hurt him deeply, particularly when they came from those he respected and when his motives and views were distorted out of all recognition. Throughout his long ordeal, however, Lindbergh kept his sense of proportion, his integrity, and his pride.[5]
* * *
Like all journals of dissident ideas, Counter-Currents depends on the support of readers like you. Help us compete with the censors of the Left and the violent accelerationists of the Right with a donation today. (The easiest way to help is with an e-check donation. All you need is your checkbook.)
For other ways to donate, click here.
Notes
[1] Walter Hixson, Charles A. Lindbergh: Lone Eagle. (New York: Longman Publishers, 2002), p. 40.
[2] Ibid., 41.
[3] Bill Kauffman, America First! Its History, Culture, and Politics (Amherst, NY: Prometheus Books, 2016), p. 18.
[4] Kauffman, America First!, p. 21.
[5] Wayne Cole, "Charles A. Lindbergh and the Battle against Intervention" in Tom D. Crouch (ed.), Charles A. Lindbergh: An American Life (Washington, DC: Smithsonian Institution Press, 1977), p. 55.
Enjoyed this article?
Be the first to leave a tip in the jar!