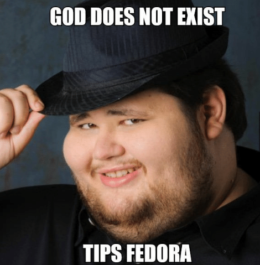 2,359 words
In the distant and ancient era we now call the "mid-2000s," there arose a phenomenon we now call New Atheism. New Atheism was militant; its adherents not only rejected religion, but actively sought to expurgate it from society, usually by haranguing the religious online. The idea was for humanity to reject all irrationality, delusion, and superstition and bring about an era of enlightenment and progress through reason and evidence.
If that sounds suspiciously like a caricature of the Enlightenment-era philosophies, it's because it is – eighteenth-century anti-religious sentiment repeating itself online as farce, spearheaded by bloviating buffoons amazed at their own imagined intellects. The defining image of this movement slowly emerged: an obese man with patchy facial hair and extensive acne, wearing a fedora hat and admiring his purported great awareness of how the world really is. Indeed, "fedora-wearing atheist," later shortened to "fedora," became one of the enduring Internet archetypes.
Defeating New Atheism's arguments and tenets was one of the fledgling Alt Right's earliest victories The deleterious effects of religious faith's decline in the West are plain for all to see: broken families, lost confidence, lost community and friendship, an increasing turn toward hedonic pleasure-seeking, and a loss of public morality are all contributing to white countries' demographic and political crises. Gone are the days of "be fruitful and multiply." Instead, secularized whites, whether atheist or nominally belonging to the various Christian churches, are having fewer children and pursuing other aims: sometimes the elusive euphoria experienced by being enlightened by one's own intellect, at other times fame and fortune. For the most part, people have no idea what to do with their lives, because with the end of faith there's nobody left to tell them what to do. It may seem incredibly counterintuitive, but this is a peculiar characteristic of the white human animal: left without the instruction and motivation that was historically provided by religion, it'll just sit there doing nothing, especially if it is highly intelligent. Our great brains, our great intellects drown out the instinctual drives possessed by lower animals. Without a heaven to look forward to, and without an interpretational and operational framework with which to identify and pursue that heaven in this life, we are worse than useless.
One of the best arguments against the New Atheist position ironically came from Stefan Molyneux, himself an atheist. His reasoning was that while religion is indeed false and irrational, it nevertheless served a purpose in society, and as such, deconstructing it without providing an alternative was reckless of atheists, including those Enlightenment philosophers who believed that religion is a fetter upon man's great capacity to create and invent. Molyneux then went on to try and develop his own alternative to religion: a moral-philosophical system of Universally Preferable Behavior. It was unsurprisingly unsuccessful in its stated goal of developing secular ethics. Then again, the libertarian Weltanschauung has never really had much patience with ethical systems. The zeroth ethical rule of rational self-interest is "don't get caught." Breaking a rule without getting caught gives the actor a free option, an extra turn, a crucial edge in the games men play with and against each other.
Parallel to the New Atheist movement — and in part overlapping with it due to shared attitudes regarding the nature of knowledge, rationality, and life — was the early, late 2000s iteration of Neoreaction. People whose exposure to Neoreaction is recent only dates from 2020 might be surprised to learn that the movement was at least initially a very weird offshoot of transhumanist and ultra-rationalist schools of thought, specifically arising in the LessWrong forum, which attempts to use probability mathematics as a means of making the most rational decision possible. And indeed, even a cursory glance at the old Neoreactionary authors' archived writings tells us that these guys were at least the New Atheists' fellow travelers, fighting the same demons of superstition and irrationality.
The difference is, of course, that the Neoreactionaries recognized early on that progressivism, or what we now call woke, is also a form of religion, and in fact the irrationality and superstitions emanating from this religion are a far greater danger than whatever superstitions Christianity conjures up. It wasn't until the notorious Elevatorgate scandal that woke even appeared on the New Atheists' radar as a threat.
For the blissfully unaware, Elevatorgate refers to an incident where Rebecca Watson, a New Atheist blogging under the sobriquet of "SkepChick" (get it?), was offered a cup of coffee in an elevator by a man while both were attending a New Atheist/Skeptic conference. The man's offer made her uncomfortable and she blogged about it, prompting PZ Myers to raise the alarm about men awkwardly approaching women in elevators. This in turn provoked a dismissive response from the Jesus of atheists himself, Richard Dawkins, who mocked SkepChick by comparing her predicament to the plight of genitally-mutilated Muslim women. The incident caused a rift between woke/progressive and non-progressive atheists, which later ballooned into the skeptic-SJW conflict of the mid-2010s. Indeed, we could say that the anti-SJW era of the Internet began with Elevatorgate, and the onus of atheists' online activism shifted from arguing with Christians to "triggering SJWs," as the kids like to say. The New Atheists, having now become anti-SJW warriors, took the Neoreactionary insight that SJW/woke is like a religion, applied their old anti-Christian weapons to them, and were met with resounding success.
Their initial successes gave way to ever-mounting failure, however, as all of that SJW-owning did not make a lick of difference in terms of concrete political gains, or even halting the march of progress in movies and media. To top it all off, the New Atheists, now recently rebranded as Skeptics, found themselves in the Alt Right's crosshairs. Even in its diminished state after Charlottesville, the Alt Right still had enough fight left in it to humiliate the Skeptics in the Internet Bloodsports era, whose political views could uncharitably but accurately be described as warmed-over '90s liberalism. Rational, pragmatic, and sensible skepticism was trounced by the ideological fanaticism of the woke Left and then humiliated by the nationalist Right's iron commitment. Having mistakenly attributed their earlier, easy victories over self-doubting Christians to the actual strength of their arguments, the old New Atheists found themselves square in the middle of the ideological age with nothing to guide and motivate their actions.
Old habits and prejudices die very hard. Secularists will easily accept the insight that religion is necessary, even though it is irrational, because its social, organizational, and personal benefits are plain to see. They will also easily accept the insight that ideologies are religions– irrational, faith-based interpretational frameworks for men and organizations incorporating ritual, taboos, restrictions, holy texts, myth, an Axis Mundi, concepts of the sacred and the profane, saints, and sanctities. Despite this, seemingly smart people, while possessing, accepting, and seemingly understanding these two insights, will nevertheless still proclaim that ideology must be transcended and that a rational, pragmatic, non-ideological approach is necessary in politics. Perhaps they never threw out their fedoras.
It doesn't matter how many times the immense power of religious or ideological faith is demonstrated: The skeptic will not countenance irrationality and superstition. Time and time again, he will don his fedora and seek out the dragons of superstition to slay and make the world from their bones, because every fight in a man's life is the same primordial struggle against the demons he thought he had slew when he was 16, riddled with acne and worried about George W. Bush instituting an Evangelical theocracy in America. Back then it was the "faithheads" holding society back by denying the secular worldview which is self-evidently rational and derived from evidence and reason; nowadays it's wokies and wignats getting in the way of Sensible Centrism,™ which is self-evidently rational and derived from evidence and reason.
At the heart of this delusion is the notion that the world can be understood simply from first principles, using nothing but the human reasoning and evidentiary apparatuses. In a delicious irony, this notion, which lies at the heart of the New Atheist, Skeptic, and now Sensible Centrist worldview, is deeply Thomistic, having been first proposed by St. Thomas Aquinas, although I suspect it's been around since the time of Aristotle. I did not realize that this idea was the operating error of the skeptic-atheist-libertarian meme complex until a Thomist called me irrational for accepting the existence of God and the resurrection of Christ as a matter of faith. "That's an appeal to authority." I should have been convinced by one of the rational proofs for God instead. And here was I thinking that religion is a faith-based affair.
Orthodox theology, on the other hand, is less likely to throw words like "rational proofs of God" around. While I'm no expert, my friends who are avid readers of Orthodox theology tell me that the Eastern Church's position is that finding rational or empirical proof of God is not possible. Indeed, reason itself is a boon from God, attained by right-believing Christians once they've accepted God's grace and law. Only through faith can man become rational, being a rather sorry excuse for a creature in a state of unfaith — less than a beast, for a beast at least has instincts, whereas man is incomplete without faith. This accords with my own observations: Those without faith or any other type of interpretive framework do precisely nothing with their lives. Only by accepting an interpretive framework, be it religious or ideological, can man know what to do with his life, have a goal, have a plan to attain his goal, develop methodologies for implementing his plan, and seek out allies and friends towards the attainment of that goal via implementing the plan. In short, man needs faith — or ideology — to attain not only direction and directional movement, but also the means of giving meaning to information, of parsing the relevant from the irrelevant, and of differentiating between valid and invalid methodologies. In short, the ability to reason.
This is not to say that we do not find this same old disease in the East as well. As it happens, Orthodox Christianity is just as vulnerable to the passage of time and decrepitude of will as its Western counterparts. People in the East are nominally Orthodox, just as Westerners are nominally Catholic, Lutheran, or Evangelical, but in reality we practice different religions that more closely resemble ideologies than classic religious faith. Most of these have Western roots, even if their expressions remain Eastern in the East. You could even say that the East is currently the more rationalistic region. Indeed, while both sides of the white world have their fair share of worn-out, empty husk religions, it is the Western part that has an active, living, breathing major faith: wokery. The East is eminently more practical, pragmatic, and rational — in a word, more animalistic, which makes it weak and corrupt. It simultaneously fears, envies, and respects the fanatical — and therefore more human — West.
It is relatively easy to point out that an ideology is like a religion, or that it fulfils the same function as a religion. The concept of civic religion is born out of an acceptance that classical religions such as Christianity, Islam, or even paganism are no longer capable of providing a central organizational principle for society. We've therefore turned that task over to ideologies, which, due to the loaded nature of that term, we call civic religions. It is difficult to accept that such ideologies or civic religions are necessary, and that societies will always have them, and furthermore that societies and individuals which strongly and irrationally believe in their ideologies will defeat societies and individuals that are ruled by rational concerns. We associate irrationality with animals, but I've yet to witness an animal behave in an irrational manner. All animals are almost perfectly guided by what libertarians like to call rational self-interest, and this is what makes them so easily controllable. We call them lesser creatures because they lack our ability to behave unpredictably and irrationally, to do things against their short- or even long-term interests for the benefit of a higher ideal (which in practice still ends up benefiting our tribe, at least). Atop the hierarchy of being stands God, a being so irrational that His mind and He himself are beyond human knowing, at least in Orthodox theology. It appears to me that we have this idea of rationality backwards.
Of course, if we accept that rationality is the ability to reason, put together a plan, act on it, change it when it fails, and keep going in the face of failure, or more simply as the ability to go with intentionality from point A to point B, then man is indeed more rational than animals and God is more rational than man. But this sort of rationality requires a little bit of unreason in order to work — a fanaticism, a willingness to keep going even in the face of overwhelming odds, certainty in the face of massive (apparent) evidence to the contrary. A better word might be rightly-guided. I like the Arabic name Rashid, which means this, but an Anglo-Saxon version would be Æthelred: nobly advised, contrasting well with king Æthelred's unfortunate sobriquet, Unræd.
If we conceive of faith as guidance, then the believing man is Æthelræd or Rashid: rightly guided and nobly advised, while the atheist is he who is left unguided and unadvised — Unræd. If we accept that ideologies are modern variations on religion, then the worst thing we can do, both as individuals and as a movement, is to willingly impose on ourselves a state of Unræd because we want to attain a temporary rhetorical edge over some low-level SJWs. Those who abandon ideology do not attain any enlightenment or wisdom, but merely lose their ability to impose their own agenda, instead becoming instruments of others who've retained an ideological agenda, merely reacting to an ideologically-motivated and -driven enemy. The old New Atheists will likely never hang up their fedoras, but the nationalist movement cannot afford to get bogged down in their ignorant and arrogant campaign against the irrational.
* * *
Like all journals of dissident ideas, Counter-Currents depends on the support of readers like you. Help us compete with the censors of the Left and the violent accelerationists of the Right with a donation today. (The easiest way to help is with an e-check donation. All you need is your checkbook.)
For other ways to donate, click here.