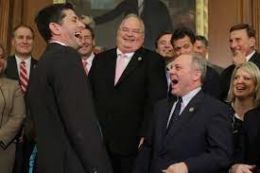 1,036 words
It is Friday, November 11th, 2022, and if America is the greatest nation in the world, why do we still not know the final results of Tuesday's midterm elections?
Two things, however, are clear.
First, we knew going in to this election that no matter who wins, the losers will regard the outcome as illegitimate, because each half of the electorate regards the other half as too dangerous to hold power. This means that an American people no longer exists. Instead, there are two hostile nations — or, rather, many hostile nations arrayed against each other in two blocs — sharing the same territory and government and creeping toward the realization that separation or bloody conflict are their only long-term options.
Second, we now know there was no "red wave." Instead, both parties will remain about equally balanced, which means more gridlock.
This is too bad for Republicans. But for White Nationalists, this is the best outcome, for three reasons.
First, the Republicans were counting on pure backlash politics to sweep them into power. They were counting on the public voting against the dastardly Democrats, so they were not interested in giving the people anything or anyone worth voting for. That would require the courage to court controversy. It would also require making promises that they would then have to break. Why do any of that when a backlash can put you in power with a blank check to do whatever your donors want? Hence, the Republicans fielded a horde of bland centrists, including large numbers of non-white and female diversity candidates. Wouldn't you love to have listened in to the Republican conclaves that decided to run the babbling, moronic gridiron groid Herschel Walker? In short, the red wave was standard Stupid Party shenanigans. It should not have been rewarded by the voters, and it wasn't.
Second, what White Nationalists want in a candidate is someone who caters to our interests: principally, upholding white standards in all areas of politics and culture and working to halt and then reverse white demographic decline. Barring that, we want candidates who will inject our issues into political debates, as Trump did by questioning the value of immigration and economic globalization, and who will enact legislation that will help slow the Great Replacement, particularly immigration controls.
In this election, I was rooting for a few candidates who were more nationalist and populist than the Republican mainstream: Ron DeSantis, who won; J. D. Vance, who won; Blake Masters, whose race at this time is still undecided; and Joe Kent, whose race is also at this point undecided. I would welcome a red wave of Republicans like them, who deserve to win. Maybe in 2024, there will be more candidates like them.
Third, the wrong kind of red wave would actually be bad for whites. Under Joe Biden, millions of whites have been radicalized. They now recognize that the Left is an implacable enemy committed to the degradation, dispossession, and ultimate destruction of white America. But they do not fully see what a weak and traitorous opposition the Republicans are. Thus, a red wave would make these people feel safe again. It would lull them back to sleep. This would allow the Great Replacement to continue unabated, but under Republican leadership. But the failure of the red wave and the continuation of partisan gridlock will keep these white voters angry, agitated, and receptive to our message. That's the best possible outcome for White Nationalists.
The most plausible objection to my position is that even bad Republicans can be useful in culture war issues like abortion. For instance, without Mitch McConnell, Merrick Garland would be on the Supreme Court and Roe v. Wade would still be law. Setting aside the questions of whether or not Garland would be less dangerous on the Supreme Court than in the Justice Department, and whether the Roe victory aided or hindered Republicans at the polls, I just don't care about conservative culture war issues like abortion, trannies, or drag queens in libraries. Normie conservatives have those battles covered. Let them spend their political capital. We need to save ours for what matters most. Because if white people go extinct, I don't really care if the brown people who inherit the Earth have abortions or prayer in school. By the same token, if white people could be saved, I would not care if they were still fighting about abortion and other culture war issues a hundred years from now.
My greatest fear is not being ruled by crazed Leftists, since they can only hasten the end of this system. Instead, my worst nightmare is that Republicans will crack down on crime, improve the economy, focus on conservative culture war issues, and turn dissidents into pathetic, dog-like plan trusters — all while failing to halt the Great Replacement; indeed, while putting it on firmer footing. The only thing worse than Left-wing, multicultural chaos is an orderly, stable multiculturalism — which is precisely what Right-wing civic nationalists promise us.
That includes even the best Republicans. But we have to be clear about our motives. I don't support such people because they ultimately want what we want. I support them because they might help us get what we want, in spite of themselves, for instance by injecting our issues into political debates and by supporting policies that interrupt white demographic decline. These are genuine steps forward, genuine victories, and unlike the accelerationists, I don't think we win by losing. We only win by winning. Ultimately, though, we won't win with Republicans, because they simply don't care about white people, so they will not create or restore white homelands. That task falls to White Nationalists.  
If white Americans had a country of our own, we would of course support law and order, patriotism, and sound economic policies, as well as healthy families and sexual norms — precisely because they make a country stronger. When anyone publicly supports these values — even Republicans — we should of course give our verbal support. Sometimes we should even vote for them. But let's never lose sight of the fact that America is controlled by anti-whites. It is their system now. Until we can replace them, anything that makes their system stronger makes us weaker.
* * *
Like all journals of dissident ideas, Counter-Currents depends on the support of readers like you. Help us compete with the censors of the Left and the violent accelerationists of the Right with a donation today. (The easiest way to help is with an e-check donation. All you need is your checkbook.)
For other ways to donate, click here.
Enjoyed this article?
Be the first to leave a tip in the jar!