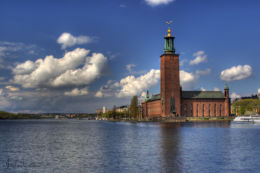 2,088 words
I attended the Stockholm Free Speech Book Fair back in August in order to network, sell Counter-Currents books, and report back to headquarters.
I updated my online profiles to Director of European Operations for a high-profile publisher and took out my finest pointy shoes to look the part. Freshly inflated with importance, I departed for Stockholm without hold luggage, knowing that worldwide people are getting mugged by diversity's latest center of graft: ground crews. A bulbous suitcase and backpack would have to suffice this time, even though there were bound to be liquids or pastes of over 100 milliliters I would want to buy on my down time.
Curiously, the international world seems not very well-prepared for the international traveler. It would only seem to me later that the climate change and COVID fearmongering had done little to quell the enthusiasm of urban yuppies to travel the world. My unvaccinated self would have to risk life and limb for folk and friends during the deadliest pandemic to ever haunt mankind; fortunately for me, this dragon of a virus only stirs in winter (which wasn't coming).
The news media report constantly about how airports are a mess, and one only stands a chance of making a trip if you come four hours in advance to wait in a Six Flags line from hell. Yet, it was rather peaceful, and I could walk briskly to the gate unimpeded without everyone throwing themselves and their strollers in front of me.
Was I there at four in the morning, or is the whole thing a conspiracy? You decide.
Our host initially had a hotel with good rates set up for guests who were running a book stand, yet for one reason or another it wasn't possible to book a room. But luckily, what the hotel staff lacked in competence, Right-wingers have in spades: hospitality! Two gentlemen had already come forward to billet me at their place, and as is traditional I brought authentic gifts from my country along with me. I am generally a big fan of billeting as the trad thing to do; one experiences cultural life directly from the source. I do it myself as part of our international brotherhood of bigots, and one genuinely finds that whites the world over are good and well-intentioned people. Unlike in the tech-sphere, it allows us to have freedom of association at the heart of our people.
Walking past the synagogue in the heart of the banking district (purely a coincidence, I assure you), I met our host in the local park. We sat down for a good glass of wine of his choice, and I had to withhold myself from gulping it down like the beer-drinking savage I am. One drunken hell-ride with two men holding luggage on an electric step-scooter later, we were there, my place for the week! The basement-cum-lounge was perfect for me; as the locals religiously deny the gospel of Freon, this was as cool as it gets in Stockholm in the summer.
Getting my things in order and washing up, I had the opportunity to meet a local artist in the city over dinner. We had met online the month before, given that I plan many (many) things in advance, and we had a chat at a popular biergarten for most of the night.
COVID and its laws had put the dissidents I met in an apathetic mood, no longer lusting for life and excitement. There were no hang-out sessions with Counter-Currents readers to talk about life and the way forward, hoping people would join our vision for European resurrection. If our people are to ever follow, we'll need to breathe new life into its individual members to carry the torch. Thus, the next few days were spent alone, chilling on islands or visiting open-air museums and chatting up the locals to improve my sales game for the trials to come.
On Friday I again dined with random tourists at a busy place, turning and saying to them, "If anybody asks, we're a group" — which both got me a seat and a conversation with a German and an American; both hideously Left-wing, yet I think that our shared heritage gave us more in common than the petty politics which separated us. Poor fools, they were both tired of COVID restrictions, and yet supported the New World Order maniacs who spared no expense in putting them in place!
I said that if these regulations were serious, everyone should be dead, after more than two years. I mentioned that I was unvaccinated, using Lefty logic to explain it (since I, too, am social, just not global, you see). It is not possible that something rushed to market by a massive profit-seeking corporation could be good for you. And surely, I should have died five times over by now, being unprotected? These arguments they could understand, as Big Pharma was hardly a saint before this "crisis" elevated it to such a status through the media, which is of course under shared ownership through mutual fund investment firms.
Saturday approached, and with it, the book fair. As a result of some mistaken communication, I again rose at four for my ride, yet neither my host nor a contact were up, so I decided to stroll down the nearby hill and go to the venue via public transit. Cyan was still awake in the States, so I gave her a call to talk about our payment provider. No luck; they had cancelled our account. An associate of the fair called. I was in luck: He would pick me up at a nearby bus stop. I pulled out a cigar and contemplated what had brought me to stand under a Swedish bridge at four in the morning in the pouring rain while feeling that I must look very aesthetic. I keep forgetting to put moody tunes on my phone for such moments.
A few minutes later, my friend from the fair arrived. We rode to pick up a few others and headed to the venue before everyone else. I helped with setting up a little bit, but as it isn't in the Swedes' nature to bark orders at strangers, I pitched in only the minimum. I found a table, started unboxing the books, and talking to people, developing my sales pitch for the day.
This had to be the softest of balls: "Europeans" (I hate the term whites) should do what other minority ethno-religious groups are doing and organize along ethno-religious lines instead of existing as a majority divided by petty differences and hairsplitting in their own lands. Hah, if only there was a "European religion." Our faith is as individualistic as our politics, further reinforced by our social lives and our "niche for everyone"-type living. Have it your way! Adapt to nothing and no one! And watch the birthrates collapse.
I was told I had occupied the wrong (larger) table — purely by accident, I assure you — and had to move to a less premium location. Though I had the pick of the litter at the time, I wanted to both remain under the radar yet receive enough attention to actually make sales. It truly was the supermarket conundrum where the other line always seems to be going faster, yet I did not regret my choice. I had good reach and much traffic flow past my table into one of the conference rooms. Best of all, nobody was really trying to sell everything to everyone. Thus, it was the perfect hunting ground for an aggressive swamp merchant. I would address everyone.
Boy, did I make sales, even though people really wanted Swedish books and conspiracies. Greg Johnson was too hip. For these pensioners, the only conspiracy we're selling is the one you should be in with your neighbors against the state and their Amazon-style "never unionize again" strategy of diversifying the nation. I had a few good talks with people and was amused by a Trump supporter who still believed Trump will "Turn this shit around." The lady didn't like it when I implied I wouldn't look forward to a redo of the Kushner presidency.
Another attendee told me she is big into the Lost Tribes of Israel. I mentioned to her in passing that I know of British Israelism, which she called a cult, but she informed me that Swedish Israelism is, of course, entirely legit. One could say that our Germanic languages have very well-documented Indo-European roots, and hardly Semitic. But she wasn't dissuaded, not even when I told her that the lost tribes weren't lost at all, but merely went to the southern, unconquered part of Israel after the Babylonians took over. But what do I know? Such denunciations are exactly something a lost tribesman would say to confuse the righteous. I rubbed my hands together, knowing that in ten years her will shall be broken as a result of this first domino's fall.
These were, of course the highlights, as most visitors to my booth were intelligent and well-spoken, as well as very curious about what a racial radical such as myself had to say. They were obviously expecting a cartoon villain hooligan and not an energetic, sociable intellectual.
Standing in place like a palace guard all day took its toll on my legs, but I was undeterred. The conference wound down and I packed up my books, stuffing a fistful of kroners into my pocket. I started messaging some of the people I had met during the day about going to an after-party for some grub and a few beers.
The next morning, I shuffled around, looking for a coffee place with a local while we talked about his problems with windfarms (watch Headwind"21 today). As in my country, they are funded by subsidies and only turn a profit as they kill birds and deafen aquatic life; they are also hard to recycle and expensive to maintain.
Indeed, it's only because of a major geopolitical crisis that people are beginning to look to nuclear energy again. It's sad to think how much of a disconnected, leisurely society we've become. We can react to dangers appropriately and expertly, but usually don't, most of the time. It seems that population replacement just isn't seen as a real and visceral danger by most of us.
I trust that will change, the more presentable our message becomes. So let's stop shouting "LOL JEWS!" Let's get off the street corners, holding flags and spouting ideas nobody identifies with. I think that if we are really intellectuals, it is our duty to navigate a corrupt and programmed society rather than grandstand about our idiosyncratic preferences while throwing common sense to the wind.
After coffee (with free refills) and a sandwich, we took a boat ride to another get-together where we exchanged ideas over drinks. Some of the people there work in finance, like myself, and had a great understanding of the world machine's insides. I truly had a great time talking to the people there, but sadly had to leave early to catch my plane.
It was a productive trip. These lighthearted book fairs tie in with the more serious nationalistic themes of belonging and having an ancestral safe space, yet a few glaring issues were apparent to me, such as a lack of young people. I feel state propaganda is accelerating not toward breakdown (worse is better), but toward greater effectiveness. I think that if we are to counter this corrosive influence, we need safe social spaces for people to rediscover themselves. As I have often said, having an idea or an opinion is more a social enterprise than an intellectual one.
I am not saying that we should stop being intellectuals, but we all know that ideas are not enough. To change the world, we also need to build communities to promote brotherhood, mutual support, and activism. In Europe, nationalist community-building has been halted for the most part by COVID for more than two years. Just as we were getting past COVID, the Ukraine war came along. Will it be three years, four, five before we start holding events again?
Not if I can help it. We need a whole calendar of recurring nationalist gatherings in every European country, organized by the locals and attended by a caravan of international guests who come to exchange ideas and support. I'm doing my part in my own homeland. I hope to see you there next year . . . and in Stockholm . . . and in your homeland as well.
* * *
Like all journals of dissident ideas, Counter-Currents depends on the support of readers like you. Help us compete with the censors of the Left and the violent accelerationists of the Right with a donation today. (The easiest way to help is with an e-check donation. All you need is your checkbook.)
For other ways to donate, click here.
Enjoyed this article?
Be the first to leave a tip in the jar!