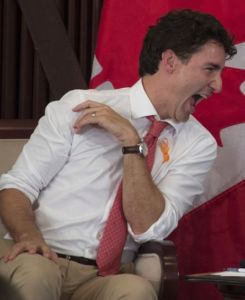 1,357 words
While the United Kingdom and the Commonwealth were in their official period of mourning following the death of Queen Elizabeth II, Canadian Prime Minister Justin Trudeau participated in a crass publicity stunt that outraged many. Two days before the Queen's funeral, Trudeau was recorded singing "Bohemian Rhapsody" in a London pub. In addition to alternative media sites and the National Post in Canada, several news outlets in the United States, the United Kingdom, Australia, India, and elsewhere ran news stories critical of the Canadian Prime Minister's tactless, drunken crooning. He was widely condemned for being thoughtless and disrespectful.
Although not stated officially, it was a desperate attempt by Trudeau's handlers to rehabilitate the PM's abysmal popularity at home and abroad. It was a failure. At this writing, according to Morning Consult Political Intelligence, Trudeau's domestic approval rating was at 41%; 53% disapprove of his performance as PM. Shortly thereafter, Trudeau was widely reported to be bungee jumping. According to the Prime Minister's Office, "ahead of his son's birthday, the Prime Minister took his kids out for an activity in the National Capital Region on Sunday."
Not only is Trudeau seen as frivolous and uncaring as ordinary citizens grapple with immediate problems like the rising cost of living, but he is also symbolically disdainful of Canada's founding culture. Trudeau has disparaged Canada's cultural inheritance for years; he has no time for acknowledging Britain as the country's primary cultural primogenitor. In 2015, Trudeau declared Canada to be the first post-national state:
Trudeau's most radical argument is that Canada is becoming a new kind of state, defined not by its European history but by the multiplicity of its identities from all over the world. His embrace of a pan-cultural heritage makes him an avatar of his father's vision. 'There is no core identity, no mainstream in Canada,' he claimed. 'There are shared values — openness, respect, compassion, willingness to work hard, to be there for each other, to search for equality and justice. Those qualities are what make us the first postnational state.'[1]
Trudeau approaches culture in an unhealthy way. Greg Johnson has pointed out that there are two ways that human beings engage with culture: a healthy way and an unhealthy way.[2] As an unhealthy organism, Trudeau experiences traditional Canadian culture "as a threat, an insult, an external imposition, a gnawing thorn in the flesh." Trudeau, along with our decadent, hostile elites, have replaced normative culture with a decadent postmodern counter-culture. Postmodernism "replaces participation with detachment, earnestness with irony, seriousness with playfulness, enthrallment with emancipation. Such attitudes demythologize and profane the pantheon of numinous ideals that is the beating heart of a living culture."[3]
When culture is distorted in such a way, its worldview, integrity, and unity of style are excised. In such a scenario, "cultural integrity gives way to multiculturalism," which is a wax museum of "dead decontextualized artifacts and ideas."[4] The Prime Minister's tactless singing and his pathetic version of Canada Day celebrations are but a few examples of this cultural destruction. Moreover, Trudeau has a penchant for dressing up in whatever ethnic garb is politically expedient at the time when he meets with non-whites domestically and internationally. As Trudeau is a vacuous blank slate without identity, Ricardo Duchesne has coined the sobriquet Mr. Dressup in reference to Trudeau's endless array of costumes pulled from his multicultural Tickle Trunk.
The cultural-intellectual severing of Canada's true historical roots and the imposition of multiculturalism is occurring alongside the demographic dispossession and displacement of white Canadians as well. Greg Johnson has written extensively about white demographic decline in the United States. After initially comprising 90% of the US population in 1965, whites have fallen to approximately 60% today and are projected to decline to 50% by 2042. In many age groups and in many cities, whites are already a minority.[5]
Canada is not far behind. A recent blog post and subsequent news article in The National Post, Canada's mainstream conservative newspaper, discusses the latest demographic projections from Statistics Canada. Riley Donovan has analyzed the numbers for the Council of European Canadians. The document projects that if current intakes continue, 13 million more immigrants will bring the Canadian population to 50 million by 2041 (52.4% of whom will be of immigrant origin). In that same year (2041), 1 in 4 "Canadians" will be born in Asia or Africa. The proportion of non-whites will rise to 2/5 of the total. New non-whites will comprise nearly 50% of the population 64 years of age and younger. Statistically, the growth of African, Arab, and Asian population groups will outpace that of whites. Furthermore, these groups will concentrate in a handful of major Canadian cities such as Vancouver, Toronto, and Montreal.
Put succinctly:
The Canadian population would reach 47.7 million in 2041, and 25.0 million of them would be immigrants or children of immigrants born in Canada, accounting for 52.4[%] of the total population. In 2016, this population was 14.4 million and accounted for 40.0[%] of the total Canadian population.
During Trudeau's tenure as Prime Minister, immigration intakes have radicalized and accelerated. The aforementioned population projections are reflective of that great replacement program. Not only is the Left, in this case in the form of the Liberal Party of Canada, importing a new electorate, they are engaging in population replacement. Under Trudeau's government, immigration intakes have been pushed to 400,000 plus per year, a number that is reminiscent of when the country was first being settled and settlement immigration was being widely promoted in the early twentieth century.
Elected and non-elected officials, lobby groups, and media are wittingly or unwittingly advocating for the genocide of white European Canadians. Based on international law, whites across the world, including Canada, are being subjected to a slow but purposeful genocide. As Greg Johnson has stated in numerous books and articles, this white genocide is ongoing.[6]
Academic Clare Ellis, who earned her doctorate at the University of New Brunswick under the supervision of Ricardo Duchesne, also invokes international law to substantiate the white genocide thesis in a European context. In an article published in the Occidental Quarterly, Ellis points to the 1948 United Nations Convention on Prevention and Punishment of the Crime of Genocide and numerous other primary and secondary sources to support the argument that whites are being subjected to an ongoing genocide.[7]
Ellis states, for example, that the destruction of a people's culture is ethnocide or cultural genocide. The United Nations Educational, Scientific, and Cultural Organization (UNESCO) declared that ethnocide occurs when:
an ethnic group . . . is denied the right to enjoy, develop and transmit its own culture and its own language, whether collectively or individually. This involves an extreme form of massive violation of human rights and, in particular, the right of ethnic groups to respect for their cultural identity.[8]
Ellis also writes that ethnocide goes beyond cultural destruction and is a prelude to the physical destruction of unique ethnic or racial groups:
. . . ethnocide goes beyond the destruction of cultural heritage; through various strategies it aims at killing the actual essence, the vitality or spiritual underpinnings of individuals who belong to an ethnic group. It can be understood as intentionally targeting a distinct ethno-national group for eventual destruction, in whole or in part, by attacking their collective attributes, such as their ethnic and national identity, language, institutions, and homelands, and their ancestral, social, and cultural heritage, ways of life, social bonds, and systems of thought.[9]
Under Justin Trudeau's tenure as Prime Minister, white Canadians are being subjected to an accelerated program of mass immigration and cultural destruction — two key weapons of genocide. The only way to remedy the situation is to embrace White Nationalism and pursue our own interests as a group.
* * *
Like all journals of dissident ideas, Counter-Currents depends on the support of readers like you. Help us compete with the censors of the Left and the violent accelerationists of the Right with a donation today. (The easiest way to help is with an e-check donation. All you need is your checkbook.)
For other ways to donate, click here.
Notes
[1] Ricardo Duchesne, Canada in Decay: Mass Immigration, Diversity, and Ethnocide of Euro-Canadians (London: Black House Publishing, 2nd ed., 2018), 361. Duchesne cites Guy Lawson, "Trudeau's Canada, Again," New York Times, December 8, 2015.
[2] Greg Johnson, "Postmodernism, Hedonism, & Death," in From Plato To Postmodernism (San Francisco: Counter-Currents Publishing, 2019), 170.
[3] Ibid., 171.
[4] Ibid., 171.
[5] Greg Johnson, The White Nationalist Manifesto (San Francisco: Counter-Currents Publishing, 2nd ed., 2019), 2.
[6] Ibid., 17-18.
[7] Clare Ellis, "Demographic Engineering: Creating the Conditions for Civil War and Genocide in Europe," Occidental Quarterly, 17, no. 2 (Summer 2017), 3-31.
[8] Ibid., 30.; Clare Ellis notes that UNESCO's definition of ethnocide is cited in William Schabas, Genocide in International Law: The Crime of Crimes (Cambridge: Cambridge University Press, 2000), 189.
[9] Ibid., 31.
Enjoyed this article?
Be the first to leave a tip in the jar!