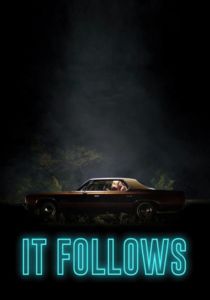 3,517 words
SPOILERS AHEAD
When I was a little girl, my parents wouldn't allow me to go south of eight-mile . . . and I didn't even know what that meant until I got a little older. And I started realizing that's where the city started, and the suburbs ended. — Yara, It Follows
David Robert Mitchell's It Follows is one of the best horror films of the twenty-first century. Whenever I watch it, I find myself mesmerized by the wide-angle shots of greater Detroit, the nostalgia color palette melding the bright and dull, ubiquitous shades of blue and green, the characters' isolation, the Indian summer, the puzzling anachronisms, the relentless and soulless demons, and of course Disasterpiece's banger of an electronic soundtrack exuding intensity and longing melancholy. I seamlessly drift into another world when I watch It Follows, one that is both eerily confounding yet comfortingly familiar. Retro futurism comes to mind, seeing a young man in the 2010s behind the wheel of a 1975 Plymouth Gran Fury.
I watch this movie with a visceral instinct that something is off and deeply wrong while also being hypnotically, hauntingly beautiful. Detroit itself, a monument to the promise and devastation of twentieth-century white America, looms large over these young white adults grappling with questions of sex and morality while on the run from what only they can — or at least try — to see. It Follows is unconventional horror in terms of how Mitchell can both fix your eyes on immediate psychological terror while prompting your uneasy reflection on a world you want to escape, but whose mystery is ever alluring. The aesthetics, the storyline, and the characters urge me to pursue the dark yet romantic dreamscape of It Follows in the hopes of connecting the characters' torment to greater truths of social atomization, familial abandonment, globalization, and racial conflict.
It is dusk. We are treated to a peaceful suburban street and green lawns covered in fall leaves from an emptying, albeit golden canopy in a better-whiter part of Michigan. The camera pans over to a quaint, two-story brick colonial home. The front door opens and a disheveled white teenage girl in nightwear bursts out — with difficulty, considering her high heels. We do not know why, as her eyes remain fixated on the door. Breathing heavily, she sees what others do not as a confused onlooker asks if she is all right. She lies, saying yes, and repeats the lie to her concerned father, who comes out the door off screen. The soundtrack abruptly shifts from a slow, building beat to a fierce, fast-paced synthesizer gallop.
She runs back to her door, past her flummoxed father as the camera remains fixed on her in a continuous shot before it stops in front of the house. Seconds later, she desperately runs back out with the car keys, and new, piercing, high-pitched short shrieks take over the soundtrack. The camera follows her again as she gets in the car and drives away. Thus, the opening scene, with its unbroken following shot, ends.
She then drives to a beach at night, where she tearfully tells her worried dad over the phone what sounds like a final goodbye. Immediately after we see her mangled dead body on the beach at dawn. With a vast blue and silver lake in the background, her disfigured right leg bizarrely bends towards her head with a bone sticking out at her opened, bloody knee. This total sequence, which is less than four minutes long, is meant to be terrifying, and it surely is. But why is it so, apart from the girl's sudden, contorted corpse?
As you will discover, Mitchell tells us a lot about the film in this sequence, but your somewhat annoyed sense of, "Wait, what?" overwhelms your disgust and horror. Such provocation is the genius of It Follows. The horror jumps from what we cannot see while the cinematography and soundtrack immerse us in a picturesque world. We discern a stalking menace in the background and want to know what it is, encouraging our own imaginations to get creative — perhaps ambitiously enough to learn more about the world surrounding the menace, and not just the unseen force.
Since its release in 2014, It Follows has been analyzed to death, and rightfully so considering the caliber of its storytelling. A group of five white, college-age adults in suburban Detroit must confront a demon after the protagonist, Jaime "Jay" Height, played brilliantly by Maika Monroe, has sex with an unscrupulous Hugh (Jake Weary). The demon only walks, but it walks forever — to the ends of the Earth, should it choose — in following its target that is acquired through sex, something Hugh of course neglected to mention until after his fling with Jay. Once the unfortunate victim falls prey, the demon, in its limitless personal forms, sets its sights on whoever passed the curse onto the victim through sex, continuing the sexual chain of carnage ad infinitum. These victims are the only ones who can see the walking abomination.
In her desperate ploy to escape the madness, Jay faces the daunting choice of whether to pass it on or somehow confront and destroy it. And passing it on invites the most awkward question: to whom? Jay is in a typical love triangle as she feels pulled toward her slacker, cool bro neighbor Greg (Daniel Zovatto), while timid, uptight Paul (Keir Gilchrist) still has feelings for her from their brief childhood romance. Either way, Paul, Greg, Jay's sister Kelly, and their friend Yara are willing to help her find creative means in killing the monster. What on earth could such a story have to do with sexual transmitted diseases, fear of getting old, the Great Recession of 2008, or even white genocide? Surprisingly, a lot. Such themes in the film have been covered, but not from the necessary pro-white lens a Counter Currents review dictates.
Remarkably, It Follows has received attention for being a Right-wing film since it portrays demonic consequences for youthful premarital sex. David Mitchell, being a Hollywood director, has of course rejected that interpretation when talking to journalists, though he gave ground when he said, "It doesn't really matter what I think" — stressing that, at the end of the day, the audience, not he, must decipher this Motor City caper.
I am inclined toward the interpretation popular in traditionalist circles that Mitchell's masterpiece condemns the sexual revolution. It is hard not to be so inclined when monsters, often in the form of adult authority figures who are otherwise absent, come to kill you after being in the back seat of a 1970s car one autumn night with some guy who has lied about everything, including his name. Moreover, when Jaime passes the demon on to Greg, he is cavalier about the whole affair, proud of his conquest while never truly believing in the curse, even to the point of looking down on her for doing so despite being by her side while it tried to kill a frantically traumatized Jay. Arrogance, and this neglect of shared adversity in friendship, proves his undoing. The demon, appearing as his mother, kills an unsuspecting Greg in the dead of night before setting its sights back on a far more fearful Jay, who grasps her predicament's consequences and severity.
Beyond the immediate allegory of youthful sex, there is more to It Follows with its tour de force nightmare storytelling in which the legacy of post-1967 Detroit follows Jaime much as the stalking demons do. YouTuber Daniel Netzel contends that It Follows is about the fundamental fear of getting old, evident in Jaime living in her ever-absent parents' house while going to college, and always reminiscing with her friends about lost childhood days and dreams while they indulge in innocent treats of ice cream and soda. Netzel sees her as caught between two phases, like the very Indian summer Jay and the gang are experiencing. Cold gusts of autumn foreshadow winter between lingering, yet prominent warm days where shades of orange and green fill the trees.
For Netzel, the idea of two worlds can be taken further in understanding the suburbs of Jaime's childhood as a sanctuary defined by cul-de-sacs, swing sets, her pool, and curiously old, clunky televisions in homey living rooms showing old films. The pursuing demon forces Jay and her friends to abandon these comforting confines, however, and venture into the dark, grimy, crumbling ruins of Detroit, where pornography is conspicuously lying around. It is a world of adult danger from which Yara confesses her family attempted to shield her as a kid.
In contrast to Netzel, Joni Hayward in Frames Cinema Journal sees the clash of suburban affluence and urban blight in It Follows as a portrait of post-Great Recession economic decline in the 2010s. A group of white — yes, she singles them out for being white — middle-class millennials living with their boomer parents are forced to venture into spaces they normally would not, having been robbed of their freedom (economic security) by tormenting forces they cannot understand (neoliberal capitalism). Curiously, Hayward acknowledges parallels between Jay and her friends' forced movements away from a stalking demon and the city's white flight from the infamous 1967 Detroit riots onward. Of course, to her this concept merely proves just how much racism is entrenched in America's short-sighted capitalist system of exploitation. Regardless of the interpretation, seeing both sides of 8 Mile Road in It Follows creates a horror of its own.
Some of the most striking shots appear as Jaime and her friends seek to track down Hugh, actually a fake name, to further understand the demon's nature. They go to his fake address in the ghost town of the Detroit slums for further clues. Set to Disasterpiece's "Detroit," they are cruising at the break of dawn under grey skies in a 1980s blue sedan down the condemned boulevards of the former Paris of the Midwest. They are silent as they glide past boarded-up, graffiti-strewn warehouses and ruined homes where a few huddled denizens of the ghetto make them even more eager to keep driving, while they themselves maintain blank stares throughout. This wordless scene of about 30 seconds sets the menacing yet despondent tone of the entire flick.
Starting from this scene, Mitchell sets up Detroit much as Stanley Kubrick set up the Overlook Hotel in The Shining. These settings, with their history of uniquely American trauma, become irrevocably tied to the characters' fates. The Overlook, with its Native American décor, was built on an old Indian burial ground where spirits from the past drive snowbound winter caretakers to murder their families across generations. Likewise, urban Detroit's decay reflects the nature of Jaime's struggles with the pursuing demon in whichever form it takes, whether "it" is Hugh's mother, Jay's father, an old and decrepit lady, or her own friend, Yara. Such spirits emanate from America's own burial ground, a post-apocalyptic urban hellscape which once epitomized post-war liberal ideals of economic prosperity and civil rights before crashing into economic globalization and stark racial realities. The end of this primrose path haunts Jaime and her friends in a dominating exposition as they seek to learn more about just how the curse of "it" befell her.
Detroit as an abandoned city brilliantly plays this foundational role, because its graveyard nature heightens isolation for Jaime and her friends in the face of a relentlessly marching "it." Steve Sailer points out that the story for American black-majority cities like Detroit does not end with white flight, but total depopulation. As institutions of governance and stability dissolve under the weight of crime, corruption, and drug abuse, anyone with at least modest means – and not only whites — will inevitably get out, leaving behind only the most hopeless who have the least stake in a functioning society. 82% black Jackson, Mississippi saw its population decline by 17% from 2000 to 2020, while Detroit; Gary, Indiana; and East Saint Louis, Illinois all saw a population decline of at least 16% in the same period.
Mitchell gives the viewer a subtle feeling that Jay and her friends are living in a world of atomized solitude and neglect where men and women of ideal responsibility are long gone. After Jay is first introduced in the film in her backyard above-ground pool to a soundtrack of beautiful serenity, she walks into the house to see her friends on the couch watching a 1950s movie, where the characters have old-time mid-Atlantic accents. She then talks with her friends about her plans to see her new boyfriend, Hugh.
During the back and forth, they entirely ignore the nameless woman in the background who is silently talking on the phone at the kitchen table, presumably Kelly and Jay's mother. From then on, we do not see the nameless woman again. Later, Hugh's mother appears as the only other living parent in the entire film, just for one moment. By seeing adults rarely interact with these young people, I got the sense that Jay and her friends are missing something existentially fundamental. The lack of substantive interaction with elders and their guidance created a gaping spiritual void tied to their fear of a disheveled, injured, or undressed stalker demon right around the corner. Their fear, while isolated, is perfectly fitting for what is arguably America's largest empty city. For anyone unfortunate enough to live in Detroit, I can imagine that the fear of black crime found in any major American city is compounded by a unique, eerie creepiness when one walks for several blocks without seeing as much as a shadow of another person. Mitchell entraps us in this depopulated Detroit by seamlessly portraying Jaime, Kelly, Greg, Paul, and Yara as unnaturally on their own.
Parents do ultimately return to these lost children as "it," culminating in the final battle in the dead of night at a Detroit community swimming pool pristinely illuminated from under the blue-green water like a temple's inner sanctum. Despite planning the encounter, a terrified Jay did not expect to see her own father (recognizable from home photos) in demon form. She refuses to tell her friends what she sees as they stand ready to help drown and electrocute the monster in the water. Despite her father's furious aggression, managing to throw the various electric appliances our heroes had laid out as traps into the pool, he is ultimately brought down by a gunshot to the head once he is in the water and grabbing Jay's leg. He leaves behind not his body, but a growing pool of black-red blood to a hissing, clinking crescendo on the synthesizer.
Societal flight in real-life Detroit begets familial abandonment in It Follows. An abdication of responsibility by the adults in Jaime's life such as her father coincides with her being stalked by a murdering, sexually-transmitted monster in the decadent ruins of a once-legendary city. By showing the demon as Jay's father when it is in its final form, does the film subconsciously suggest that adults who abandon their responsibilities, be they their own children or the city their ancestors built, are morally culpable villains? Perhaps. Whether it is white flight from diversity, paternal flight from a broken family, or Jay's flight from "it" after sex with Hugh, consequences have a way of catching up in the end.
And at the film's climax, such consequences have a particularly grotesque way of catching up. The pursuing monster's appearance as Jay's father carries implications of past sexual abuse, given how "it" entered Jay's life in the first place. Jay's father wanted to leave, but ultimately came back in the most horrific way imaginable. Similarly, it is impossible to put into words the scale of Detroit's debasement and degeneracy after whites fled en masse after 1967. The desperate ploy to avoid reality and the responsibilities shouldered by previous generations leads Jay and her friends to experience the city's detritus up close. These different generations' experiences make one thing clear: We cannot abandon our own families, just as we cannot abandon the larger families of our people and our ancestors, such as that noble captain of industry, Henry Ford, who built Detroit for us with the expectation that future generations would preserve it.
With the demon disappearing in blood, Jay, Kelly, Yara, and Paul have saved the day, right? It can never be that simple. After this climax, Paul and Jay are on the couch together, under the covers. The initial love triangle is resolved as the camera moves above the ensuing intimacy to the living room window, with a cozy shot of a Michigan autumn downpour at night. When it is over, we are treated to a final, iconic moving shot of grey-clad, skeletal Detroit factories as Paul drives slowly past some shady prostitutes, setting up the mystery of whether the demon, if it even still exists, has been passed down once again. Recovering in a hospital bed after being grazed by friendly fire at the pool showdown, Yara reads a Dostoyevsky quote regarding the agonizing inevitability of death to Paul and Jay. The film then ends much where it began: on a peaceful street with manicured, vibrant-green lawns in the Detroit suburbs at sunset. A light sound of birds chirping accompanies Paul and Jay as they silently stroll down the sidewalk, seemingly at peace while somewhat awkwardly holding hands — but wait a second, what's that behind them?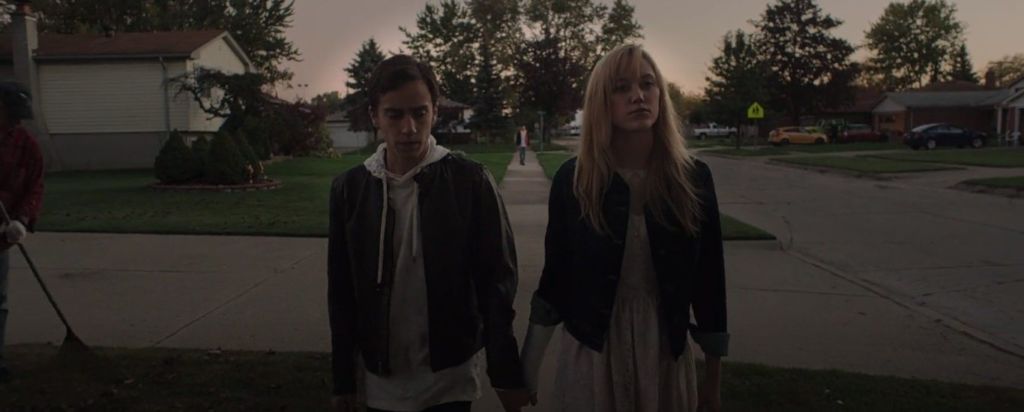 Whether it is just your awkward, gangly neighborhood incel jealous of these lovebirds, or yet another manifestation of predatory, stalking, and persistent death, we never find out. Paul and Jay continue walking, blissfully unaware of the lanky lurker. The film ends and the credits roll. The final background sounds of happy, playful children evoke the beginning of life, while the steady rhythm of leaf-raking taking place on a nearby lawn resembles the tick-tock of life's countdown clock. Put simply, the final scene's meaning could go either way. This cutting anxiety concludes It Follows, a Detroit magnum opus and Mitchell's scary, death-pierced love letter to America's Stalingrad, as well as to the youth we all want to relive.
Richard Houck often writes about what we in the West have lost through a familiar, though fleeting, sense of place at one's neighborhood stomping ground, be it 7-11, Pizza Hut, or the mall, places which are increasingly either being closed down or overwhelmed by unfamiliar, "vibrant" diversity. Every decaying, overgrown, boarded-up factory, train station, and house in Detroit is a resonant time capsule from largely white families and the community-building of yesteryear, where bonds of shared joy, labor, struggle, and laughter are now frayed, like the sites' rusting steel frameworks, in a sea of ruins.
While watching It Follows, I could not help but fall back on the Right-wing Zoomer meme of being nostalgic for a time and place I have never been to. In fact, I felt a somewhat ephemeral but pronounced sense that perhaps I was actually there myself, living vicariously through Jaime and her friends, or better yet their ancestors, whether they were auto workers, engineers, or even the eighteenth-century French settlers who built Detroit out of a wilderness — the latter of which is now returning to the city landscape. Such connectedness is at the heart of the haunting beauty I initially ascribed to this horror film.
It Follows was a gem of the 2010s, an era of steep creative and cultural decline in Hollywood, and its cinematography takes on a similarly herculean task of uncovering beauty in destruction. While Detroit can no longer sell the best cars or offer abundant union jobs to high-school graduates, the city increasingly rakes in revenue from bugmen tourists who are eager to experience authentic, gritty, edgy urban decay. We can laugh and cry, but given the eternal mystique of lost civilizations, I must admit that I can see where these bugmen are coming from. We will rightfully mourn what we have lost, but we will never lose pride in what our people created as we seek out reminders in stories such as Jaime's. Halloween is right around the corner as I write this review, making it a perfect time to watch It Follows. Curl up with some very white pumpkin spice and enjoy a new take on horror. If you are in the area, maybe you will find time afterwards to put on a scarf and explore the lost world of Detroit in the crisp, cool autumn air. Just always remember to keep an eye over your shoulder.
* * *
Like all journals of dissident ideas, Counter-Currents depends on the support of readers like you. Help us compete with the censors of the Left and the violent accelerationists of the Right with a donation today. (The easiest way to help is with an e-check donation. All you need is your checkbook.)
For other ways to donate, click here.
Enjoyed this article?
Be the first to leave a tip in the jar!