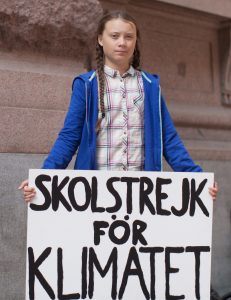 1.137 slov
English original here
Greta Thunbergová, mladá klimaaktivistka, působila na jedné fotce, kterou jsem nedávno viděl, ohromně strhaně. Zničeně. Bylo mi jí z duše líto. Má totiž pravdu: ukradli jí dětství a lidé skutečně trpí. Snad se jí to povede nějak překonat.
Greta bývá terčem posměšků a urážek, často nelítostných, zejména z pravicových kruhů, což je ale podle mě dost nešťastné, protože na fenomén Greta je třeba nahlížet trochu obšírněji. "Hloupé holce" Gretě se vysmívají pro její vzhled a její kritici se často nezastaví ani před poukazováním na její vývojovou vadu. Rád bych zde krátce načrtnul pozici z druhé strany této debaty, z pohledu někoho, kdo je pevně přesvědčen o důležitosti přirozených hierarchií i duchovní aristokracie.
Greta se mi líbí. Má dobré srdce. Jenom potřebuje pochopit, co se vlastně děje – mohla by nám totiž být mocným spojencem. Je mi smutno z pohledu na temné globalistické síly, jak zneužívají mladou, nevinnou dívku, děvče mé rasy, aby jim pomáhalo prosadit politiku, která jí doma vynese jen zášť a nenávist.
Už v minulosti jsem vyjádřil své přesvědčení, že děti nebo lidé, kteří neviděli všechny informace – jež mainstreamu navíc často záměrně ukrývá – mohou být jen sotva považováni za "opravdové zastánce" ideologie. To lze říct nejen o Gretě, ale vlastně o celém levém křídle environmentalistické sféry.
Za svůj život už jsem potkal a bavil se s pěknou řádkou "liberálů s jediným politickým tématem" a řada z nich se hlásí k některé z větví zeleného hnutí. Politicky je jim bližší levice/liberalismus, z velké části nebo takřka výhradně kvůli jejich pozicím v otázkách enviromentalismu a práv zvířat. Velice zajímavé mi přijde, že je ani tolik neoslovují ekologické iniciativy levice (jako nejapný Green New Deal nebo zákaz plastových brček), jako je spíš odpuzuje vědomě nepřátelský postoj neokonzervativní/falešné pravice k životnímu prostředí: hesla jako "Drill, baby, drill" (podpora dalších těžebních způsobů ropy a plynu, především tzv. hydraulického štěpení – pozn. DP) nebo třeba libertariáni, podle kterých je mučení zvířat naprosto v pořádku, jelikož "zvířata jsou soukromý majetek a vláda nemá co nikomu říkat, co si smí nebo nesmí dělat se svým majetkem". Tito zelení liberálové nezřídka cítí skutečné spojení se zemí a přírodou. Jejich snaha být životnímu prostředí dobrými hospodáři a ochránci je dobře míněná a upřímná, na politické scéně však nevidí žádný subjekt schopný nebo ochotný vypořádat se s narůstajícími problémy, jež mohou velmi pravděpodobně brzy přerůst v katastrofu a naprosté zhroucení celých ekosystémů. Tito lidé tak často byť nepřímo vycházejí z předpokladu, že v přírodě existují hierarchie a my v tomto řádu sehráváme zásadní úlohu.
Tyto obavy jsou myslím zcela podložené. Při pokračování stávajícího vývoje bude zanedlouho plavat v oceánech víc tun plastů než ryb. Zákaz plastových brček v západních zemích to nijak nezvrátí ani nezmírní, protože drtivá většina odpadu mířícího do moří pochází z desítky afrických a asijských veletoků. V tělech skoro všech druhů mořských živočichů byly nalezeny mikroplasty, jejichž škodlivé účinky dosud nejsou plně známy. Znečištění prostředí však velmi pravděpodobně souvisí s výskytem rakoviny, deformací novorozenců, sníženou plodností, vyšší nemocností a dalšími negativními jevy.
Celosvětovým problémem je i znečištění ovzduší a stále častější onemocnění astmatem, rakovinou i dalšími souvisejícími zdravotními neduhy. Hlavní zdroje tohoto znečištění se povětšinou nacházejí tamtéž jako v případě plastového odpadu v oceánech: na globálním Jihu, tj. v nebělošských zemích. Proto je myslím environmentalismus důležitý, a to zcela bez ohledu na pravdivost teorii o člověkem způsobené změně podnebí. Skutečně totiž jsme strážci a správci přírodního světa, a také bychom se tak měli chovat. Leví zelení svým lhaním o klimatických uprchlících a papírových slámkách provedli na této prosté myšlence ohromnou sabotáž.
Levicový environmentalismus spočívá hlavně v co nejtíživějším zdanění středního stavu v Evropě i Americe za současného otevírání bran našich zemí tak zvaným "klimatickým uprchlíkům". Greta se stala loutkou velice zlých lidí s velice temnými záměry, to nelze popřít. Nám se však nabízí příležitost ukázat oněm ekologicky smýšlejícím liberálům i druhou polovinu příběhu – vždyť mnozí z nich by se mohli vynikajícími spojenci
Pravicový environmentalismus má velice hluboké kořeny. Madison Grant, John Muir, Teddy Roosevelt, Richard Walther Darré, Jorian Jenks, Knut Hamsun, Sávitrí Déví nebo Pentti Linkola – to je jen namátkou několik hlubinných ekologů a "pravých" naturalistů. Tyto osobnosti zásadně ovlivnily nejen mě osobně, ale v mnoha případech i vnímání přírodního světa a jeho ochrany v současné podobě jako takové. Na rozdíl od Klubu Sierra, který přijal tučný obolos výměnou za mlčení o ničivých dopadech masové migrace a populačního růstu na znečistění, životní prostředí i změny klimatu, se "praví zelení" (Deep Greens) nebojí konfrontovat i pro mainstream příliš horká témata. Měli bychom se zabývat limity růstu, ne-růstem, obnovou divočiny, ukončením rozvojové pomoci všem zemím zažívajícím populační explozi, sankcemi proti ničitelům prostředí nebo omezením zámořského obchodování. Linkola mluví o tzv. "etice záchranného člunu", tedy prozření, že nemůžete zachránit každého a pokud se o to pokusíte, zabijete všechny. Nelze mít hospodářský růst bez konce a současně udržitelnost, vzájemně se to vylučuje. Nelze otevřít hranice a tedy do nekonečna zvětšovat populaci – a zároveň se pokoušet a snižovat míru znečištění ovzduší našich měst. Musíme si nalít čistého vína, a to dokáží jedině "praví zelení" se svou odvahou otevírat tabuizované otázky.
Zelená pravice rozumí přirozené hierarchii i našemu místu a úloze ve vztahu k přírodě. Levice je až příliš často přímo posedlá snahami o dosažení "environmentální spravedlnosti" a spojování rasového ublíženectví s ekologickými tématy, jak vidíme u iniciativy Green New Deal, který připomíná spíš manifest sepsaný neklidnou v diaspoře žijící menšinou, než plán na nápravu ničení přírodního světa lidmi, který mají tento směšný dokument na svědomí.
Greta ve svém projevu nepronesla nic lživého Skutečně jí ukradli dětství. Lidé trpí, umírají a tihle klauni se nezmůžou na nic lepšího než na pohádky o nekonečném hospodářském růstu.
Greta se dotýká čehosi tak mocného, že její loutkovodiči nad ní mohou nakonec ztratit kontrolu – a sám se právě tomu snažím napomoci. Rád bych, aby se golem zas jednou obrátil proti svým stvořitelům. Rád bych se stal součástí pravicového zeleného hnutí, které Gretě a jí podobným ukáže, že globalistická klika jim neukazuje celou pravdu a že skutečně máme v rukou reálná řešení problémů, jež se jako temná bouřková mračna hromadí na obzoru. Rád bych Gretě – a vlastně všem dětem Evropy – pomohl tím, že se budu podílet na vytvoření bezpečné domoviny a udržitelné společnosti, kde se nastupující generace nezneužívá, neprodává za mrzký zisk ani není vysmívána, ale dostává se jí péče, pomoci, vzdělání i ochrany. V Gretě vidím totéž jako v tolika dalších, které ony stvůry s démonickými rysy využily a zradily: někoho, kdo nás potřebuje více než kdy předtím.
Když už ne kvůli sobě, nepřestávejte navzdory ranám a únavě aspoň kvůli příštím generacím. Když se dívám na Gretu, vidím děvče, které mohlo být mou malou sestřičkou. Trhá mi srdce, že jí i tolika dalším ukradli dětství – a právě to je smyslem celého našeho hnutí: vystavět pro naše lidi takovou budoucnost, v níž pro nás bude místo.
This translation originally appeared at Delian Diver.
* * *
Like all journals of dissident ideas, Counter-Currents depends on the support of readers like you. Help us compete with the censors of the Left and the violent accelerationists of the Right with a donation today. (The easiest way to help is with an e-check donation. All you need is your checkbook.)
For other ways to donate, click here.