Francis Parker Yockey Birthday Giveaway!
Posted By Cyan Quinn On

In North American New Right

| Comments Disabled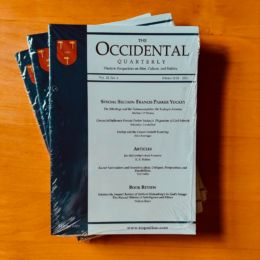 [1]
171 words
To celebrate Francis Parker Yockey's 105th Birthday, we are giving away copies of the rare The Occidental Quarterly, Francis Parker Yockey edition published Winter 2010. These are first-come, first serve, still wrapped in the original protective plastic.
Between now and October 1st, anyone who initiates a new recurring monthly donation of $20 and up receives a copy until we run out!
This edition includes the following articles not available at Counter-Currents:
"Concealed Influence: Francis Parker Yockey's Plagiarism of Carl Schmitt" by Sebastian Linerhof
"Yockey and the Cancer Growth Economy" by Alex Kurtagic
And other articles relevant today such as:
"Joe McCarthy's Real Enemies" by K. R. Bolton
US readers, please sign up via echeck here (don't forget to check the box "make my gift monthly.") Everybody else, keep reading.
All other readers can use either of these easy options:
Thank you for your support!