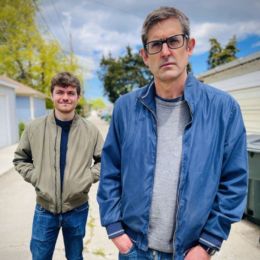 1,400 words
Louis Theroux has made a career as a documentarian by going out into the "bush"—basically, anywhere outside the urban and online bubbles where his kind dwell. There he meets weird and marginal people. He is nice to them in order to get them on film. Then he displays them—like so many Hottentot Venuses—for the amusement of condescending liberal urbanites like himself. This allows Theroux's audience to feel doubly superior. They can look down on "those people," but they can also pretend that they are being classy, respectful, open-minded, and even willing to be "challenged."
The first episode of Theroux's new BBC documentary series Forbidden America is called Extreme and Online. It focuses on Nick Fuentes and three associates: Baked Alaska, Beardson Beardly, and Brittany Venti.
If this was supposed to be a hit piece, it is extremely inept. Fuentes comes off looking great: intelligent, articulate, and self-confident. Baked Alaska looks pretty good too: buffoonish and insincere, but also self-confident and on message. Before watching this, I knew Beardson Beardly only by his reputation, which is terrible, but I can't really criticize how he handles Theroux. He patiently endures Theroux until it becomes obvious he's just a jerk, then throws him out. Humiliated, Theroux gets revenge by playing a clip of Beardly threatening to anally rape Brittany Venti. Beardly is hardly good optics, but Fuentes has stuck by him, and—amazingly—serious people are sharing a platform with him at Fuentes' 2022 AFPAC conference. Venti scores some sympathy points, but she's neither interesting nor impressive. Theroux only includes her because she is a woman with visible non-white ancestry.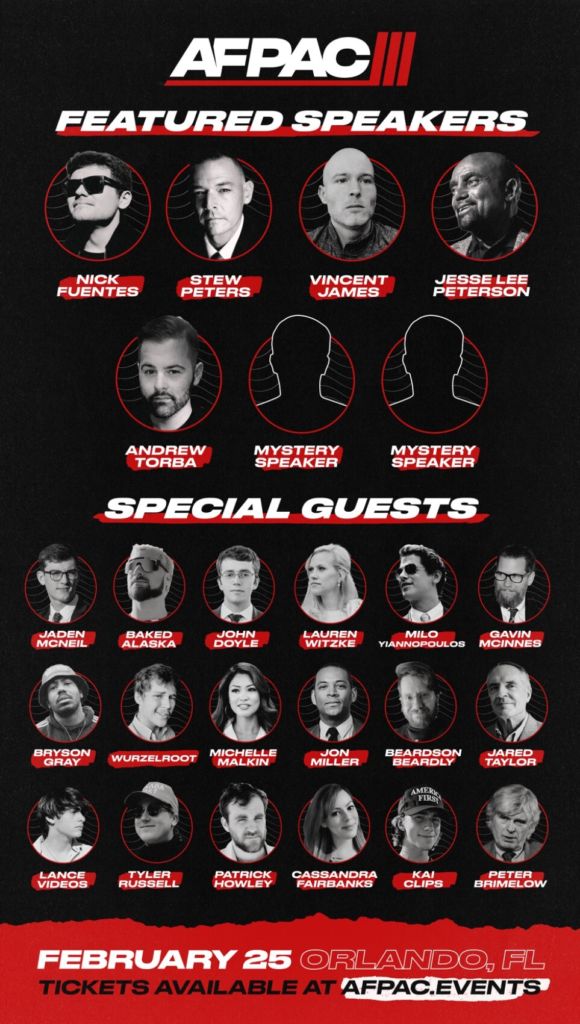 The big loser, however, is Louis Theroux himself. This time, it is no more Mr. Nice Guy. Theroux hectors and badgers his interviewees. The mask of respect is discarded. The arrogant liberal jerk is fully on display. It isn't pretty. Nor is it formidable. Fuentes and company easily parry Theroux's challenges, making him look inept. But Theroux is not the only one being humiliated. With his dorky persona, wretched posture, slovenly clothes, and middlebrow smugness, Louis Theroux is the embodiment of the international Bugman. His humiliation is their humiliation. He really let down the team.
The net result is that Fuentes and Co. come off as smart, funny, and relatable even while saying outrageously politically incorrect things, whereas Theroux seems like a sanctimonious scold accusing his interviewees of the sins of racism, sexism, and homophobia. Like the priest of a dying god, he is often visibly frustrated when these magic words fail to induce stammering disavowals and apologies.
Leftists should be livid. Theroux has given Fuentes and company a mainstream platform where they shine. Theroux could have included footage of Fuentes and Baked Alaska that is every bit as obnoxious and embarrassing as Beardson's anal rape rant. But he chose not to. This is tantamount to whitewashing Fuentes. One wonders why. Is Theroux a secret sympathizer? Is his ineffectual badgering an attempt to provide cover for himself? I am sure Theroux's superiors will get to the bottom of this.
Theroux repeatedly accuses Fuentes and Co. of being "Alt Right" and "White Nationalists." They deny these charges, and correctly so. They really aren't White Nationalists, because White Nationalists want to create or restore homogeneously white ethnostates. But Fuentes and Co. are not just color-blind civic nationalists like the so-called "Alt Lite." Civic nationalists believe that race doesn't matter as long as we all think American thoughts.
Instead, Fuentes and Co. are what I call "uppity white folks": white people who take race and demographics seriously, who defend the essential whiteness of America, and who wish to take their own side in a fight. As Fuentes says in one of Theroux's clips: "White people founded this country. This country wouldn't exist without white people. And white people are done being bullied." Fuentes also openly talks about white genocide, the Great Replacement, and Jewish power.
Even though Fuentes and Co. don't want to live in a white ethnostate, they insist that they want to live in a normatively white America, with a white supermajority. This means a return to the immigration and naturalization policies that were in place during most of American history, from 1790 to 1965. They would probably uphold freedom of disassociation among the races as well.
Although it is not White Nationalism, this could be justly called "white privilege," even "white supremacism." But if America is the homeland of Americans, who are a white people, why is it problematic for a people to be "privileged" and "supreme" in its own homeland? Is it problematic for the Japanese to be "privileged" and "supreme" in Japan?
A place where one enjoys power and privilege as a birthright—a place where you speak the language, understand the customs, and feel comfortable—a place where nothing is alien to you—is pretty much the definition of a homeland. There is nothing unfair about the privileges that come with a homeland, as long as you don't deny other peoples the privileges of having homelands as well. (For more on this issue, see my speech "The Very Idea of White Privilege.")
Fuentes and Co. are perfectly positioned where American nationalism and populism are growing: the space between White Nationalism and the Republican Party. There are millions of white Americans who have positive racial identities, reject white guilt, see that whites are under attack, and want to organize to fight back. They are, in short, uppity white folks, ready for white identity politics but not (yet) ready for White Nationalism because they don't envision the ethnostate as a solution. (For more on this, see my speech "Uppity White Folks and How to Reach Them.")
Uppity white folks are a constituency looking for political representation. But most Republican politicians will not represent them (yet) because they hold the absurd view that there's nothing worse than identity politics, but only when white people practice it. That would be "racism," and there's nothing worse than racism, but only when it benefits white people.
This morally repugnant double standard is, however, crumbling, and when it finally gives way, the dammed-up floodwaters of white identity politics will completely remake America's political landscape. Fuentes' America First movement is one of the places where this dogma is breaking down, hence his association with former Representative Steve King and sitting Representative Paul Gosar. (For some concrete political proposals to advance the interests of uppity white folks, see my essay "The Uppity White Folks Manifesto.")
I find it annoying when Theroux repeatedly trots out "White Nationalist" as an accusation. I am not annoyed that Fuentes and Co. deny the charge, since it really is untrue. White Nationalists need to work harder to destroy the stigmas attached to our ideas. We can't expect anyone else to do that for us. To their credit, however, Fuentes and Co. do dismiss such stigmatizing words as "racism," "sexism," and "homophobia." They also treat Theroux and the rest of the mainstream media with well-earned contempt.
Theroux doesn't just show Fuentes' strengths. He also shows his limits. Fuentes is what I call a "Right-wing sectarian." He wishes to link white identity politics with Right-wing add-ons such as Christianity, which split white identitarians. This strengthens Fuentes as a leader of his sect while making the movement as a whole weaker and less capable of cooperation. Fuentes, moreover, has made his bones attacking other individuals and groups on the Right. This has created a great deal of bitterness and a large number of people who want him to fail.
But wishing won't make it so. One reason I advocate "big tent" nationalism is that you really can't purge people from a decentralized movement anyway, so it is best to try to live with them. Fuentes is extremely effective at arguing that America is a white nation, that white people are under attack, and that white people should fight back. He is humiliating our common enemies and mainstreaming our issues and talking points. He's an agent of radicalization. White Nationalists can build on that. We need to provide humane and workable proposals to halt and reverse the Great Replacement and restore white homelands. More people than ever are receptive to our message. If we can't persuade them of our vision, the fault is ours alone.
It is always a gamble for white advocates to talk to the press. I don't recommend it. But in this case, Fuentes lucked out. I recommend Extreme and Online. I think it is a net positive for the cause of white identity politics.
*  *  *
Counter-Currents has extended special privileges to those who donate $120 or more per year.
First, donor comments will appear immediately instead of waiting in a moderation queue. (People who abuse this privilege will lose it.)
Second, donors will have immediate access to all Counter-Currents posts. Non-donors will find that one post a day, five posts a week will be behind a "paywall" and will be available to the general public after 30 days.
To get full access to all content behind the paywall, sign up here:
Paywall Gift Subscriptions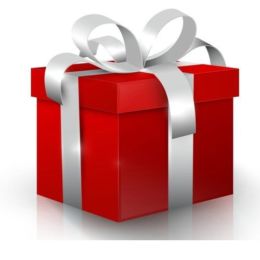 If you are already behind the paywall and want to share the benefits, Counter-Currents also offers paywall gift subscriptions. We need just five things from you:
your payment
the recipient's name
the recipient's email address
your name
your email address
To register, just fill out this form and we will walk you through the payment and registration process. There are a number of different payment options.
Enjoyed this article?
Be the first to leave a tip in the jar!