Nigel Brown:
From No Remorse to Ravens Wing
Ondrej Mann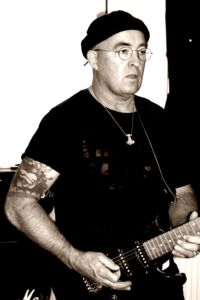 3,396 words
Nigel Brown spent over 30 years in the skinhead subculture. He played in the Rock Against Communism (RAC) scene starting in 1985: No Remorse, White Lightning, Broadsword, Retaliator, Celtic Warrior, and others. No Remorse, Fortress, and Celtic Warrior in particular were among the most famous skinhead bands of their day. Now Nigel is concentrating on his solo project.
Nigel is a very nice and intelligent guy. He recently moved from Australia to Berlin, where he lives with his girlfriend. I believe we will hear more about him and his music.
Willow Tree
Ondrej Mann: What was your childhood like?
Nigel Brown: I grew up in a family of six. I am the oldest of four boys. My father worked for the government in the statistics department until I was 12, when my father left his job to open up the family liquor store. He was very successful and we later had a chain of five liquor stores. Now, some 45 years later, he still owns one store. I worked for him in our family business since I was 12 years old and after I got out of prison in 1988 for GBH (grievous bodily harm) against a homosexual, I managed one store for two years.
I became a skinhead in 1983. My parents were totally against the subculture and tried hard to stop me from getting involved, but I rebelled against them, which led to me being jailed in 1987 for GBH. When I got out of jail, they offered me a job as manager of one of their stores to lure me away from the skinhead scene, but that didn't work, because I joined the nationalist band White Lightning at the time.
OM: What brought you to racial consciousness?
NB: Growing up, I had problems with my father, which led me to the skinhead subculture when I was 17.
When I started in the skinhead scene, I wasn't political. I became political after I left prison and started running my parents' liquor store because a regular customer gave me a little book about international Zionism one day, and from that day in 1988, my eyes were opened.
I formed a band called Order of the Boot (we played Skrewdriver, Brutal Attack, and other Oi! band covers) and later joined White Lightning after my awakening.
OM: Have you gone through any religious evolution?
NB: No. I was raised in the Church of England Christian faith, but turned my back on it at the age of 15.
OM: What books have influenced you the most?
NB: The book Skinhead was what attracted me to the subculture at the age of 17. I studied English and American literature in the 10th grade (I completed the 12th grade), and books that left an impact on me that I read were George Orwell's 1984, John Steinbeck's Of Mice and Men, William Golding's Lord of the Flies, Robert Cormier's I am the Cheese, and James Joyce's A Portrait of the Artist as a Young Man.
OM: There are quite a few books coming out now about the former skinhead subculture. Have you ever thought of writing your own memoirs? Which books about skinheads would you recommend?
NB: I am not versed in any current books about the skinhead subculture. I recommend reading the "skinhead series" about Joe Hawkins (Skinhead by Richard Allen), as that was close to reality at the time. I started to write an autobiography some ten years ago about my memoirs from the subculture and my time with No Remorse, and had written 30,000 words, but sadly I lost everything when I came to Germany in 2018.
OM: That's interesting. Can you elaborate a bit on why you moved from Australia to Germany?
NB: I was married to a woman in Australia for 20 years and had four children with her. In 2016 she betrayed me for the second time and left me for another man. It almost destroyed me. I spent the next two years fighting in the family courts for custody of my four children, but failed and lost my court battle and the rights to my children (which cost me nearly all my money). I was paralyzed, because I love my children very much and had a very strong bond with them. Then, at the end of 2018, through a mutual friend online, I met my current fiancée from Germany. I then decided to move there to start a new life with her, and arrived here in December 2018.
OM: Are your memoirs definitely lost and can't be found?
NB: Yes, everything, my entre history, everything I ever owned and also my children's things — absolute tragedy! I try not to think about it as it pains me too much. The biggest pain is from the loss of all my children's possessions and all the sentimental things they made for me.
OM: What bands and projects did you play in? Could you list the years and the reasons why you left various bands? I know your older skinhead bands Fortress, No Remorse, Celtic Warrior, Broadsword, and your newer neofolk band, Ravens Wing.
NB: Order of the Boot 1985, the band broke up to pursue other interests. White Lightning 1988, I left as I moved to the United Kingdom in 1991. No Remorse 1991-1995, the band broke up because of problems caused by Combat 18. Celtic Warrior 1993 — I recorded the first two albums for Celtic Warrior, after that I focused on other projects. Rune Netherlands 1994, the band broke up because I was deported out of the Netherlands for recording Celtic Warrior's second album (Let the Battle Begin) there. Broadsword 1996 (Billy Bartlett from Celtic warrior and I) — I recorded two albums and played two live shows, but the band stopped as I moved back to Australia . . . Ravens Wing (Scott McGuinness from Fortress) 1997, I recorded one album and never played live, and then fell out with Scott for personal reasons. Retaliator (Billy and I), I recorded two albums but never played live. We stopped as Billy was denied entry into Australia. Wolf's Eye (solo) 1997. Nemesis 1998 (with John from Scotland), I recorded one album and never played live. Savage (Billy and I) 1998, I recorded one album but never played live. Southlander (Scott from Fortress), I recorded four tracks for compilations, never played live. Leider der Hoffnung 2, 1998 (with Steffan Hammer of Noi Werte), I recorded one album and never played live, fell out with him as he ripped me off with my royalty percentage. No Fear (Paul Burnley and I), recorded one album in 1999 and never played live. It stopped because Paul disappeared. Pro Patria volumes 2 and 3, 1998-1999 for Midgaard records, one album with the singer of Triskalon and another with a Swedish female vocalist (who also appeared on No Fear), and never played live. Pitbull Power 1999 (with Jocke Karrlson), I recorded one album never played live. Nigel Brown, Cross My Heart solo project — in 2019 I recorded one mini-album and am still playing live shows. Wutbürger 2020, I recorded eight Songs, never played live, and left because of personal issues with the singer. Apostles of Liberty 2020, I recorded 16 songs and it is an ongoing project with other musicians. Irminsul 2021 (will re-record old and new Irmimsul songs this year with the singer, Alex, from Spain), our first gig is booked for February 2022.
I was never a member of Fortress — I only played lead guitar for their European tour in 1996 (we played in four countries), as their other guitarist couldn't go to Europe.
All up, since 1985 I have been a member of twenty bands and projects and recorded over 300 songs all over the world.
OM: We'll stop by Ravens Wing for a moment. Their first album is called Through the Looking Glass. Is there any connection with Lewis Carroll's famous novel? Do you know the 1976 avant-garde erotic film of the same name, directed by Jonas Middleton?
NB: Yes, there is, but you would have to ask Scott for the deeper meaning, as he wrote the lyrics and came up with the album title. No, I am not familiar with this film, maybe Scott was.
I can only comment on one song, which is "Ten Thousand Miles," and was about Scott's ex-girlfriend.
OM: What is on the cover of Through the Looking Glass? I used to work in an old factory and there was a birch tree growing in through a hole in the window. The factory was about to go bust, and I wondered if the factory or the birch would last longer in that place. The cover always reminds me of that.
NB: Scott was responsible for the art, as he used to be a screenprinter, so art and design was his forté.
OM: What are your top five songs that you've written? Is there any history attached to them?
NB: My top 5 recorded LPs were, I think, Ravenswing, Retaliator (a standalone LP), The Best of No Remorse, Broadsword (both albums) and Lieder der Hoffnung 2. Actually, Wolf's Eye, too, but I won't choose specific songs from any of these six LPs as I am proud of all the tracks I recorded on them.
OM: You said that Paul Bellany has disappeared. Have you been in contact with him? Is he releasing any new stuff? What happened to him and No Remorse?
NB: He vanished in 1999 to focus on his family, as I also did in 2000. We made contact again in 2020. He has released some new material solo and in conjunction with other musicians, but I am not at liberty to talk about this. His family was threatened by C18 in the late '90s, so he became a recluse to protect his family.
OM: What did his father say about his son's music?
NB: He didn't like it. Neither of his parents did.
OM: What is your relationship with ugliness and modern art? The father of No Remorse's founder was a modernist painter, John Bellany.
NB: I don't have a relationship to "ugliness." I don't like modern art, as I find the majority of it ugly, negative, untalented, and a mockery of true art and beauty. That said, I have seen many of Paul's father's paintings and I consider them not to be in the same basket as modern art, as they inspire the viewer to think and contemplate. His art, I think, was extremely intelligent and contemplative, although many that I have seen are reflections of sadness and cynicism.
I like some Impressionist and surreal art, and I find that some of John Bellany's art fell into these categories.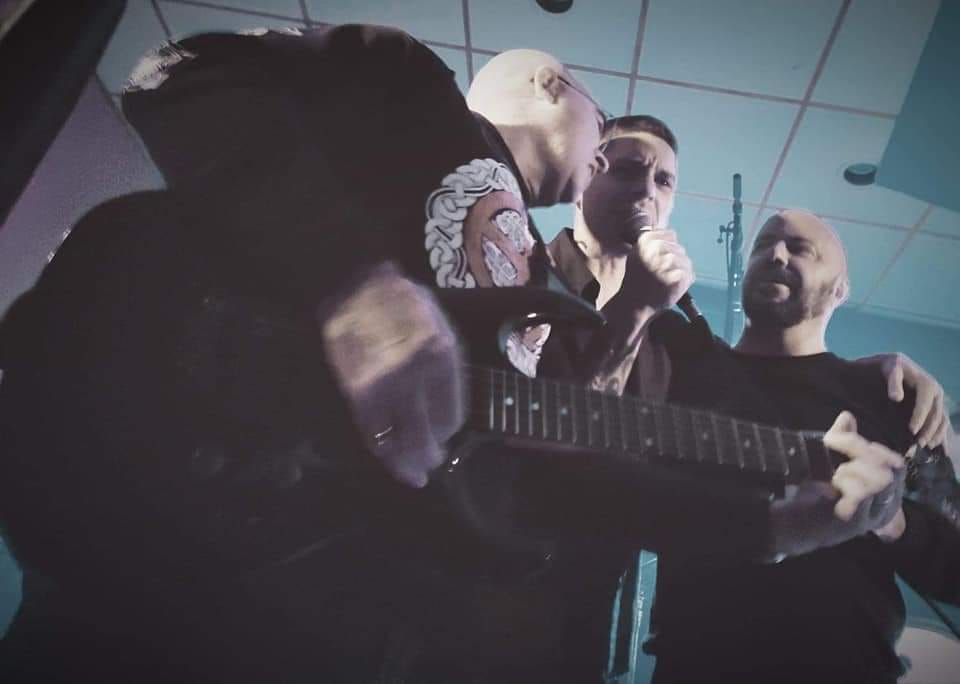 OM: That's interesting. Who are your favourite Surrealist and Impressionist painters?
NB: I like Édouard Manet, Claude Monet, Vincent van Gogh, Pablo Picasso, and Salvador Dalí, but there are other, less famous artists whose works I like also.
OM: Was it a problem for most skinheads that they didn't get along well with their families?
NB: Yes, from my experience that was generally the case.
OM: Can you try to describe it a little bit? Is it about non-functioning multiculturalism, conflicts with non-whites, poverty, alcoholism, and so on?
NB: I can't comment on the whole subculture, but only about my experience with people I knew from the scene. Most had either come from a broken home or had problems with their fathers (though in some cases their mothers), and they were seeking a real family and saw it as a means of voicing their rebellions against society and the wrongs that had been done to them in their youth. Of course, this pattern is not the same in every country or region of the world. For example, my fiancée tells me that when she was growing up in East Berlin, where the skinhead subculture was very big in the late eighties and nineties, most of her skinhead friends came from families that were not disenfranchised, so my theory is that for them it was an act of rebellion against the Communist state that was the main attractant.
A dysfunctional family unit (alcoholism and violence from one of the parents), the threat of immigration undermining their own culture, physical conflicts with these ethnic minority groups, and coming from an area of lower economic demographics are all core factors when you attempt to dissect and analyse the skinhead movement's core psyche.
OM: Why did the skinheads indulge in the lowest human instincts — fighting, drunkenness — and not have higher aspirations? There were very few people with higher aspirations among the skinheads, although there were some: George Burdi (poetry), Lina Saga Carolina Erikson (beauty and pure singing), Tomas Fabian (music collages, opera singing, symphonic metal).
NB: It was rebellion and anger that stemmed from family problems. They were looking for revenge for wrongs done to them growing up, or sometimes they used the subculture as a form of escapism, like a religion.
OM: Why is it that it is mostly older people, of an average age of 50, who tend to go to concerts in Western and Central Europe these days? Is there any way to change this?
NB: Because we only play music that caters to this generation's taste and what they are familiar with. We need to make music that caters to the tastes of the the younger generations. I have always said this, though. The project Savage that I made with Billy in the '90s was aimed at the Right-wing football hooligan fans of the Dutch football team Feyenoord. It was techno/house/industrial/metal music. A lot of people in the scene at this time didn't accept or understand what we were trying to do.
OM: What's the biggest audience you've performed for?
NB: Division S, Dirlewanger, No Remorse, and Skullhead live in Brandenburg, Germany in 1992. There were 2,500 people.
OM: Do you have any funny stories from concerts?
NB: No Remorse played a concert in Sweden in 1993. Afterwards, Paul and I made a mistake and went to the wrong after party. It was full of drunken skinheads. We were supposed to go with Jonas from Dirlewanger to another party. We left the wrong party after 15 minutes in a taxi, going back to Jonas' flat in Göteborg [Gothenburg]. When we got there, he was not there, no one was there, and it was after midnight — it was14 degrees outside, as it was late November. We went down to the underground car park, where it was only zero degrees, and found some black plastic bags and cardboard boxes to sleep in and keep warm. We spent five hours there, freezing, until Jonas came back. It was one of the coldest nights I ever had and we called it the "Black Sack Tour" after this.
At another concert with First Strike that we played in Czechia in 1993, our bass player Gary Smith was so drunk that before the show he mistook a fat Czech fan of No Remorse who had long hair and man boobs for a woman, and tried to kiss him.
OM: Great. Do you have any more stories?
NB: When No Remorse played in Czechia and Poland in 1993, our drummer for the tour was Clarky (Celtic Warrior's drummer). When we were trying to cross into Poland from Deutschland in our car, Clarky realised that he had no passport or visa to enter Poland (the rest of us did), so a few kilometers from the border, someone from Czechia met us and took Clarky alone with him to run through the woods illegally to cross the border into Poland. He failed to tell Clarky until they were only 100 meters from the border that they would have to be very quiet, as soldiers patrolled the woods along the border with Kalashnikovs and were trained to shoot on sight! Clarky and the other guy made it across without any problems, but when we met with Clarky some hours later, his face was as white as a ghost's.
OM: How is it possible that skinheads on the streets were closer to the truth about the future than the sociologists, futurologists, prognosticators, and philosophers from universities and state institutes for science and research?
NB: Because all of them had been programmed with the lies and propaganda during their time in the Western educational system . . . I, just like Paul and George is, came from an intelligent gene pool, but both Paul and I were always square pegs who swam in the opposite direction from the rest of the school of fish. We were therefore unprogrammable and saw the world through different eyes than those of the masses.
OM: You told me you're not a skinhead now. You were in the skinhead scene for over 30 years. Why don't you consider yourself a skinhead anymore?
NB: It was a youth and younger adult subculture for me. I still shave my head still and listen to a lot of the music, but I don't label myself as a skinhead these days. I am a white Anglo/Euro 55-year-old man.
OM: Do you listen to neofolk? What attracted you to this genre? A number of former skinheads have moved on to play in this genre. Daniel Landa released a neofolk album, George Burdi has a neofolk band called Überfolk, and you now play neofolk as well. And there are many others. What attracts you to neofolk?
NB: I found myself being naturally drawn to folk and ballads in the early '90s, when I recorded "The Flame that Never Dies" for No Remorse. Then I did some with Broadsword, with Billy, and since then I have always had an interest in neofolk music. Maybe I am getting old, as I prefer this music these days.
Maybe it is the same for George and the others as myself in terms of what attracted them to neofolk music . . . It's a natural progression.
OM: What do you think about black metal? On your last album, you had help from the musicians of Deströyer 666.
NB: I like some of it, but only when I am in the mood, which seems to be not so often these days. Deströyer 666 were friends of Scott's. I only met and worked with them to work on Ravens Wing.
OM: I know you have four kids. How did you raise them? What's your relationship with them? Is it hard to raise and mold children in the modern world?
NB: I raised my kids with my political values, which they still hold. I have a very strong bond with them. My two daughters will come to live here with us in the future, and hopefully my youngest son as well. It is hard to raise children in the modern world, as they are surrounded by a sea of poison.
OM: What direction should the pro-white movement take?
NB: A more mainstream approach, one that doesn't distance ourselves from society. We should avoid being labelled as bigots and being seen as part of a hostile, anti-social movement. We should abandon the word "hate" when describing what drives us, as it is about love of our culture and the right to preserve our culture, while at the same time recognizing other cultures' right to exist. They have an equal right to a place in the world as well. We can be friends with other races and cultures and do business with them, but we — and they — must maintain and protect our own cultures, or there won't be any culture for anyone in the world.
OM: What else would you like to accomplish?
NB: I will keep making music for as long as the gods provide me with this gift, and most importantly music with a message, no matter how subtle, direct or indirect. Music is a powerful tool, and I would like to be remembered when I am gone for helping to play a role in the awakening and changing of the world — to a world free from global oppression, tyranny, and slavery, and toward a final end to the oppressors' reign of terror that they have had over the world throughout my entire life.
OM: Will it be possible to see you playing somewhere? I hear you're going to be performing with your solo project or Ravens Wing in the future?
NB: Yes, I will be playing various shows this year in Europe . . . Ravens Wing will never play live, as in order to do that Scott and I would have to reunite, and there is no chance of that in the near future, as our personal rift is over 21 years old now. If Scott performs as Ravens Wing without me, it will not be Ravens Wing, just as No Remorse without Paul is not No Remorse.
*  *  *
Counter-Currents has extended special privileges to those who donate $120 or more per year.
First, donor comments will appear immediately instead of waiting in a moderation queue. (People who abuse this privilege will lose it.)
Second, donors will have immediate access to all Counter-Currents posts. Non-donors will find that one post a day, five posts a week will be behind a "paywall" and will be available to the general public after 30 days.
To get full access to all content behind the paywall, sign up here:
Paywall Gift Subscriptions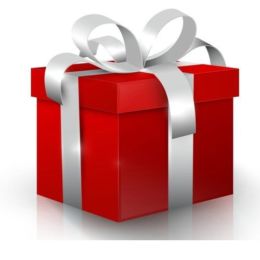 If you are already behind the paywall and want to share the benefits, Counter-Currents also offers paywall gift subscriptions. We need just five things from you:
your payment
the recipient's name
the recipient's email address
your name
your email address
To register, just fill out this form and we will walk you through the payment and registration process. There are a number of different payment options.