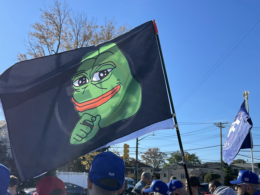 2,664 words
In the 1946 movie Humoresque, Joan Crawford describes John Garfield as "that rare animal, a New Yorker from New York." It's long been a joke that no one is actually from New York; you're either an immigrant or you arrived in New York as a starry-eyed kid from the Midwest seeking big-city adventure. This meme used to be mainly true only of Manhattan, but it is more true today and applies to most of New York City. It's rare to meet a white gentile who was actually born and raised in New York. Most of the white working class fled to New Jersey and Long Island in the 1970s and '80s. The only people you ever meet who are actually from New York are blacks and Jews.
The exception is Staten Island. Staten Island is a weird, 75%-white Noah's Ark where you will still find real white New Yorkers from New York of the kind long gone in the other boroughs. It is the one remaining borough of New York City that still possesses something that could be described as a "white working class." The closest thing to a white working class that you will find in the rest of New York are starving artists who will perform menial work while waiting for their big break. These people are usually middle-class transplants from elsewhere, however, so they are not actually working class and they are not real New Yorkers.
Staten Island is the least populous — half a million people — and arguably the least glamorous of the five New York boroughs. Manhattan is famous for many things: Broadway, Wall Street, the Empire State Building, and so on. Brooklyn is known for Coney Island, their famously distinct accent, and for being the "tough" part of New York. People know Queens as the middle-class part of New York City, where the Mets play and for being the setting for All in the Family. The Bronx is a dump and not exactly "glamorous," but they can at least claim to be the home of the Yankees, the most iconic American sports franchise in the world. If you had to be known for one thing, that's not a bad pick.
Staten Island is not known for very much in comparison. Aside from the Staten Island Stapletons' fleeting three-year career in the NFL during 1929-1932, they've never had a major league sports franchise. There are no famous buildings there. The most well-known Staten Island success stories are '90s rap group Wu-Tang Clan, Saturday Night Live cast member Pete Davidson, and '80s hair metal band White Lion. If it is famous for anything at all, it is for the Staten Island Ferry, which transports people from Staten Island to Manhattan and back. It is probably this ferry which makes Staten Island the oasis that it is.
Staten Island is the only borough that you can't get to by subway. You have to take the ferry. The ferry is a much more elegant and enjoyable way to get there and back, but it is not nearly as convenient as the subway. This is one of the reasons that Staten Island has never become a haven for the starving artist transplant types: It's too much of a hassle to commute to where "the action" is.
This unique geographical characteristic probably also keeps out a lot of minorities as well. Whites are a seafaring people, so getting place to place by boat feels perfectly natural to us — but blacks associate boats with slave ships. What else would they associate boats with? The only seafaring blacks I'm aware of are the Somali pirates. If you ask the average black guy to think of a boat, he's going to think of a slave ship. And what if there was an accident and the boat sank? None of them know how to swim or follow instructions.
Liberal New Yorkers look at Staten Island with much the same scorn and derision that they look at Red State America. If anything, liberal New Yorkers look at Staten Islanders as lower than Southern rednecks, since they at least have the excuse of living in nowheresville, but Staten Islanders live within eyeshot of globohomo headquarters. Staten Islanders cannot therefore claim ignorance of Talmudic law.
When New Yorkers joke about Staten Island, the punchline usually has something to do with its people being uncharacteristically reactionary. It's the place where the spirit of Archie Bunker's New York still lives on. In 2020 Donald Trump got 22.6% of the vote in New York City as a whole, but he won Staten Island with 57% of the vote. This reactionary impulse has been with Staten Island since the beginning. During the American War of Independence, Staten Island remained loyal to the British throughout the entire war and even repelled an attempted invasion by Continental forces.
The way liberals talk about Staten Island, you would think it was a place where bands of roving white hoodlums with switchblades and bicycle chains walk the streets, looking for minorities to terrorize. In fact, Staten Island is a nice place. It's clean and it has the lowest crime rate of any of the five New York boroughs.
Thus, as a venue for Nick Fuentes' latest anti-vax rally, Staten Island was a pretty good choice, since at least it was taking place on friendly-ish ground. Whatever the locals may think of Nick Fuentes, they are certainly no fans of Antifa. However, this rally was to be a trial run for another rally this Saturday which will be taking place in the belly of the beast: Manhattan. The Upper East Side, in fact.
This Staten Island event was announced on relatively short notice. I first heard about it on Monday. I was curious to see how many people Fuentes could get to Staten Island on a weekday during working hours on two days' notice. Staten Island is difficult to get to even if you live in the area unless you have a car, when it's only inconvenient.
I got off the train at the Dongan Hills stop. One of the first things I saw on the street was a van with a "Fuck Biden" bumper sticker. I was definitely on Staten Island.
From there it was about a 15-minute walk to the Staten Island University Hospital. Fuentes chose this location because the hospital had recently fired 1,400 workers for failing to comply with the vaccine mandate.
This is part of a strategy Fuentes has been pursuing since Stop the Steal. He has made it a policy that when he makes public appearances, rather than do it as a "save the white race" rally, he does it under the banner of an issue that has wide support among mainstream conservatives. Last year, he did some Stop the Steal rallies in relation to election fraud. Now he is doing rallies against vaccine mandates. A lot of people hoped that with Trump out of the way, White Nationalists would inherit a lot of that energy that he was getting, but it appears that most of it went into the Covid-skeptic movement — and QAnon is taking far longer to die than many hoped or predicted. Under the circumstances, Fuentes is making the tactical decision to go where the normies are.

As I approached the event, the first thing I noticed was cops. There were lots and lots and lots of cops all over the place. I would estimate that there was maybe one cop for every four attendees. I was curious to find out what the Antifa presence would be like, as there was chatter about it on Twitter. But if Antifa had been planning any kind of major disruption, they likely would have been scared off by the enormous police presence at an event that was already taking place in a conservative stronghold. That said, I'm sure Antifa had spies in attendance, but there was no attempt to shut the event down.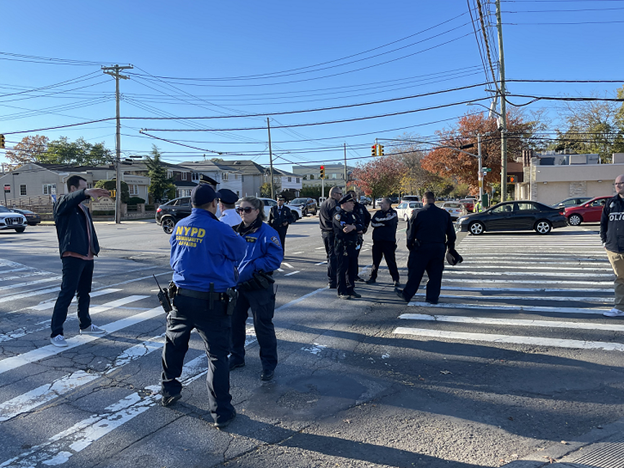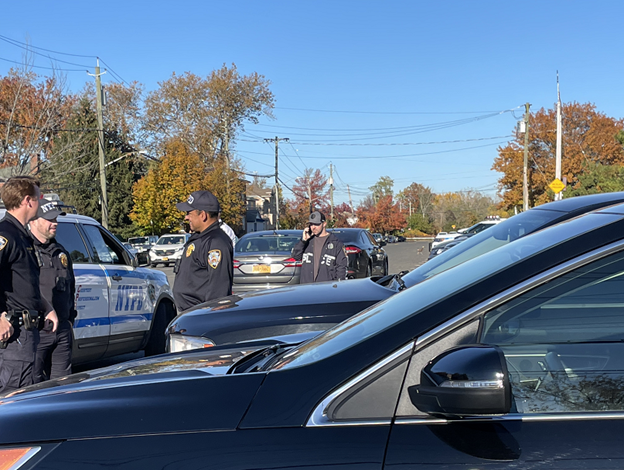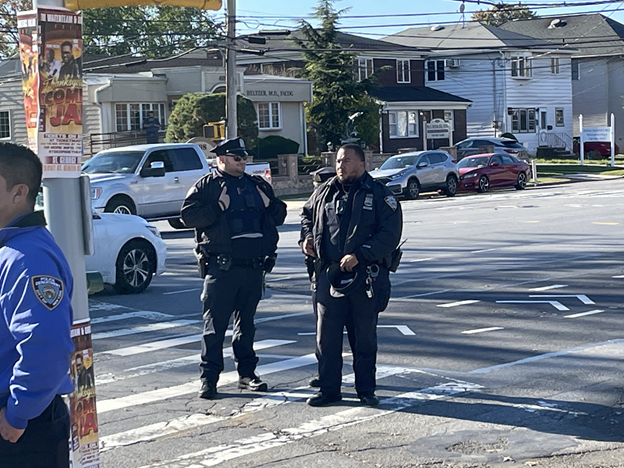 I got there just as Fuentes began speaking. He stood surrounded by throngs of supporters, wearing a bulletproof vest and speaking through a bullhorn. Spirits were high. There were about a hundred groypers herded together into a fenced-off area.
One of the first things that struck me about the crowd was a conspicuous lack of red MAGA hats in sight. Instead, there a sea of royal blue America First chapeaux atop the heads of the groyper faithful. Seeing that the remnants of the MAGA movement are quickly and quietly being coopted by Con Inc., it appears that Fuentes is deliberately carving out an identity and aesthetic that is distinct from the Trump brand.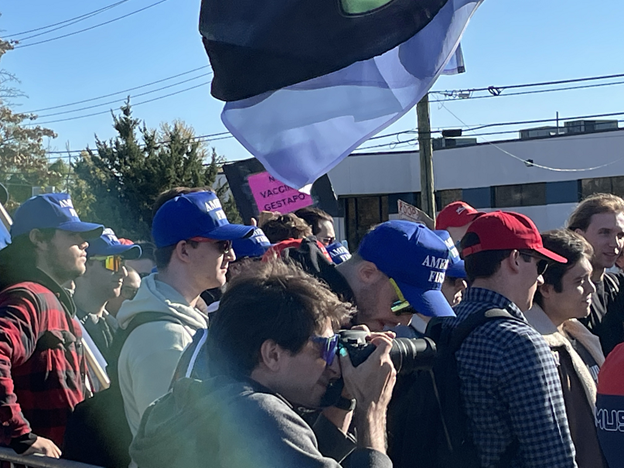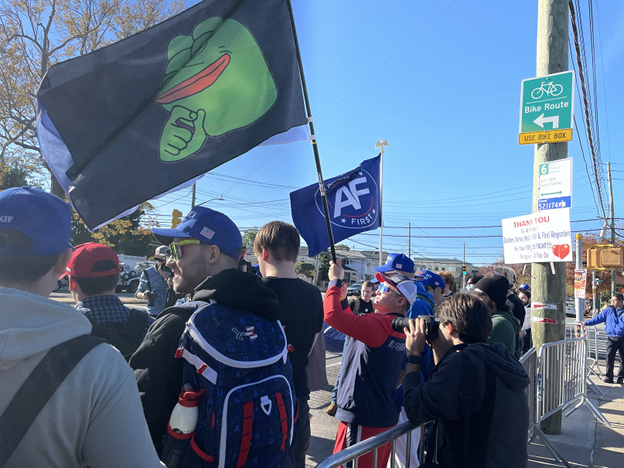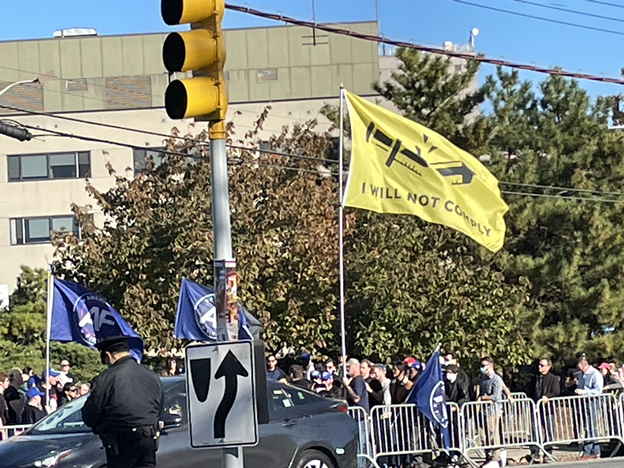 At the end of the fenced-off area were four groypers holding a gigantic American First flag so that the people driving by could see who they were looking at. Above the crowd was a huge yellow flag with the image of a broken syringe and the words, "I Will Not Comply." Every now and then, a passing car would give a honk of approval.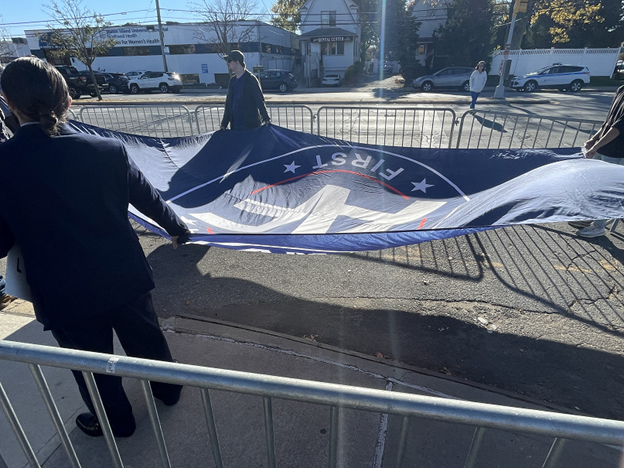 I guess 100-ish people was not too bad of a turnout under the circumstances. And given that it is a warmup for a bigger rally on Saturday, I imagine a lot of people passed on this one. The only Groyper General in attendance was Jayden McNeal. I'm told Baked Alaska will be at the Saturday event.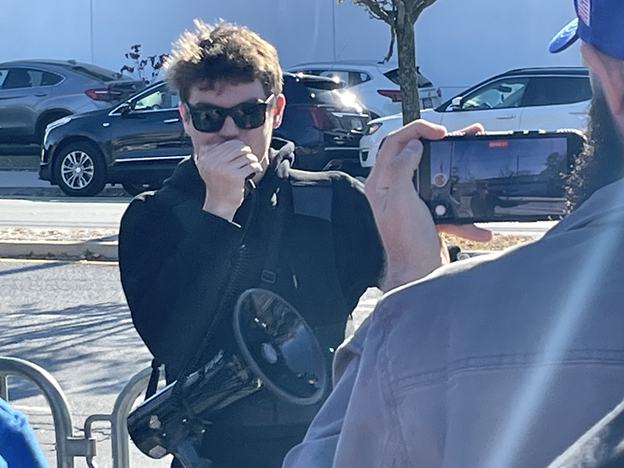 Fuentes thundered through his speech on the evils of the vaccine mandate agenda. This, he says, is the hill to die on. I'm not going to give you a detailed rundown of his speech. If you watch his show, you already know his position on Covid and the vax. In brief, he thinks one is a hoax and the other is dangerous.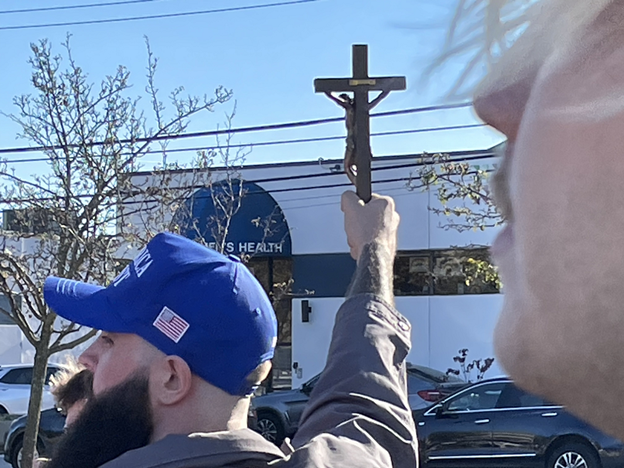 As Fuentes continued, I looked around to see who else was there. Outside the fenced-off area was a scattered array of people who could have been friends, enemies, or curious onlookers. One person in attendance was definitely not a friend of the Groyper movement: Jewish SPLC hate-watcher Michael Edison Hayden. He spent much of the rally attempting to heckle Nick, mostly by accusing him of being a fed. The crowd responded to Hayden by calling him a fag. At one point in his speech, Fuentes talked about the need for Christianity. Hayden stood up and yelled something. Nick told his audience, "Don't listen to him. He's going to Hell."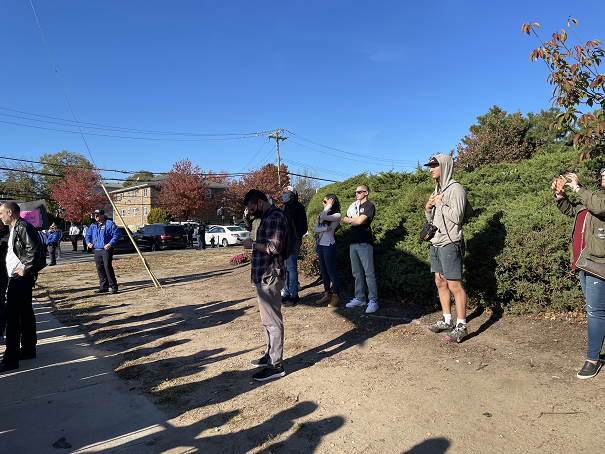 There seemed to be at least a few normie anti-vaxxers in the crowd. I saw one Asian lady and her friend.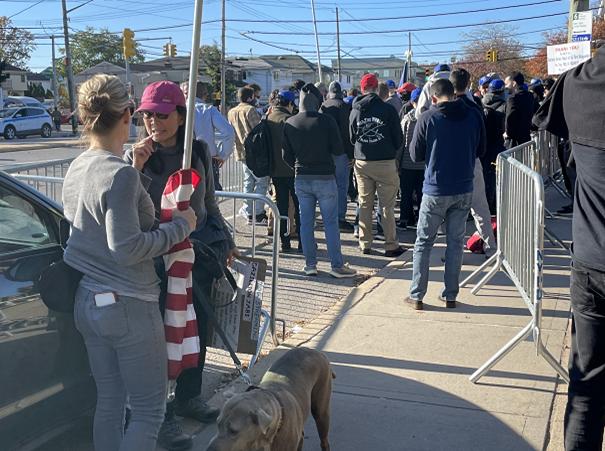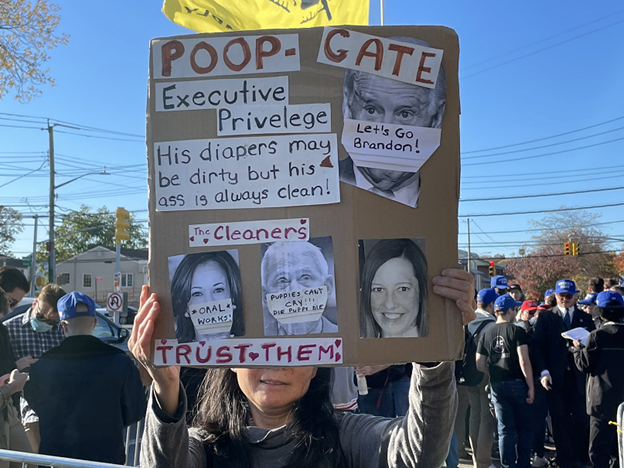 There were a couple of blacks; I couldn't figure out if they were based black groypers or undercover Antifa. Plus there were about a dozen people from the press.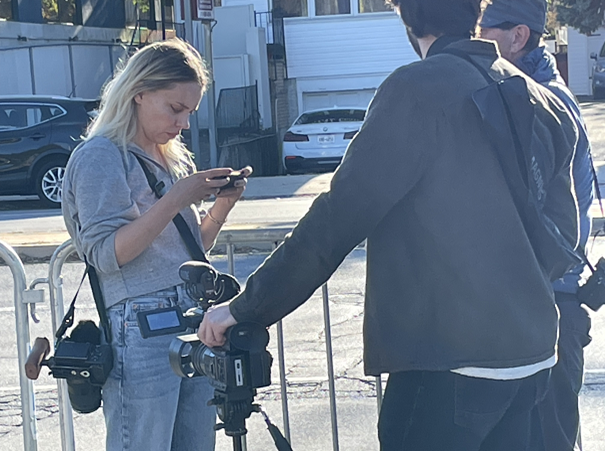 After Nick's speech, he stuck around for about an hour to shake hands, take pictures, and sign autographs. Almost immediately after Fuentes' speech ended, Hayden ran up to the fenced-off area and spent a few minutes yelling at Fuentes, repeatedly asking him, "Have you been subpoenaed by the January 6 committee?" and "Are you cooperating with federal authorities?" Nick did not respond.
I got to talk to Nick for a few minutes. He acknowledged and expressed gratitude for the amount of guff I have endured for supporting him. It's true; as Counter-Currents' most unapologetic Nick Fuentes apologist, I have taken my share of slings and arrows for the groyper cause.
When I heard Fuentes was in New York for a week, I was wondering if he might be in talks with some New York media outlets. New York is home to Anthony Cumia's Compound Media, which is home to a few Killstream regulars. There is also the New York-based Gas Digital, which specializes in "based comedians" and has produced Davis Smith and Tim Dillon. Nick assured me that he was in New York just to do the anti-vax rallies. Fuentes appears to be committed to staying independent for the time being. He has recently launched Cozy.TV, an in-house censorship-proof streaming site, and is adding new people.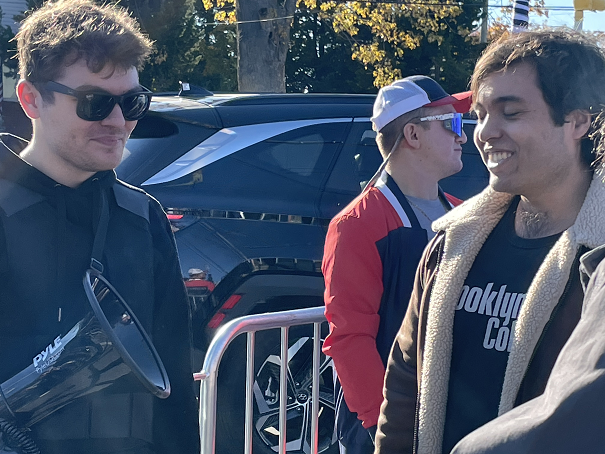 I asked if he is still serious about giving Andrew Anglin a channel on Cozy. Someone had asked him in a superchat a few weeks ago if he would let Anglin on, and he said he was open to the idea at the time, but I hadn't heard anything more since. Nick confirmed to me personally that he is still down for an America First/Daily Stormer crossover. People need to hold all feet necessary to the fire until this happens.
From what I could tell, most of the groypers seemed to know some of the other groypers. There were a lot of pairs and groups of friends. It looked as if a lot of people were there as much to meet up with online friends as they were there to see Nick. Either that, or people were making friends while there.
After a while, some other hecklers arrived on the scene, this time from the other end of the political spectrum. Infamous ex-Proud Boy wignat provocateur Jovi Val arrived and started yelling about Nick Fuentes being a grifter and rambling some incoherent stuff about Milo. He was there with a Hispanic friend who was wearing a Spanish flag mask. Why the two wignat intruders just happened to both be non-white, I don't know. I guess they were doing the jobs regular wignat Americans won't do. What a crazy world.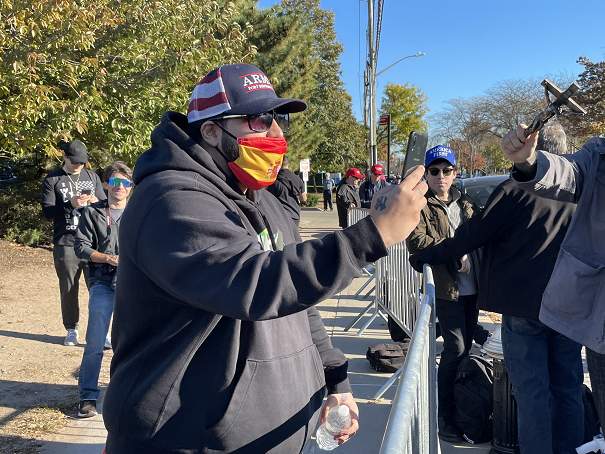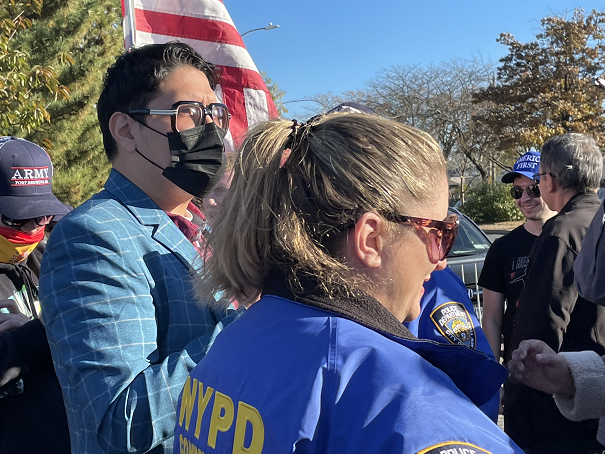 If Jovi Val does anything other than these horrendous bad optics public stunts, I am not aware of it. Does he have a podcast? Write anything? Does he do any other activism? As far as I know, this is all he does. In 2019, he made news around the world after he got his nose broken in Union Square for holding a Confederate flag and wearing a swastika necklace. When I covered a groyper event last year in Washington, DC, Jovi Val showed up with a Francoist flag, but the wignat interloper was roundly expelled. Last May, he drove a van covered in Palestinian flags and with "goy power" written on the front and "Hitler was right" on the sides though a pro-Israel rally in Florida. Clearly, he is a graduate of the Patrick Little School of Optics.
Jovi Val just came up to America First rally in Staten Island to Confront Nick Fuentes. He was told to leave as the crowd chanted "Fag! Fag! Fag!" #HappeningNow outside Staten Island University Hospital pic.twitter.com/TyyChkJ2f3

— TRUMP_MAGA (@Trump_MAGA2024) November 10, 2021
The groypers were having none of Jovi's shenanigans on this day, and he had to be escorted away by the police as chants of "Fag! Fag! Fag!" rang out from the groyper faithful. As soon as he was away, he was approached by journalists who probably assumed that he was some kind of anti-racist activist.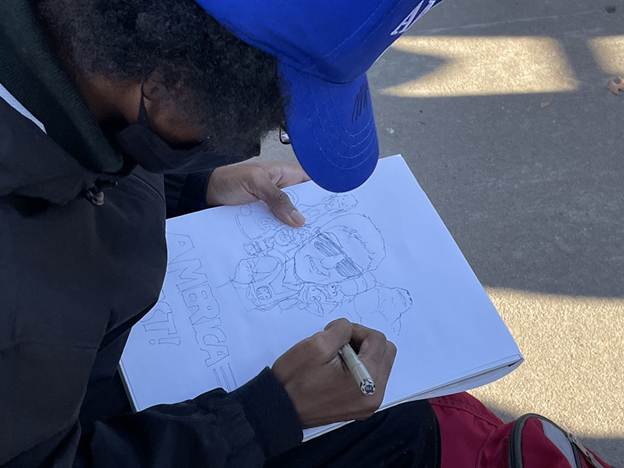 The weirdest part was yet to come. There was a tiny black girl there. She was one of the people who I couldn't determine whether she was Antifa or not. She was sitting on the ground, drawing a picture of Nick.
She then took the picture and approached Nick with it. I'm thinking, "This has to be a setup." A black female fan? How many black girls have a fangirl crush on ADL and SPLC Certified™ white supremacist Nick Fuentes? If Nick is known for anything, it's that he's a racist and a misogynist. He does not have a romantic bone in his body, and it is impossible to have spent any amount of time watching his show without knowing that.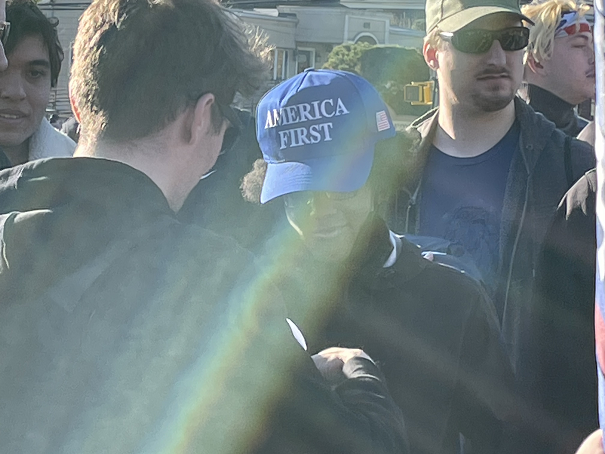 It was either too weird, too perfect, or too perfectly weird to be real, and therefore had to be a setup. If it was a trick, Nick didn't fall for it. He took the picture, acted flattered, and sounded appreciative that she had made the effort. I don't know how sincere he was, but he was convincing enough to put a smile on the girl's face.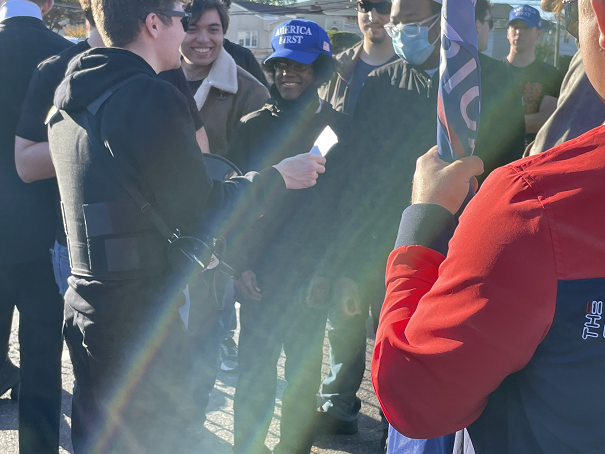 Thus, Fuentes' Staten Island rally seemed to go off without a hitch. It remains to be seen what will happen this Saturday on ZOG's home turf of Manhattan. Hopefully, Wednesday's Staten Island event won't turn out to be the torchlight march ahead of Saturday's Unite the Right.
Note
[1] Kenneth Minogue: Alien Powers: The Pure Theory of Ideology (New York: St. Martin's Press, 1985), 58.
*  *  *
Counter-Currents has extended special privileges to those who donate $120 or more per year.
First, donor comments will appear immediately instead of waiting in a moderation queue. (People who abuse this privilege will lose it.)
Second, donors will have immediate access to all Counter-Currents posts. Non-donors will find that one post a day, five posts a week will be behind a "paywall" and will be available to the general public after 30 days.
To get full access to all content behind the paywall, sign up here:
Paywall Gift Subscriptions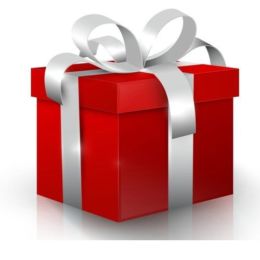 If you are already behind the paywall and want to share the benefits, Counter-Currents also offers paywall gift subscriptions. We need just five things from you:
your payment
the recipient's name
the recipient's email address
your name
your email address
To register, just fill out this form and we will walk you through the payment and registration process. There are a number of different payment options.