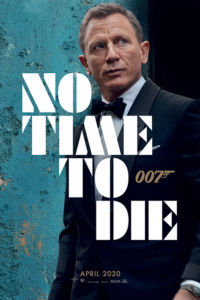 733 words
No Time to Die is an excellent Bond film. It belongs in the company of Casino Royale and Skyfall and quite self-consciously reaches for the heights of On Her Majesty's Secret Service, which is arguably the best Bond film ever.
I was especially looking forward to No Time to Die because — although it is very much a minority opinion — my favorite Bond actor is Daniel Craig. (Timothy Dalton is my next favorite, although he only played the role twice and only one of his films, License to Kill, is first-rate.) Neither Craig nor Dalton is the best-looking Bond, but they are both excellent actors who give the character some soul. Fleming's Bond is arguably a sociopath, but one can't say the same about Dalton's Bond and especially Craig's.
No Time to Die is Craig's fifth and final Bond film, and seems to bring the Bond saga to an end. But fear not, there will always be new Bond films. The whole series could be "rebooted," but it would be far preferable to simply do "prequels." I very much hope Tom Hardy is the next James Bond and that Christopher Nolan takes a turn or two as director.
The story arc of Craig's five Bond films is now clear: from orphan with half-understood entanglements with surrogate parents in Casino Royale and Quantum of Solace, to a return to his ancestral home with a surrogate family (Judy Dench's M and Albert Finney's Kincade) in Skyfall, to an encounter with his foster brother — including sibling rivalries and cuckoldry — in Spectre, to Bond's attempt to form a family of his own with Madeline Swann (Léa Seydoux) in No Time to Die. It is the family themes — especially in Casino Royale, Skyfall, and No Time to Die — that allow Craig to tap into and communicate real emotional depth and power.
There are many strong performances in this film. The best is Daniel Craig's. Léa Seydoux is also excellent as Madeline. Rami Malek is a very effective villain. It is odd casting an Egyptian as a Russian, but it is not the first time it has happened. (See Dr. Zhivago.) The script by longtime Bond writers Neal Purvis and Robert Wade is well-constructed, making use of aspects of Fleming's Bond mythos that have not yet been incorporated into the movies. Some aspects of the villain's ultimate plot left me puzzled, but that is a minor problem. Half-white, half-Japanese America Cary Joji Fukunaga is an artful and effective director. The movie is well-paced, despite the long running time, and the action sequences are extremely well-done and often grittily realistic, especially the aftereffects of explosions on Bond. There's some humor — especially Ana de Armas as Paloma, who is cutely awkward — but no camp. I usually don't notice Hans Zimmer's music at all, but in No Time to Die, it is sometimes excellent, including a passage near the end that made me think of Arvo Pärt. (His best score remains Interstellar.) The theme song by Billie Eilish remains a snoozer, which is sad, because the themes for Casino Royale, Skyfall, and Spectre were so good.
Of course the big question is whether or not No Time to Die is "woke." Relax. The answer is: No, not by the standard of other Bond films, which have a long history of diversity casting and race-mixing. There was a media-manufactured "scandal" about casting a very black woman, Lashana Lynch, as the new 007. But she merely got Bond's number when he retired. As Bond points out in the film, "It's just a number."
In some ways, No Time to Die is actually less woke than earlier Bond films. I am sure nobody will complain of a "spoiler" if I reveal that Bond doesn't end up sleeping with Lynch's character, which is interesting, since Bond has bedded black women in the movies starting fifty years ago with Live and Let Die. In A View to a Kill, he ended up in bed with Grace Jones, who is far scarier than Lashana Lynch.
As I predicted in my article on the trailers for No Time to Die, the claims that this movie is especially "woke" were simply a cheap publicity stunt, perhaps intended to trigger racists on the internet to give the movie free publicity. You've been had. But don't be angry. Just be flattered. They did it because they know we have power.
The Unz Review, October 7, 2021
*  *  *
Counter-Currents has extended special privileges to those who donate $120 or more per year.
First, donor comments will appear immediately instead of waiting in a moderation queue. (People who abuse this privilege will lose it.)
Second, donors will have immediate access to all Counter-Currents posts. Non-donors will find that one post a day, five posts a week will be behind a "paywall" and will be available to the general public after 30 days.
To get full access to all content behind the paywall, sign up here: