Gianfranco de Turris — Julius Evola:
Filozof a kouzelník ve válce (1943-1945)
Collin Cleary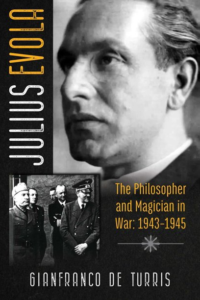 2,782 slov
English original here
Gianfranco de Turris
Julius Evola: The Philosopher and Magician in War: 1943–1945
Rochester, VT: Inner Traditions, 2020
Tento anglický překlad díla Gianfranca de Turrise Julius Evola: Un filosofo in guerra 1943–1945 přichází v příhodný čas, protože ukazuje, jak se velký muž vyrovnává se zhroucením společnosti i osobní tragédií. Jak naznačuje titul knihy, autor se soustředí na Evolovu činnosti v průběhu posledních dvou let 2. světové války. De Turris se ale tohoto časové rozmezí nedrží nijak úzkoprse a věnuje se také Evolovu poválečnému osudu zhruba až do roku 1950.
Hlavní ambicí díla je vyjasnit celou řadu tajemství ohledně Evolových aktivit na sklonku válku i po ní a odpovědět také některým filozofovým kritikům. Až doposud se totiž o tomto období Evolova života vědělo tak málo, že to zavdávalo důvod k četným spekulacím, zejména z dílny nepřátelsky naladěných levicových autorů. De Turris odhalil nové, fascinující informace o Evolově činnosti, a tím udělal definitivní tečku za celou řadou dosud nezodpovězených otázek.
Hned v úvodu knihy se autor věnuje epizodě, na niž se nepochybně soustředí pozornost většiny recenzentů: Evolově cestě do Hitlerova hlavního stanu na přelomu léta podzimu 1943. S postupem války se italské veřejné mínění začalo obracet proti Mussolinimu, zejména v reakci na první bombardování Říma spojeneckými  letouny 19. července 1943. Proti Ducemu se postavilo i několik příslušníků kabinetu, a Mussolini tak pod tlakem poprvé od vypuknutí války svolal Velkou fašistickou radu.
To se ukázalo být velkým omylem, jelikož orgán vyslovil Mussolinimu nedůvěru, a tím v podstatě vložil králi Viktoru Emmanuelovi do rukou moc jej zprostit vedení země. Mussolini se však choval, jako by k ničemu zásadnímu nedošlo. Následujícího dne přišel na audienci do královského sídla, připravený podat králi zprávy o nejnovějším vývoji. Král ho však nechal zatknout a uvěznit v hotelu na Gran Sasso, nejvyšším apeninském vrcholku.
Příběh smělé Mussoliniho záchrany (12. září) německým komandem v kluzácích, vedeným legendárním Ottou Skorzenym, patří k nejznámějším epizodám války. Mussolini byl okamžitě přepraven do Mnichova a odtud do Hitlerova hlavního stanu ("Vlčí doupě") ve východním Prusku. Když 14. září dorazil, Julius Evola tam pobýval už několikátý den. Filozof byl jedním z příslušníků delegace, kterou Němci vybrali, aby jim radila ohledně vývoje a dalšího postupu v Itálii. Dalším z jejích členů byl mj. Duceho syn Vittorio.
Cesta z Itálie nebyla ovšem prostá nebezpečí. Letadlo, v kterém seděl Evola, jen těsně uniklo sestřelení spojeneckou stíhačkou. Část cesty po zemi pak Evola i jeho společníci strávili v převleku za příslušníky Waffen SS. Jakmile filosof dorazil do Vlčího doupěte, přijal jej Joachim von Ribbentrop a zprostředkoval mu Hitlerovo přání, aby "fašisté, kteří zůstali věrni svému přesvědčení a Ducemu, okamžitě oslovili italský národ oznámením vzniku protivlády, jež by potvrdila svou věrnost Ose podle závazků vyhlášených a následně porušených králem" (cit. Evolův popis, s. 20)
Věřte nebo ne, ale tato část patří k těm méně zajímavým z de Turrisovy knihy. Mnohem poutavější je popis toho, co se s Evolou dělo potom. Čtenáři obeznámení s jeho životní drahou ví, o čem mluvím: Evolův útěk z Říma, vídeňské zranění a dlouhá rekonvalescence v prvních poválečných letech. Tyto pasáže jsou však eminentně zajímavé nejen proto, že vyplňují dosud prázdná místa Italovy biografie, ale také svým odhalením jeho více "lidské" stránky. Předem se omlouvám, pokud působí poněkud sentimentálně hovořit tímto způsobem o muži jako Evola, nevidím ovšem jinou možnost.
Čtenáři znalí Evolova díla vědí, že filozof často může působit podobně vzdáleně jako horské štíty, jež v mladí zdolával. Z de Turrisových stránek ovšem vystupuje Evola poněkud jiný, zprvu těžce sklíčený výsledkem války i svým zraněním. S obtížemi hledá význam toho, proč k tomu došlo a stejně nesnadno také vytyčuje podobu svého poslání v poválečném světě. Nakonec nad protivenstvím triumfuje, poučné ovšem není jen vidět to, jak svou deziluzi překonává, ale už jen to, že s ní musí vypořádávat. Tváří tvář našemu současnému postavení, kdy se západní svět (a Amerika především) patrně hroutí přímo před našimi zraky, nám může Evolův příklad dodat sílu. Vidíme, že i Evola, tento "odlišený typ"(abychom použili jeho terminologii) s obtížemi musel překonávat nesnáze – ale nakonec se mu to povedlo.
4. června 1944 Spojenci obsadili Řím. Jedním z prvních kroků jejich agentů, jen pár hodin po vstupu do města, bylo "podívat se" na Julia Evolu. Spojenecké rozvědky se dozvěděly, že jeho jméno figuruje na seznamu zamýšlených agentů Němci řízené "pookupační sítě" pro špionáž a sabotáž (jeho kódové označení bylo "Maria"). Zazvonili u Evolova bytu, nepochybně s plány jej zatknout a vyslechnout. Jeho stařičká matka je však zdržela u dveří dost dlouho na to, aby filozof nepozorovaně vyklouznul bočním vchodem. Stihnul si s sebou vzít jen materiály, z kterých měl časem vzniknout trojdílný Úvod do magie (Introduzione alla magia).
Evola se vydal na dlouhou a namáhavou pouť. Pěšky se dostal z města a vyhledal ustupující Němce. Ti mu poskytli útočiště a Evola nakonec skončil ve Vídni, kde žil pod pseudonymem. Proč si to Evola namířil do Vídně, dlouho nebylo úplně jasné a de Turris se této otázce poměrně sáhodlouze věnuje. Ač je to málem k nevíře, Evola podle všeho odjel do Vídně, aby zde na žádost SD (Sicherheitsdienst; "Bezpečnostní služba" SS) bádal o svobodném zednářství! "Kancelář VII" SD se intenzivně zabývala studiemi svobodného zednářství, od kterých se rozhodně nemínili nechat odtrhnout takovou drobností jako apokalypsa.
Evola se později jednomu ze svých přátel svěřil, že byl SD pověřen úkolem "očistit a 'navrátit ke kořenům' zednářské rituály, na které německá vojska v průběhu války narazila v různých zemích" (s. 158). Evola si nebyl jistý, proč se o tyto věci Sicherheitdienst zajímal. Kdyby ho vyslali pátrat po Arše úmluvy, asi by nebylo jeho překvapení o moc větší. Pokud by snad nebylo jasné, od čeho mělo být svobodné zednářství "očištěno", Evola se k tomu vrací ve své autobiografii Cesta rumělky (Il cammino del cinabro): "(Svobodné zednářství) původně mělo iniciační charakter, ale postupně – současně s jeho politizací – se začalo poddávat a řídit antitradičními vlivy. Nakonec se tak stalo jednou z hlavních tajných sil světa subverze, a to dokonce ještě před Francouzskou revolucí a následně ve všeobecné s revolucí třetího státu (State) [sic]" (cit. v de Turris, s. 159; překladatel má na mysli "třetí stav" /Estate/, jak se ve francouzském Ancien Régime označovala buržoazie a rolnictvo)
21. ledna 1945 se Evola rozhodl pro procházku vídeňskými ulicemi, právě když na město útočily americké (nikoliv sovětské, jak se někdy mylně uvádí) bombardéry. Nedaleko Schwarzenbergplatz kousek od něj dopadla letecká puma. Výbuch Evolu odhodil několik metrů a omráčil ho. Když ho našli, odnesli ho do vojenské nemocnice. Filozof se probudil o několik hodin později a jako první se ptal po svém monoklu. Když ho lékaři prohlédli, neměli pro něj dobré zprávy. Evola utrpěl zhmožděnu míchy, následkem čehož od pasu dolů úplně ochrnul. Jak kdysi slavně prohodil Mircea Eliade, ke zranění došlo přibližně v místě "třetí čakry". Evola byl zařazen do kategorie "stoprocentního válečného invalidy", díky čemuž mu až do konce života byla vyplácena skromná penze.
Proč se Evola vydal na procházku uprostřed náletů? Eliade mylně napsal, že Evola "odešel bojovat na barikády proti postupující sovětské armádě" (s. 128). EVola sám nabízí odpověď v doposud nezveřejněném dopise manželce rakouského konzervativního filozofa Othmara Spanna:
… Vždy jsem se snažil vyzývat osud. Z tohoto impulzu vzešly mé pošetilosti na ledovcích a v horách, stejně jako má lhostejnost nebo neznepokojení z leteckého bombardování. Totéž jsem zažíval i ve Vídni, kde se situace vystupňovala až do smrtelného nebezpečí… Nakonec mě na Schwarzenbergu zastihlo kobercové bombardování. (s. 125)
Když se ale Evola vydal onoho osudného dne do ulic, očekával, že jeho osudem bude buď život, nebo smrt. Nenadál se ovšem, že v jeho osudu může být vepsáno třeba i prožití zbytku svých dní jako mrzák. Tento vývoj událostí filozofa podle všeho zcela vyvedl z míry a on si nedokázal vysvětlit, proč se to stalo právě jemu právě a v tomto bodě jeho života. Ničemu nepomáhalo ani jeho přesvědčení, jak je později popsal v Cestě rumělky, že "nejsou žádné významnější události, které bychom si sami nepřáli ještě před svým zrozením" (cit. v de Turris, s. 169).
V tomtéž dopise Erice Spannové Evola píše: "Jasné mi ovšem není, jaký měla celá ta věc smysl: Žil jsme v představě – chcete-li tomu říkat naivní víra – že člověk buď zemře, nebo se znovu probudí. Proto mě smysl toho, co mě potkalo, naplňuje zmatkem: ani jedno, ani druhé" (s. 170). De Turris píše také o "neporozumění a deziluzi", jež Evola zažíval "z výsledků a následků války" (s. 54) Jen nesnadno se vypořádával s kataklyzmatem, do něhož se Evropa propadla a v němž shořely fašismus i národní socialismus, do něhož Evola opatrně vkládal jisté naděje. K tomu všemu se navíc připadly úvahy nad tím, proč osud posadil na invalidní vozík tohoto muže činu, západního kšátriju. Jen těžko si lze představit sklíčenost a vnitřní zmatek, které Evola v poválečných letech prožíval. Z už citovaného dopisu paní Spannové: "V dnešním světě – v tomto světě trosek – už pro mě není co dělat ani k čemu směřovat.  I kdyby se snad zítra vše zázrakem vrátilo na své místo. zůstal bych bez životního cíle, prázdný – tím spíš v tomto stavu a v tomto zařízení" (s. 199-200).
Evola byl po jisté době převezen do nemocnice v Bad Ischlu, kde se mu dostalo kvalitnější léčby. De Turris přináší značně trýznivý popis všemožných operací a terapií, které Evola podstoupil, povětšinou bez úspěchu. Navzdory svému stavu si Evola z Bad Ischlu "odskočil" do Budapešti, kde strávil několik měsíců, než se vrátil do Rakouska. O tom, co Evola v Budapešti podnikal, ani kdo mu pomohl se tam dostat, se mnoho neví (přestože adresa jeho tamějšího pobytu je známa). De Turris dosti přesvědčivě argumentuje, že Evola vyhledal služby slavného maďarského neurologa Andráse Petöho, kterému se povedlo nekonvenčními metodami dosáhnout jistých úspěchů v léčbě ochrnutí. Evolovi ovšem bohužel pomoci nedokázal.
Evola hned od počátku zvažoval i možnost, že jeho ochrnutí je "psychického" rázu. Toto přesvědčení v něm přiživoval i René Guénon, s nímž Evola i z nemocničního lůžka v Bad Ischlu pokračoval v korespondenci. Guénon mu napsal:
Z Vašich slov se zdá, že překážka v cestě Vašemu uzdravení je spíše psychické než fyzické povahy. Je-li tomu skutečně tak, jediným řešením bezpochyby je vyvolat příkladnou reakci vycházející z Vašeho vlastního já… Krom toho rozhodně není vyloučeno, že se něco mohlo chopit příležitosti nabídnuté zraněním vystoupit proti Vám. Není ovšem vůbec jasné, kdo a proč by se tohoto dopustil. (s. 148)
S Evolovým ochrnutím to ale skutečně podle všeho nebylo tak úplně přímočaré. V roce 1952 ho v jeho bytě navštívilo několik společníků, včetně antroposofistů Massimo Scaligera a Giovanniho Colazza. Během této návštěvy byli muži svědky toho, jak Evola pohnul nohama, což by vzhledem k jeho ochrnutí mělo být zcela vyloučeno. Colazza prý Scaligeorvi řekl: "Samozřejmě by mohl! Ale nechodí, protože to nechce!" (s. 197).
Pomineme-li ovšem mysteriózní prvky, Evola se zřejmě se svým stavem smířil důsledným připomenutím, že tělo je konec konců pro ducha jen dočasným příbytkem. V dopise příteli tak prohlašuje, že "můj stav – i kdybych v něm měl už zůstat navždy, což není vyloučeno – z duchovního hlediska to neznamená o mnoho víc, než kdyby mé auto potkal defekt pneumatiky" (s. 168). Další z jeho přátel, katolický kněz, v dobré víře Evolovi navrhl cestu do Lurd v naději zázračného vyléčení v tamější mariánském poutním místě. Evola mírně a trpělivě odvětil: "Už jsem Vám vypověděl, jak málo pro mne tato věc znamená… Chybí zde především ta úplně základní podmínka, tedy vřelá touha po uzdravení. Kdybych snad prosil o milost, pak snad o pochopení duchovního významu, proč k tomu došlo – ať už to tak zůstane nebo ne – a snad ještě více pochopit, proč jsem zůstal na živu" (s. 168-169).
V té době Evola nejspíš dospěl k jakémusi porozumění, proč mu osud vyložil tuto kartu, jakkoliv se s těmito nanejvýš osobními úvahami veřejně nepodělil. V předvečer jeho návratu do Itálie v srpnu 1948 jeho lékař v Bad Ischl hlásil, že "celkový stav pacienta se v těchto posledních dnech značně zlepšil, počáteční deprese se zmírnily, stejně jako popudlivost a problematické vztahy s ošetřujícím personálem" (s. 176). Člověk si skutečně jen těžko představuje Evolu jako ideálního pacienta. Erice Spannové psal o "duchem zamořená atmosféra nemocí těchto pacientů" (s. 193).
Jeho rozpoložení nepochybně napomohlo i to, že se mu konečně povedlo vymezit své poslání v poválečném světě. V Cestě rumělky píše:
Poválečné hnutí mělo mít stranickou formu a vykonávat funkce, které se pokusilo naplňovat Italské sociální hnutí (MSI), ovšem s přesněji vymezenou tradiční orientací, jasně pravicovou příslušností, bez jednostranných odkazů k fašismu a schopné precizně rozlišovat mezi pozitivními a negativními aspekty fašismu. (cit. v de Turris, s. 54)
De Turris k tomu podotýká, že "veškerá jeho poválečná publikační činnost byla specificky orientována tímto směrem" (s. 54). V roce 1949 Evola začal znovu psát, zprvu pod pseudonymem "Arthos". Psal buď z postele tužkou na skládacím stolku, nebo na psacím stroji za stolem u okna. Jeho francouzský životopisec Jean-Paul Lippi ho označil za "nepohyblivého válečníka".
Tou dobou se Evola dozvěděl o svém kultovním postavení mezi pravicovou italskou mládeží. V září 1950 promluvil před Shromážděním národní mládeže MSI v Bologni. Jeho vystoupení bylo zařazeno do programu na poslední chvíli: pořadatelé se doslechli, že filozof pobývá v nedaleké nemocnici a poctili jej spontánní návštěvou. Jeden z přítomných dojemně popsal průběh této události:
Představili jsme se a pozvali ho na shromáždění. Bez váhání svolil a projevil velký zájem. Požádal nás o chvíli, aby se mohl převléct a oholit. Vybavuji si, jak se ve spěchu malinko pořezal žiletkou na tváři. Odnesli jsme ho v náručích a položili do německé vojenské dodávky. Když jsme dorazili na místo, dostalo se mu od naší skupiny vřelého přivítání a jelikož jsem Evolu jako filozofa neznal, Enzo Erra ho představil jako hrdinského invalidu Italské sociální republiky. Na podiu, kde jsem mu pomáhal, jsem si povšimnul jeho příjemného překvapení, až pohnutí, z nadšeného přivítání stovkami mladých lidí. Mlčky a pozorně přihlížel a naslouchal různým vystoupením a po skončení programu shromáždění jsme ho odvezli zpět do nemocnice. Právě tehdy jsme se odvážili požádat ho o sepsání brožurky, v níž by stručně vytyčil hlavní zásady, a tak se zrodila Orientamenti (Směrnice). Následujícího dnes jsme ho doprovodili do malého horského hotýlku v Apeninách. (s. 207)
Julius Evola byl zpět. Po válce vlastně vznikly i některé z jeho nejdůležitějších knih: Lidé a trosky, Metafyzika sexu, Jezdit na tygru, Cesta rumělky, Meditace nad vrcholky a další. Jeho vliv byl po válce zřejmě větší než kdy předtím. Italské úřady, znepokojené jeho oblibou u mládeže, nechaly Evolu v květnu 1951 zatknout a obžalovat z "oslavování fašismu". Evola byl obvinění zproštěn – v současném ovzduší, s jeho posedlostí "sociální spravedlností" cosi stěží představitelného.
De Turrisova kniha je povinnou četbou nejen pro všechny Evolovy obdivovatele a studenty tradicionalismu obecně. Přečíst by si ji měli i jeho levicoví kritici, byť se tak skoro jistě nestane – a pokud snad ano, bude její obsah dosti brutálně překroucen a dezinterpretován. De Turris totiž argumenty Evolových kritiků drtí snad až příliš důsledně. Člověk se občas přistihne u myšlenky, že de Turris nemusel pomyslným šermováním s těmito lidmi strávit tolik času, neboť bez výjimky působí jako bojovníci intelektuální muší váhy. Nejspíš se ale nedalo postupovat jinak. "Šermování" se zde navíc jeví jako poměrně vhodný termín, protože de Turris se staví na obranu svého mentora s udatností a mužnou energií v nejlepší tradici "aristokratů ducha". Je vidět, že se učil přímo od mistra a v jeho hlase tak místy slyšíme ozvěnu toho Evolova. De Turris je navýsost vybaven k tomu vypovědět Evolův příběh: znali se s filozofem osobně a stal se také správcem jeho pozůstalosti.
Pochvalnou zmínku si zaslouží i další součást tohoto svazku, dvojice zajímavých příloh. Ten první z nich tvoří ilustrace, často fascinující, mj. reprodukce víka krabice na doutníky, podepsané muži přítomnými ve Vlčím doupěti včetně Evoly, Vittoria Mussoliniho a dalších. Ve druhé příloze čtenáři najdou dosud nevydané překlady několika Evolových článků pro turínské noviny La Stampa z roku 1943. Na závěr nechám promluvit samotného Evolu. Jeho slova se vzhledem k jeho osudu po roce 1943 jeví nejen takřka prorocky, ale nanejvýš aktuální jsou i v naší stávající situaci:
Ze dne na den, dokonce z hodiny na hodinu, může člověk přijít při náletu o domov: tedy, to, co miloval a k čemu přilnul nejvíc, objekt těch nejspontánnějších citů… Nyní už je nad slunce jasnější… jako živý fakt spojený s pocitem osvobození: všechno destruktivní a tragické může posloužit jako podnět. Nemluvím zde o citlivosti ani nějak špatně pochopeném stoicismu, právě naopak: je to otázka poznání a rozvíjení vědomí odstupu od svého já, lidí i věcí, který by měl vštípit klidné, jedinečné bezpečí, dokonce… nezdolnost. Radikální rozklad "buržuje", který existuje v každém člověku, je v těchto ničivých časech vždy přítomnou možností… Učinit znovu tím zásadním a důležitějším to, co by mělo v normální existenci mít výsadní postavení: vztah mezi životem a tím, co je více než život… V této těžké době plné zkoušek a strázní tak je nalezení cesty, na níž lze tyto hodnoty pozitivně zažívat a přetavit do ryzí síly co možná nejvíce lidí, nepochybně jedním z hlavních úkolů politicko-kulturní elity našeho národa. (s. 261-262)
This translation originally appeared at Delian Diver.
*  *  *
Counter-Currents has extended special privileges to those who donate $120 or more per year.
First, donor comments will appear immediately instead of waiting in a moderation queue. (People who abuse this privilege will lose it.)
Second, donors will have immediate access to all Counter-Currents posts. Non-donors will find that one post a day, five posts a week will be behind a "paywall" and will be available to the general public after 30 days.
To get full access to all content behind the paywall, sign up here:
Enjoyed this article?
Be the first to leave a tip in the jar!