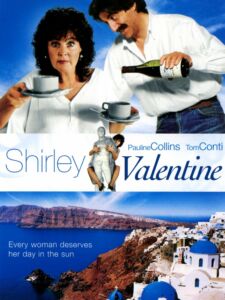 1,919 words
That's right. I'm going to Greece for the sex. Sex for breakfast, sex for dinner, sex for tea, and sex for supper.
Sounds like a marvelous diet, love.
Yes, if you haven't heard of it, it's called the F plan.
It's summertime, and many of us are flocking to various bodies of water for swimming, beachgoing, and respite from the humdrum of everyday life, so it might be a good time to have a look at one of the United Kingdom's best films, the 1989 romantic comedy Shirley Valentine. It follows the story of a Liverpool housewife portrayed by Pauline Collins who travels to Greece on holiday without her husband. Contrary to the salaciousness of the quote at the top of this essay, she doesn't go to Greece for the sex, but nevertheless finds plenty of it when she gets there.
When we first find Shirley, her last name is Bradshaw, she's 42, and married with two adult children who've moved out. She's frumpy and sits in her house, talking to the wall, anticipating her husband's arrival from work for his tea, which he expects to consist of steak. It doesn't, because Shirley has fed her husband's steak to the neighbors' dog, who being vegan themselves, feed the dog a diet of muesli. We find out, through a series of flashbacks, that Shirley Valentine used to be a rebel in school, that she used to torment and resent the Head Girl, Marjorie Majors, that she and her husband were passionate with each other, and that her feminist friend Jane has just won two tickets for a two week holiday in Greece. Shirley is still unsure whether she will go, certain that her husband Joe will disapprove, all the while lamenting how boring, predictable, and stale her life has become. At first, she wanted to refuse Jane outright, but then she ran into Marjorie Majors who now works as a high-class hooker and has a glamorous lifestyle and travels a lot, and all the while, she secretly admired Shirley while they were in school because Shirley was a rebel and a cool girl who wore her skirt short, smoked, and found everything boring.
Shirley's husband Joe comes back and is upset that a) He's having his tea at 6:15 rather than at 6:00, b) He's having chips and egg for his tea on a Thursday when chips and egg are a Tuesday food and c) His steak has been fed to the vegan neighbor's dog. He shoves the plate of chips and egg away, and it falls into Shirley's lap. Shirley then opens the cupboard where promotional material for trips to Greece is stuck to the inside and dramatically smears the egg from her lap all over it, triumphantly declaring her intention to go to Greece without Joe. Joe is very upset. We're supposed to feel bad for Shirley who's in the thrall of this boring and abusive man who probably doesn't love her, and indeed, the movie is framed exactly so, but a second in Joe's perspective tells us the story of a working stiff who's just come back from his job, stewing in stress hormones, only to find out that the steak he's probably been looking forward to all week has been fed to the neighbor's dog. My sympathy for the bloodhound being forced to eat muesli notwithstanding, I also sympathize with Joe. Man or dog, it is the height of cruelty to deny someone his meat.
Joe storms out, and Shirley packs for Greece in secret. Just before she leaves, her daughter Millandra moves back in after deciding that her roommate is a complete mare, and immediately starts treating Shirley like her personal servant, until she finds out that her mother is planning a trip to Greece with Jane the feminist. Millandra declares the whole situation obscene, convinced that her mother is going to Greece for the sex, leading to the notorious "sex for breakfast, sex for dinner, sex for tea and sex for supper" exchange with a stranger in the middle of the street. She then storms out and returns to her roommate.
Shirley is momentarily dissuaded, seeing reason in her daughter's pronouncement that the idea of two middle aged women traipsing around the Greek islands and coquetting with the local lotharios is genuinely obscene, and she should remain home, but is again convinced to go to Greece when her vegan neighbor gives her a silk robe and calls her "brave and marvelous" ("stunning and brave" was not quite in vogue at that time) that Shirley is finally confident enough to go. And go she does.
Now, in Greece, we find her talking to a rock on the beach, once again all alone because her friend Jane the feminist has left her for a fellow she met on the plane, who apparently has a mansion on the other side of the island. We're then treated to scenes of Shirley showing up the other English tourists who're practicing a bit of the old English parochialism with regard to the local cuisine and naval architecture. In a scene which is probably the dream of every person of slightly above average intelligence, Shirley tells them off by informing them that the Greeks invented a whole lot of things, including the wheel while the English were still running around in loincloths. Now, granted, the parochialism of the other tourists is a bit grating, but believe you me, reader, I've seen far, far worse from Brits abroad than mild ignorance. Compared to some of the obscenities I've seen and heard from Brits abroad, someone wondering whether Macedonia is a salad or joking that a fishing boat's been made by Noah is rather quaint.
Shirley then finds a local taverna where she asks the owner to move one of the tables closer to the seaside so she can drink wine as was always her dream, in the country where the grapes are grown. The owner complies, and then Shirley laments to the audience that she's lived "such a small life," as if keeping house, giving birth to and raising two children were something to scoff at. Noticing her melancholy, the owner, Costas, portrayed by Tom Conti, invites her to join him on his brother's boat the next morning. When she hesitates, Costas assures her, in the movie's most memorable quote, that "you think I want make fuck (pronounced fock) with you? Of course I want make fuck with you, you are beautiful woman, man have to be crazy not want make fuck with you. But I am not calling fuck. I am calling brother boat. Different thing. Boat is boat. Fuck is fuck." Conti's Greek accent is not convincing, at least not to my ears, but Greece in 1989 was still an exotic location for many Westerners.
One thing leads to another and while on Costas' brother's boat, Shirley goes swimming without a bathing suit and finds out she doesn't want Costas to not make fuck with her, so she kisses him and they make fuck, complete with orchestra music which Shirley comments on in delightfully postmodern fashion. Now, the sex scene is not exactly pleasant to watch. Pauline Collins is not attractive in the film. I understand that she's supposed to look frumpy, but frumpy is not the same thing as unattractive. Frumpy women are attractive, if in need of better grooming. Shirley is overweight, wrinkled, and her cleavage is covered in liver spots. I'd put this down to the ravages of time, but she's only 42. 42-year-old women aren't necessarily ugly, even if time and hopefully childbirth have left their mark on them.
While it is evident even earlier, the sex scene on the boat makes it crystal clear that the film is trying to pedestalize the infantile whims of an ugly woman who nevertheless had a good life. The film would be much better if they'd used a more attractive actress. If this sounds shallow of me, so be it. Part of the appeal of the whole thing — the sex for breakfast, sex for dinner thing — is the perverse grotesquerie of an older woman behaving as impulsively as a younger woman, traveling to exotic locales for sex. But film is first and foremost a visual medium. Someone reading about Shirley would imagine a frumpy yet attractive English housewife, but Pauline Collins' liver-spotted saggy tits leave very little to the imagination.
Costas himself is a remarkably flat character. He has no character beyond being amorous and, as we find out later in the film, he likes dancing at his nephew's wedding. Shirley even comments that he doesn't say much, to which he retorts that he likes to listen and watch, while ogling her. He is, in a sense, the perfect kind of man for a middle-aged woman out chasing her whims, consisting of nothing but ears to listen to her prattle, eyes to ogle her sagging body, and a penis to satisfy her with. He is only Greek, I suspect, because that's as exotic as you could get with sexual foreigners without seriously scandalizing the sensibilities of the 1989 British public. If the film were made today, he'd most certainly be black, named Ngubu, and there'd be at least 10 minutes of the film dedicated to extolling his sexual prowess.
And so, Shirley is renewed, reborn, to the point that she refuses to board the plane back home and stays behind in Greece. When she returns to the tavern, she finds Costas seducing another tourist woman with the "boat is boat, fuck is fuck" line. We then find out that Shirley is not mad at him, because she didn't fall in love with him, "she fell in love with the idea of living" or herself, or something inane like that. She asks for a job and stays on the island, mingling with the locals and tourists, until her husband Joe becomes so desperate that he flies to Greece to retrieve her. When he arrives on the seaside, he doesn't recognize her, because, in Shirley's own words, she has become Shirley Valentine.
So, there you have it, girls. If you're in a bit of a rut, feeling a little bored with your life, why not fly down to an exotic location, insisting you're not going for the sex, have sex with a rapacious stranger, stay behind while insisting that you're not staying behind for the stranger or the sex, but because you've fallen in love with the idea of living. Throw away your life and pursue your childish whims. Be a perpetual tourist. Much is made of Shirley's enjoyment of Greece as a holiday destination, but when she actually attends the wedding of Costas' nephew, she finds herself a mute observer of the strange religious rituals, she can't converse with the attendants — the only words of Greek she seems to know are kalamari and evcharisto — so she goes away.
Then her husband forgives her for making the fuck with Costas and comes to fetch her from Greece, because that's the ultimate female fantasy. Do stupid things, be adored regardless of what you look like, be easily forgiven for your bullshit, drink cheap wine (retsina) by the seaside and feel cultured for it, speak two words of Greek and consider yourself erudite, fuck a mustached lothario and declare yourself in love with the idea of living, stay behind in a holiday location to play tourist all year round. Everything wrong with the modern woman is on display in this movie, in Pauline Collins' full wrinkled, liver-spotted, and flabby glory.
*  *  *
Counter-Currents has extended special privileges to those who donate $120 or more per year.
First, donor comments will appear immediately instead of waiting in a moderation queue. (People who abuse this privilege will lose it.)
Second, donors will have immediate access to all Counter-Currents posts. Non-donors will find that one post a day, five posts a week will be behind a "paywall" and will be available to the general public after 30 days.
To get full access to all content behind the paywall, sign up here: