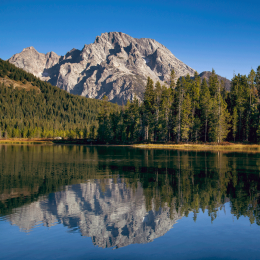 1,210 words
A road trip may be the ultimate antidote to all of the insanity of 2020. In late September, I took time off from work and drove from Washington state in search of some sanity that I haven't felt in months. I traveled nearly 3,500 miles and the drive was worth every minute. If done properly, simply getting to your destination is half the fun. A good soundtrack to accompany long stretches of highway doesn't hurt either. I chose mostly ancient 70s hard rock and 80s metal.
Washington has been under various phases of quarantine since the initial outbreak of COVID-19 in the US and masks have been mandatory statewide since June. The city of Seattle became a hotbed of protests and rioting after the death of George Floyd leading to the Capitol Hill Autonomous Zone (CHAZ) that occupied several blocks. Overnight, the narrative had flipped from "flattening the curve" and "social distancing" to "all cops are bastards" and "black lives matter." The all-too-real looting, violence, and chaos emanating from the "mostly peaceful protesting" as the summer dragged on began to take its toll on my psyche. I got cabin fever and my gut told me to get far away from it all, if only for a brief time.
But, where to go? It was a simple process of elimination. I live north of Seattle and at least three hours from the insane city of Portland, Oregon so venturing south was ruled out entirely. The Canadian border was (and remains) closed to nonessential travel, so the only viable option was to head eastbound for Idaho.
I began driving on a Friday afternoon when wildfires on the West coast were still blowing smoke across the nation. I endured hours of wet freeway and major traffic delays and opted to spend the night at a grainy Motel 6 in Pendleton, Oregon. Saturday morning would be a fresh start.
I awoke to dry, overcast skies, and drove east via Interstate 84 toward southern Idaho. As I crossed the border from Oregon, I experienced a sense of relief. The air was noticeably crisper, the sun was shining, and the landscape felt heartwarming and inviting. The experience of driving on an open highway dotted with rural towns, wide-open spaces, and remote geographical landscapes revealed itself at that moment. It's one of the remaining things I really cherish about living in the states. I spent the night in the little town of Arco, Idaho, and hiked around Craters of the Moon National Park the following day. It felt like being on another planet with all of its volcanic rock formations.
The next morning, I drove to Wyoming, a state I had never visited. I managed to soak up some of the grandeur of Teton and Yellowstone National Parks mostly from my car window, occasionally stopping at a scenic point to take a photo. Jenny Lake in Teton National Park was surrounded by mountain peaks jutting out of its waters — the bluest and most pristine I've ever witnessed.
I spent the following day crisscrossing America's least populated state, stopping for gas and food, or taking photos of wildlife and odd roadside attractions. I saw elk from the road numerous times, a larger-than-life Big Boy Burger statue in an otherwise barren field, and a 50s pinup mannequin inside a phone booth. Hell's Half Acre is Wyoming's answer to the Grand Canyon and can be seen just off a lonely stretch of highway in the middle of nowhere. It certainly lives up to its name and manages to look majestic and inhospitable at the same time. Devil's Tower is a most unusual rock formation that is formidable in size and draconian in appearance. Although I hiked to the base of it for a closer view, it appeared to be far more ominous when seen from a distance.
The tiniest town I encountered was Lost Springs which boasted a population of four. The only resident I saw there was an elderly man who owned an antique store which used to be the local post office. Lost Springs is an isolated place, and it felt that way after being there for only 20 minutes. Rioting mobs couldn't find it if they wanted to, and I doubt COVID-19 has found its way there either.
After making a final stop in Chugwater (population 212) to visit Wyoming's oldest operating soda fountain, I wound up driving for a few hours on dark two-lane roads en route to Rapid City, South Dakota. Rapid City was by far the most populated area on my itinerary and is flanked to the west by the Black Hills National Forest. Mount Rushmore National Memorial and Crazy Horse National Monument are also within an hour's drive. I highly recommend visiting all of these places, especially under favorable weather conditions.
Overall, embarking on a road trip during a pandemic wasn't as precarious as I initially thought it might be. Masks were optional in many places, and I did see people wearing them and others that didn't — much like I see in Washington where masks are mandatory. The majority of stops I made had social distancing rules in place to some degree including restaurants, gas stations, and motels.
Perhaps what I didn't see or hear along my trip was more noteworthy. Although I kept human interaction to a minimum, I gathered that most everyone I encountered didn't know or care about woke ideology, cancel culture, or virtue signaling. People appeared to be going about their lives without fanfare, unlike self-proclaimed SJWs whose sole purpose it seems is to guilt-trip others into becoming just as miserable as they are. I did not see a building tagged with graffiti, a window-smashed storefront, or a small business burned to a crisp. I didn't hear about any protests or see any rioters, but that hardly surprised me since 95 percent of them are in Portland and Seattle anyway.
Even in Wyoming, the reddest state in the nation, I recalled only seeing a handful of "Trump" signs for the entire trip. No one took the liberty to grill me about politics, the sole exception being an older lady who ran a motel in a small Wyoming town where I stayed for a night. She had previously lived near Seattle for many years and didn't have the highest opinion of liberals (or anyone on the West Coast for that matter). I listened sympathetically until she mentioned Biblical prophecy, at which point I politely retired to my room.
For those who desire a respite from burning and crumbling cities, deranged mobs who evidently never sleep, and a corporate media that revels in censorship and gaslighting anything resembling truth or reality, I highly recommend getting into your car (or renting one) and start driving in the opposite direction. If you soon find yourself out of cell phone range, even better!
If you want to support Counter-Currents, please send us a donation by going to our Entropy page and selecting "send paid chat." Entropy allows you to donate any amount from $3 and up. All comments will be read and discussed in the next episode of Counter-Currents Radio, which airs every weekend on DLive.

Don't forget to sign up for the twice-monthly email Counter-Currents Newsletter for exclusive content, offers, and news.