207 words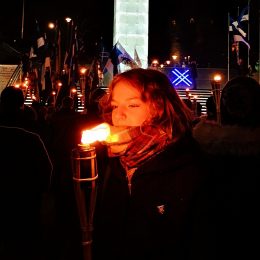 After his speech at this year's Etnofutur Conference in Tallinn, Estonia, Fróði Midjord sat down with Gemma Kits, a young Estonian nationalist and fellow speaker at the conference to discuss native Estonian spirituality, traditions, and what it means to be an Estonian. If you liked this interview, be sure to subscribe to the official Scandza Forum YouTube channel where more speeches, interviews, and news will be uploaded from the Scandza Forum and events just like it across Europe.
If you want to help support the work that the Scandza Forum does, consider making a donation to their efforts by following this link or using the following cryptocurrency addresses:
Bitcoin: 1DKQ4NR88y4DK7khE4xFmvBxQFUyw6ZLC3
Ethereum: 0x3a6D6A69260cF733c32AB51E1C83B8f39c48dc4A
Note: We recommend against the use of Coinbase to make cryptocurrency donations due to their history of deplatforming.
Don't forget that the next Scandza Forum is rapidly approaching, as well. This year's Forum will be held in Zagreb, Croatia, on the topic "Is Race an Important Reality or a Fiction?" The highlight of the event will be a live debate between Jared Taylor and E. Michael Jones on the event's question. You can sign up for the event by sending an email to [email protected] and you can learn more about this year's Forum here.
Rekindling Native Spirituality