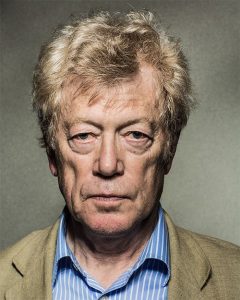 206 words / 73:53
To listen in a player, click here. To download the mp3, right-click here and choose "save link as" or "save target as."
Greg Johnson talks to Rich Houck about the importance of the English conservative philosopher Roger Scruton, who died on January 12, 2020. Then they answer reader questions about how to persuade normies and hostiles of White Nationalism.
0:00: Introduction
0:10: Remembering Roger Scruton
Roger Scruton's book The Philosopher on Dover Beach
Roger Scruton's essay "Representation and the People" on populism
15:50: The American Constitutional Civil Religion
25:45: A normie friendly introduction to the Jewish question
29:25: Greg's article "Irreconcilable Differences: The Case for Racial Divorce"
30:50: Abusive relationships as a model for understanding the Left's relationship to the Right and Jewish relations to gentiles
33:40: The need to take one's own side and separate from problem people
35:15: The psychology of codependency and white relations to non-whites
39:15: What do you do when Leftists call you names like "racist," "bigot," and "fascist"?
45:55: All people and nations end, so why fight the inevitable?
48:10: Why white demographic decline is not inevitable
51:05: How to get past the vile and repulsive ethos of the online Alt Right?
Greg's article on irony: "Postmodernism vs. Identity" Part 1 and Part 2, "Identity vs. Irony"
56:40: How do we deal with classical liberal individualism?