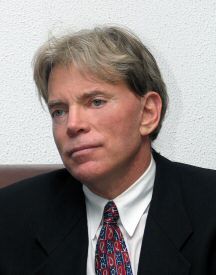 2,003 slov
English original here
Poznámka Grega Johnsona: Následující rozhovor s Davidem Dukem vyšel 2. prosince 2009 v The Occidental Quarterly Online. Nezměnil jsem názor na užitečnost usilování o politické posty, pokud by ho však byl někdo schopen změnit, byl by to David Duke.
Greg Johnson: Následoval někdo v USA při kandidatuře na politickou funkci jako explicitní zastánce bělošských zájmů politickou strategii Davida Duka?
David Duke: Myslím, že se k tomu skutečně odhodlalo jen velmi málo lidí. A bohužel za většinou z nich nestála žádná opravdová organizace, měli žalostný nedostatek financí i politického důvtipu.
Často se rovněž ucházeli o politické funkce mimo jejich dosah, například místo v americké Sněmovně reprezentantů. Přitom se měli zaměřit spíš na místní volby nebo – což je myslím tou nejlepší volbou – pozici státního zákonodárce.
Jak na politiku s Davidem Dukem
Greg Johnson: Co byste doporučil mladým nacionalistům, kteří uvažují o vstupu do politiky?
David Duke: Zde je několik hlavních bodů, které podle mě mají zásadní význam pro politický úspěch našich lidí.
Vybudujte silnou místní organizaci, jako například mé EURO. Nejprve musíte mít alespoň sto oddaných dobrovolníků a příznivců. Když jsem se ucházel politickou pozici poprvé, měl jsem lokální organizaci s asi 1000 příznivci.
Vyberte si ty správné volby ve správný čas. Ucházejte se o takovou funkci, abyste si mohli podat ruce s většinou voličů v okrsku. Vyberte si obvod, který má správné demografické poměry a kde je místní politik zranitelný nebo se pod ním houpe křeslo. Jak říkám: ty správné volby ve správný čas.
Kandidujte za jednu ze dvou hlavních stran, nikoli třetí strany. Kandidáti třetích stran mají obrovské nevýhody a jsou veřejností už předem vnímáni jako bez šance na výhru, což pro bývá politika fatální.
Učit se, učit se učit se
Staňte se expertem na vedení kampaně. Jděte do některé z republikánských či demokratických politických škol. Přečtěte si knížky na toto téma. Ještě důležitější je ale podílet se na skutečné kampani a naučit se tajemstvím oboru.
Opatřete si nejnovější seznam voličů z registru voličů a spárujte ho s  telefonními čísly. Vypracujte strategický plán, jak realisticky zaklepat na každé dveře ve vašem obvodu. Vaši dobrovolníci by to měli udělat nejméně dvakrát a pět na vás při tom samou chválu.
Buďte vidět
Učiňte vaši kandidaturu vysoce viditelnou. Jedním z vašich největších úkolů je působit jako kandidát s šancí na výhru. Nejlepší způsob, jak toho dosáhnout, je využít cedule před domy. Když jsem bojoval ve volbách, obešel jsem nejdřív všechny hlavní dopravní tepny a příjezdové komunikace v mém okrsku, a snažil se na nich udat lidem co nejvíc svých cedulí.
Dva měsíce před samotnými volbami prošla má skupina město a za jeden den a noc rozestavila více než 1000 těchto značek. Vypadalo to, že všichni lidé jsou pro mě, což úplně změnilo psychologii voleb. Najednou se lidé přestali bát říkat, že hlasují pro mě, protože tak podle všeho činily i tisíce dalších.
Vytvořte program, který osloví vaše voliče
Vytvořte svůj program věrni zásadám, ale zaměřte se hlavně na otázky, které vám hlasy přinesou, ne naopak. Tedy témata, která vás oddělují od lidí a dávají většině lidí pádné důvody pro vás nehlasovat. I když bych tak třeba rád viděl jinou politiku USA na Blízkém východě, pro fungování státní (tj. nikoliv federální) samosprávy to není zásadní problém.
Proč zbytečně ztratit lidi, kteří v této otázce nejsou vzdělaní? Jedná se o politickou kampaň, ne o ideologický časopis typu TOQ.
Pokud už na nějaké takové téma přijde v místních volbách řeč, jednoduše odvěťte: "Zahraniční politika není problém státní správy. Buďte si však jistí, že dávám přednost politice, která vždy staví americké zájmy na první místo a nepodporuje žádné 'zvláštní' zájmy."
Pak přejděte na jiné téma a řekněte něco jako: "'Zahraniční politika', která ovlivňuje náš stát nejvíc, je politika imigrační a přístup k nelegální imigraci. Poněvadž tato politika vede k větší zločinnosti, vyšším daním a ničení našich tradičních komunit."
Miřte na správné cíle
Profilujte se na otázkách, které mají největší podporu mezi našimi lidmi a současně jsou v souladu s našimi ideologičtějšími názory. Například tvrdě jděte proti rasové diskriminaci našich lidí. Ať už v podobě afirmativní akce (pozitivní diskriminace), kulturních útoků proti našim lidem nebo destrukci našich škol prostřednictvím nucené integrace, svážení dětí do škol na základě rasy, rapu, kriminalitě, atd.
Udeřte tvrdě na ožebračování střední třídy daňových poplatníků sociálním systémem, obrovské odírání těchto lidí ze strany politicky propojených korporací a na vysoké daně placené naší tvrdě drcenou střední třídou na tyto dvojí kleště, které ji svírají.
Má literatura je volně dostupná každému a můžete v ní najít stále platné odpovědi na různé otázky. Pro některé rady ohledně prezentace si přečtěte mé diskusní témata na fóru Stormfront kritizující Nicka Griffina a jeho vystoupení v diskusním pořadu Question Time v BBC. Z těchto vláken se dá dost naučit.
Mějte stále na paměti
Je velmi důležité, aby člověk nezaprodal naše základní ideje a zároveň prezentoval naše pozice jako lákavé, ne neatraktivní nebo dokonce nechutné. Je to lano, po kterém se musíte naučit balancovat, pokud se budete chtít účastnit politického procesu.
Buďte aktivní, pracujte na sobě i ostatních
Buďte vysoce reprezentativní, zhubněte pár kilo nebo v případě potřeby naberte nějaké svaly. Zdravý vzhled, vkusné oblečení a upravenost jsou k úspěchu nezbytné.
Zúčastněte se každého komunitního volebního fóra, obvykle jich probíhají desítky. Pokud si předem vypracujete odpovědi na nejčastější otázky a přidáte i kousek vtipu, zazáříte nad všemi ostatními. Lidé tak získají skutečnou motivaci hlasovat pro vás.
Využijte přímou komunikaci s voliči
Provozujte telefonní banku, kde máte deset nebo více lidí, kteří pro vás mohou dělat hovory. Přes Skype je to velmi snadné. Nechte je pracovat se seznamy voličů. Představte voličům klíčovou otázku nebo dvě a požádejte je o podporu. Zeptejte se, zda jim nevadí, když si na jejich předzahrádku nebo před dům umístíte volební reklamu. Označte si příznivě nakloněné voliče, abyste je v  den voleb dostali k urnám.
Buďte připraveni vydat 101%
Pokud to myslíte vážně, budete si muset vzít volno z práce, nebo nechat někoho řídit váš podnik a být připraven strávit prací na tomto projektu alespoň 5 měsíců 15 hodin denně. Za místní legislativní volby budete muset utratit minimálně 50 000, lepší je ale mít připravených 100 000 dolarů. Pokud máte dobrou organizaci, můžete tyto peníze snadno získat z příspěvků. Voliči jsou totiž připraveni přispět kandidátům, protože chtějí mít přístup ke svému zástupci.
Zapojte se do činností místního společenství
Při přípravě na kandidaturu je rovněž důležité být dlouhodobě zapojen do místního společenství. Buďte slyšet už před volbami, upozorňujte na problémy blízké našim ideovým pozicím. Buďte v komunitě aktivní. Měl byste se zapojit do celé řady společenských organizací, jako jsou Kiwanis, Červený kříž, Lion's Club, rotariáni atd.
Nejen že tak můžete vykonat dobrou práci pro lidi, ale také tak nejlépe zničíte stereotyp, který o vás šíří média. Během měsíců, nebo ještě lépe let práce vás lidé v těchto organizacích začnou respektovat, mnozí vám pomohou s kampaní. Jiní vám zase budou přispívat penězi a vaše členství v těchto skupinách přesvědčí hodně lidí, pro které jste kvůli mediálním útokům podezřelý.
Neopomíjejte náboženství vašeho společenství
Jedna poslední věc. Choďte do kostela. Najděte si velký kostel, a vašim postojům co nejpříznivěji nakloněného pastora nebo kněze. Možná vás to překvapí, ale téměř vždy lze najít pastora, který s našimi názory (obvykle potichu) sympatizuje.
Zapojte se do církevních aktivit. A mimochodem, nikdy se v nedělní škole nebojte nabídnout také svůj rozdílný pohled, pokud některá z lekcí zabloudí na pole rasových a politických žvástů. Prostě to udělejte slušně a možná že s vámi celá třída bude souhlasit.
Vzhledem k tomu, že nás media vykreslují jako asociální podivíny atd., pro nás je mnohem důležitější než pro jiné politiky, abychom se do těchto aktivit zapojili. A téměř všechny úspěšné politické osobnosti to dělají, ať už tomu věří nebo ne.
Takový Bill Clinton v kostele je přece skvělý vtip.
Věřte, bojujte, vytrvejte
Vaše názory vás automaticky vyčlení a média se vás pokusí vykreslit pomocí svých oblíbených stereotypů. Proto je životně důležité, abyste hluboce pronikl do komunity a zakořenil v ní, jen to vyvrátí tyto stereotypy lidem, které potřebujete, abyste se dostal do politické funkce.
To je jen několik zásad, které jsem si v průběhu let osvojil.
Byl jsem zvolen do Sněmovny reprezentantů v Louisianě ve volbách proti pěti protivníkům, všichni byli milionáři. Získal jsem více než 60% bělošských hlasů ve dvou celostátních volbách do amerického Senátu a na pozici guvernéra. Byl jsem zvolen do výkonného výboru Republikánské strany v největším republikánském okrsku v Louisianě a následně jsem byl ostatními 14 volenými členy orgánu zvolen jeho předsedou.
Když se mi to podařilo během neustálých útoků ze strany médií kvůli desítky let starým záležitostem, bude vaše cesta jistě mnohem jednodušší. Už jen když se postavíte za práva svých lidí a na ochranu svého dědictví, získáte hodně publicity. A pokud budete s tímto programem zvolen, stanete se celonárodně známou politickou osobností.
Je ostudou, že ve státních zákonodárných sborech po celé Americe není nejméně tisíc našich lidí a další alespoň stovka v Kongresu. V tuto chvíli tak ani jeden zvolený politik v Americe neřekne: "Jsem hrdý na to, že hájím práva a dědictví evropských Američanů." Ani jediný. Změňme to!
Hodně štěstí!
Greg Johnson: Jak byste reagoval na někoho, kdo by namítl: "Doktore Duku, máte politický talent a schopnosti srovnatelné s kýmkoli v americkém Senátu. Proč jste neudělal všechno, bez ohledu na metody a skrupule, abyste se tam dostal? Proč jste se nevzdal rasismu, nelíbal černé děti, neobjímal s Oprah Winfreyovou a slzavě při tom neblábolil o proměně svého srdce. Prostě cokoliv, abyste se dostal ke skutečné politické moci?"
David Duke: Tak znovu, je to tak trochu provazochodectví. Dokázal jsem znovu a znovu, že mé přesvědčení nebyl stereotypní bělošský rasismus, jak jej prezentují média. Nikdy jsem ale neměl v úmyslu vzdát se svého základního přesvědčení o nutnosti zachování našeho dědictví.
Politika a masová demokracie v zemi MTV je nechutná, a tak musíte přijmout tisíc drobných ústupků vaší osobní integritě, abyste byli zvoleni.
Už nejste soukromá osoba, která se může podělit o jakoukoliv myšlenku nebo přesvědčení. Jinak byste se dřív nebo později nějakým způsobem odcizil všem svým voličům. To platí pro Davida Duka, Billa Clintona, ale i Baracka Obamu.
Je to politická realita kontroly cizími médii.
Udělal jsem, co jsem musel udělat, abych získal potřebné hlasy lidí, ale nemohl jsem a ani bych nikdy nechtěl slevit v základní otázce přežití našich lidí. Co se mé osoby týče, měl jsem naopak za to, že jsem při snaze dosáhnout vítězství a moci, jež by mohla posloužit našemu hnutí, udělal kompromisů až příliš.
Také je důležité pochopit, že i když bych se zřekl všeho, tak by to reálně nepředstavovalo žádný rozdíl, protože židovští extremisté, kteří ovládají média a politické procesy, nikdy nic nikomu neodpustí ani nezapomenou. I tak by spojili všechny své síly proti mně, a politická zbabělost v klíčových otázkách by navíc vzala vítr z plachet tisícům oddaných lidí, kteří pro mě při mé kampani pracovali dnem i nocí.
Při kampani v Louisianě jsem měl historických 42 000 příznivců a 5000 dobrovolníků. Získal jsem více než šest z deseti bělošských voličů, ale potřeboval jsem sedm. Udělal jsem všechno, abych dostal i toho sedmého, ale má radikální minulost (s fotografiemi) vyvolala u příliš mnoha bílých voličů médii naučené předsudky.
Největším faktorem ve volbách, jak se chlubili židovští experti, ale bylo ekonomické vydírání státu. Ztratil jsem přinejmenším 2 z 10 bělošských voličů, protože si mysleli, že pokud budu zvolen, mohou přijít o svá pracovní místa a jejich podniky budou řízeně zlikvidovány.
Mnoho lidí si myslí, že plně pochopili neuvěřitelnou sílu našich židovských supremacistických nepřátel, ale dokud nepředstavují skutečnou hrozbu pro systém, nemají o skutečném rozsahu židovské moci v USA kompletní představu.
Teprve tehdy totiž naši nepřátelé odkrývají veškerou svou reálnou sílu v náporu, jemuž odolá málokdo. Já jsem vydržel několik let odolávat zuřivým židovským lžím a pomluvám, jakých se dostane každému, kdo by si dovolil ohrozit jejich moc.
Přesto jsem vydržel bojovat za naše lidi, každý den mého života. Nemohli si dovolit mou přítomnost mezi nejmocnějšími 100 lidmi na světě: v Senátu Spojených států. Věděli, že bych tam započal revoluci a to nejen v Americe, ale v celém západním světě.
Doufám, že mladí patrioti budou stavět na tom, co jsem dokázal a udělají další krok kupředu. Jsem ochoten poradit nebo pomoci každému, kdo to bere opravdu vážně.
Source: https://deliandiver.org/2018/07/rozhovor-grega-johnsona-s-davidem-dukem.html