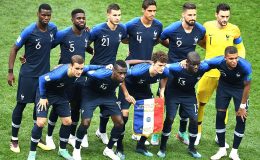 983 words
Some people think football (soccer) is a matter of life and death. I don't like that attitude. I can assure them it is much more serious than that.
— Bill Shankly, former manager of the Liverpool Football Club
Sport is tribal. It is a contest between individuals and teams. It evokes instinctive and visceral passions, which is why it is so addictive and so capable of animating the human spirit. It is, as a consequence, inevitably a case of them versus us. There is no room for ambiguity. People take sides. We naturally identify with and want those competitors who look like us or the team that most closely resembles our family and friends to win. In some ways, it is a sort of sublimation – a form of personal wish-fulfillment. After all, we, as supporters, invest time, money, and emotional commitment to them – and in a way, "we" and "they" become one.
So the furor about the Bulgarian football fans chanting racist abuse at certain members of the so-called English football team came as no surprise. It may not be polite, and it may not be dignified, but as a commentary on the state of England at the present time, it is most certainly justified.
After all, the current English manager, Gareth Southgate, has himself made a point of stressing the importance of choosing an ethnically diverse team as if it was his top criteria upon taking up the job. And he is openly celebrated in the British media for selecting the most multiracial squad for England our country has ever sent to a World Cup tournament – a competition where English fans were warned that if they sang pro-Brexit songs, they would be fined. Southgate stalks the sidelines in a blue waistcoat and took eleven players of color to Russia, most of whom work with immigrant groups in the UK, and all of them are beneficiaries of the massive investment by the British government in inner-city sports academies and "Hard to Reach" communities. He makes no bones about his objective, continually talking about how football brings people together. But that is simply not enough for journalists like Tom Rosenthal, who saw an opportunity to make a political point about what the press called "The Windrush Scandal":
It is only a month since the government was illegally deporting people who could have been the grandparents of Raheem Sterling or Jesse Lingard. Young men like Dele Alli and Danny Welbeck, with parents from Nigeria and Ghana respectively, are routinely told they should be grateful for the opportunities Britain has given them – a reminder that while they are British, they are not the same class of British as white Brits. And while England players are famous enough not to be stopped and searched, they will have friends for whom that is a depressingly regular occurrence.
And for his part, Steve Boomfield, the Deputy Editor of Prospect and the author of Africa United: How Football Explains Africa, said, "For many of us – and not just those who backed remain – the young, multiracial team on the pitch is a far better reflection of England than the Brexit-supporting politicians cheering from the sidelines."
These are partisan views that make it clear that "The Beautiful Game" can and is being used to advance the Left's agenda by intoxicating the youth with an addiction to multiculturalism. Two perfect examples of this are the praise heaped upon the composition of the French teams that won the World Cup in 1998 and 2018; the former was heralded as the very best a "black, blanc, beur" nation could offer, while the latter was simply taken for granted. These sentiments were echoed by the virtue-signaling German manager, Joachim Löw, whose side took the same title in 2014, and who described those members of his squad with dual nationalities as "having two hearts beating in their chest."
Similar trite nonsense was uttered made Vincent Kompany, the former Belgian national captain, when he insisted that he is "one hundred percent Congolese and one hundred percent Belgian," which unsurprisingly demonstrates his woeful lack of comprehension for both mathematics and genetics.
So it came as no surprise that the day after the debacle in Bulgaria, where England ran up a 6-0 victory over a far weaker side, that the lead story on every news outlet was what Prime Minister Boris Johnson and his cohorts in Parliament described as the "vile" behavior of a small group of neo-Nazis who made certain unsavory salutes and greeted the English team with monkey whoops. At the post-match press conference, England's manager explained that he had left it up to the players to decide if they wanted to continue with the match or simply walk off the field. His PC-trained mouthpieces like Jordan Henderson said, "I obviously wasn't happy with the situation that we were in, it wasn't nice to be involved in it, and it shouldn't be happening in 2019." The Liverpool defender added that he and his teammates wanted to make Bulgaria "suffer" because of their xenophobia.
The media leapt upon this idea by portraying black debutante Tyrone Mings as a martyr somewhat akin to Martin Luther King, and also went to Raheem Stirling's old school – which, predictably, is ninety-five percent black – and interviewed young, aspiring footballers about the racism they experience every single day of their lives. The article ended with the both embarrassing and humiliating sight and sound of England supporters singing, "Who put the goal in the racists' net?"
All of this provides me with the evidence – if I ever needed any – to justify my reasons for applauding Czechia's recent victory over England and Iceland's historic 2-1 defeat of England in the 2016 European Championships. My heart surged every time I heard their Viking thunderclap celebration echoing around the stadiums where they played. I will always support all-white teams, or even majority white teams, over all others, and will always cheer when the white man scores.