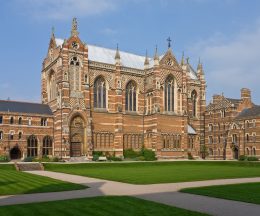 3,125 words
Part 1 of 3 (Part 2 here)
(The title is a quotation from Tony Blair.)
Unsurprisingly, evidence has begun to emerge that both Oxford and Cambridge universities have adopted an unofficial quota system for pupils from state schools, even if they have inferior examination results to those applying for entry from fee-paying schools. The Sunday Times' Education Editor, Sian Griffiths, reported that the Head Teacher of King's College School in Wimbledon is alarmed because "he has been told that an unofficial cap of 30% on private school pupils had been introduced this summer. He said both universities were turning away brilliant privately educated teenagers."
Griffiths continued by saying that "in recent years the proportion of students from the private sector has dropped to just under 40%," while at the same time MPs and the media have been incessantly criticizing both of these ancient varsities for not adopting an ethos of positive discrimination and signing up sufficient numbers of black undergraduates. All the time, they encourage the introduction of social-engineering policies like "contextual offers," that take into account factors such as family background and post codes as indicators of hard-pressed areas of domicile.
But the truth is that state school numbers accessing both institutions and higher education as a whole has been steadily increasing for some time, and the performance gap between independent schools and the state sector, particularly amongst the white female demographic, has narrowed by as much 25% over the last decade.
So what is this really all about? Could there be, at long last, genuine wholesale concern for the underachievement of white working-class males?
Well, here are some clues. In the same edition of The Sunday Times an article appeared by Shingi Mararike entitled "Step this way to discover Oxford's unpalatable past," which begins:
"This is Cecil Rhodes. If you haven't heard of him, then I've got a lot to tell you," said Olivia Durand as she stood beneath one of the most contentious statues in Oxford.
Durand, a PhD student from the university's history department, was leading a tour of the historic city. It is one with a twist.
Rather than focusing on Oxford's dreaming spires, the Uncomfortable Oxford tour was created by Durand, 28, and another PhD historian, Paula Larsson, 29, to highlight what they call "the town's legacies of inequality and imperialism". In short, it is Oxford's tour of shame.
Working with a £2,500 grant awarded by the university, the guides gather their followers in the shadow cast by the Carfax Tower and move along the high street until they come to Oriel College, where acolytes of the Rhodes Must Fall movement had gathered not long before to demand that the statue of the vile imperialist be removed from public display. Then on to All Souls, where they explain the Codrington Library was named after a British soldier who owned a slave plantation in Barbados; Hertford College, with its commemoration of Christian Cole, the first black student at Oxford, who it is alleged suffered racial abuse from his peers; and anecdotes about local residents refusing board and lodgings to black followers of Malcolm X, who had been invited to speak at the Oxford Union in 1964.
The good news is that despite its abiding and ingrained institutional racism, Oxford has this year increased the funding for the Uncomfortable Tour, and its perpetrators have embarked on a recruitment drive to hire a further twenty more guides.
This will no doubt be welcomed by the race-hustling MP for Tottenham, David Lammy, a man who wishes to ignore the will of 17.5 million voters and who recently tweeted that any suspension of the Brexit-blocking Parliament would be a "constitutional outrage that will spark civil disobedience and I for one will actively participate." A black social-climber and sidekick to the innumerate Labour Shadow-Home Secretary Dianne Abbott, Lammy has been screaming for years about Oxford "failing badly" in its efforts to improve diversity. He regaled the university on Radio 4's Today program, after the publication of details on its admissions statistics, by asking how "a person was twice as likely to get in if they were white, not black?"
Well, I think we all know the answer to that one, Mr. Lammy. And given the fact that he professes to be a law graduate from Harvard and London's School of African and Oriental Studies, it is hard to imagine that he cannot answer his own question. Or perhaps he, like so many others of his race, who are so blind to the obvious, was himself a beneficiary of just such an egregious preferential system, so that he wants to extend it to all people of color, regardless of their merits and capabilities? This would not be surprising given the fact that he has made crass and tasteless comments about universities practicing "social apartheid" and being "bastions of white middle-class privilege"; about "white saviors" taking all the glory when the Comic Relief charity tried to raise money for the poor in Uganda; and he even compared hard Brexiteers to Nazis. And while he takes a moment to ponder before answering his own rhetorical question to the Oxford admissions staff, perhaps he could proffer an explanation on how such a sanctimonious self-righteous man as himself could defraud the British taxpayer by claiming over £12,000 in travel expenses for a second home, when his constituency is less than thirty minutes away from Westminster by London Underground?
Or would that be too intrusive? Or construed as being motivated by racist hate?
Continuing the assault on the UK's university traditions and standards, we have over a hundred MPs writing to Oxbridge, insisting they increase ethnic minority representation from its current 2% to somewhere closer to the sector average of 18%. Samina Khan, Oxford University's Director of Undergraduate Admissions, acknowledged that "white British students were twice as likely to be admitted as black British students, but said the university was working hard to change." Khan added, "We are not getting the right number of black people with the talent to apply to us and that is why we are pushing very hard on our outreach activity to make sure we make them feel welcome and they realise Oxford is for them."
Professor Louise Richardson, Vice Chancellor of Oxford University, wrote in the report on admissions, "The picture that emerges from the statistics is of a university which is changing; evolving fast for an institution of its age and standing, but perhaps too slowly to meet public expectations . . . It is a picture of progress on a great many fronts, but with work remaining to be done." Already, the university's various colleges, many with a scholastic pedigree that extends back six hundred years, have agreed to establish a new scheme which will fund in advance the travel expenses for the interview and any other fees that applicants from disadvantaged backgrounds may accrue from the process of applying to study at Oxford.
The institution has also added five hundred more places to its spring and summer school program for students from underrepresented backgrounds. They allow prospective A-level students from disadvantaged backgrounds to spend a week at the university and receive advice. Students who attend the program, known as Uniq, have a 34 percent chance of admission, compared to 20 per cent for UK-wide applicants.
This is occurring against a backdrop of the University and College Admission System finding that blacks are more likely to fail to achieve the necessary grades for their chosen subject; that the same demographic are 21% more likely to falsify their transcripts relating to academic achievement; that they are overrepresented in cases of examination irregularities; and are part of a vast surge of up to 115,000 students using essay factories based in cities like Nairobi to produce their coursework.
Cambridge's motto is Hinc lucem et pocula sacra – "from this place, we gain enlightenment and precious knowledge" – and its alumni includes luminaries such as Sir Isaac Newton, Charles Darwin, and Francis Crick. A spokesperson for the university said that it needs the "support of schools and parents" to help increase the number of black British students it enrolls. A Freedom of Information request lodged by the Financial Times found that some Cambridge colleges had admitted no black British students at all between 2012 and 2016. In its defense, the university told the newspaper it would not be able to improve diversity "on its own." A statement to the newspaper from the university read:
More needs to be done to prepare high-achieving black students for applications to Cambridge and Oxford, which is why we have significantly increased the funding we contribute to programmes like Target Oxbridge.
But such words and acts of contrition are insufficient for the likes of lola Olufemi, the former Women's Officer at the Cambridge Student's Union, who called for an increase in black students taking the English syllabus and who would no doubt concur with Ms. Shakira Martin, a former black feminist President of the National Union of Students, who claims to have been the victim of both classism and racism and demanded a "de-colonization" of the curriculum. It is however noticeable that Ms. Martin was preceded as President by one Malia Bouattia, a lady of Algerian descent ,and succeeded by one Zamzam Ibrahim, a woman who claims she has faced threats of rape and intimidation in order to force her out of the public discourse. These appointments which rather belie claims that the student community is prone to exclusionary racist tendencies.
Then there are the former Cambridge students Chelsea Kwakye and Ore Ogunbiyi's Taking up Space: The Black Girl's Manifesto for Change, published by rap artist Stormzy's Merky Books. This text explores the lack of diversity in education, tackling topics including access, curriculums, mental health, relationships, and activism. The two came to prominence in the blacktivism movement when Ore wrote an article titled "A letter to my fresher self: surviving Cambridge as a black girl" for the Varsity student newspaper in 2017. Both were previously heavily involved in promoting black access to Cambridge initiatives, the repatriation of the Benin bronzes campaign, setting up the Cambridge University African Caribbean Society's first access conference and mentoring scheme, and organizing the Black Men of Cambridge campaign. These actions thrust both Kwakye and Ore firmly into the spotlight by speaking out about what it is like to be black within predominately white universities and institutions.
Apparently, being black is hard at British universities, as Sonita Alleyne, the new negro master of Jesus College, Cambridge and Priyamvada Gopal, a reader at the faculty of English at Cambridge University, will testify. Gopal has complained that accusations of racism were often met with "race illiteracy," and continued to opine that:
Complainants get exhausted and give up simply because there is no comprehension of what racism is. There is either outright denial, "gaslighting," or minimising. Often when issues are raised, in my experience, they are either ignored or dismissed. There are few mechanisms and still fewer trained staff able to deal with race matters.
Apparently, the problem is running like a virus through the entire higher education system. A Guardian investigation, featuring the sobriquet "Black academics cannot fight inequality alone," found evidence of widespread discrimination across the sector:
University staff from minority backgrounds said the findings showed there was absolute resistance to dealing with the problem. Responses to freedom of information (FoI) requests the Guardian sent to 131 universities showed that students and staff made at least 996 formal complaints of racism over the past five years. Of these, 367 were upheld, resulting in at least 78 student suspensions or expulsions and 51 staff suspensions, dismissals and resignations.
But some claim that even these official figures underestimate the true scale of racism in higher education, with literally hundreds more cases put on ice or simply not being formally investigated by universities. Black and minority ethnic (BME) students and lecturers told The Guardian they were dissuaded from making official complaints and either dropped their allegations or settled for an informal resolution. They further claimed that white university staff were often reluctant to address racism, with racial slurs treated as mere banter or an inevitable byproduct of freedom of speech, and institutional racism was poorly recognized.
The infamously Leftist Guardian, that reveled in the dubious editorial which claimed that the 10,000-year-old Cheddar Man may have had black skin, found that over a five-year period, there had been approximately 2,461 complaints made against students, with the majority lodged by other students, and 535 complaints against staff. About half of the complaints made against staff were from students, including 144 against academics. Apparently, the universities that recorded the largest number of formal complaints were Cambridge (72), Cardiff (39), Oxford (39), Bedfordshire (36), Nottingham Trent (23), Birkbeck College, University of London (21), Salford (21), Liverpool John Moores, and the London School of Economics, each with 20. But the investigation concluded that the accuracy of such figures depended upon the sensitivity and effectiveness of the complaints procedures adopted by each institution. The Guardian found that such variance was the result of the fact that almost a quarter of the universities surveyed lacked centralized records of racism complaints. Some did not specifically record racist incidents, lumping them together with other forms of discrimination, harassment, and bullying.
Such complacency led to students staging an anti-racism protest at Goldsmiths, and people like Christina Barnes, the Senior Principal Inquiries and Intelligence Officer at the Equality and Human Rights Commission, said, "Our evidence indicates that there is a significant number of people who suffer racial harassment and do not make formal complaints. They may raise informal complaints, or may not make any form of complaint at all. Our report will look at the barriers to making complaints."
Ilyas Nagdee, the black students' officer for the National Union of Students, said that racism on campus is still being brushed under the carpet: "Students of colour continue to face harassment in their places of study and abuse in their halls of accommodation. Universities remain ill-equipped and unwilling to tackle the issue at large." Suki Ali, associate professor in sociology at the London School of Economics, said, "There has been absolute resistance to facing the scale of racism in British universities. If you're in a climate where you think that people don't understand the problem, don't take it seriously, don't have procedures and policies that seem to be effective, why and how would you make a complaint?" And Heidi Mirza, visiting Professor of Race, Faith, and Culture at Goldsmiths, University of London, repeated the same litany time and time again: "People tell me of something horrendous that has happened to them and they just want to leave . . . This week I have written three references for senior black female staff who want to leave and go to America or anywhere else but England. The attrition rate is symptomatic of the fact that the complaints system doesn't work."
Crushed by such contrived guilt, a spokesman for Cambridge University said that it "strives to create a culture free from racism and takes any complaint extremely seriously." Goldsmiths have stated that "we have committed to taking action to address the protesters' key demands and have already made progress on steps such as reviewing how reports of racism are handled, recruiting additional student wellbeing staff and planning mandatory race equality training for staff." The universities minister, Chris Skidmore, declared, "Universities have a responsibility to ensure that they provide a safe and inclusive environment for all staff and students and I expect institutions to act swiftly to investigate and address incidents of racism reported to them." And a spokeswoman for Universities UK, which represents 136 higher education providers, added perfunctorily, "There is no place for racism on a university campus. In the coming year we will develop guidance targeted at addressing racial harassment."
But let us take a step back for a moment from the hubbub of claims and counter-claims, the shrill sounds of politically correct demagoguery, and analyze what is really occurring here. A distinct ethnic demographic that does not include Jews, Arabs, Southeast Asians, or people of Latino heritage, all of whom generally have no tradition of academic excellence in any sphere of the arts or sciences, are insisting on the right to access some of the best scholarly institutions that Western civilization has ever produced, and that have evolved over centuries. And having been given that opportunity, often at the expense of far more deserving applicants, they almost immediately begin to consciously or subconsciously find excuses to explain their inability to succeed in their studies or careers, blaming institutional racism and finding hidden barriers that they claim were erected, predictably by malignant white males, to bar them from their rightful places in the milieu's hierarchy.
Such a bloated sense of unearned entitlement is epitomized in the character of one Patricia Janet Scotland, Baroness Scotland of Asthal. She is a woman of Dominican heritage who proudly enjoys dual-citizenship, and is nicknamed Baroness Brazen, and was installed in 2014 as Chancellor of the University of Greenwich. While she was in charge of the Commonwealth Secretariat, she employed friends and cronies like Lord Patel of Bradford and Barnie Choudry (Lord Patel's close friend) while paying them exorbitant salaries. She likewise appointed Rola Khouray to work on the Commonwealth's Climate Change program, Nabeel Goheer as Assistant Secretary-General from 2017, Joan Nwasike as Human Resources Director between 2016-2018, Katalaina Saplou as the Peace and Governance Director from 2017, and Tres Ann-Kramer as Head of Good Offices from 2017. None of their positions were advertised and no interviews were held. Nevertheless, they went on to spend vast sums of Commonwealth taxpayers' money in refurbishing her grace and favor residence in London's Mayfair, avoided appropriate scrutiny of her own financial extravagance when a former chair of the Board of the Commonwealth Secretariat suppressed a letter from the Chair of the Audit Committee about her impropriety, were indicted by the UK Independent Press Standards Organisation for spreading stories in the media about her misuse of public resources, and spent vast sums of the Commonwealth Secretariat's budget to "protect herself" and her reputation from harm. And a staff survey conducted in 2018 found low staff morale and high levels of dissatisfaction, and stated that her tenure was marked by "a trail of incompetence, maladministration, and questionable appointments."
So is this the future we want for what Matthew Arnold, in his poem "Thyrsis" (1865), called "That sweet city with her dreaming spires"? People are riding the victimhood train to the top of our glorious temples of learning. Our academies are hamstrung by self-loathing. If mankind is to advance as a species, we need to expel these descendants of Australopithecus anamensis from our midst. As Stephen Hawking suggested at Cambridge University's Centre for Theoretical Cosmology, we should not have time for people who are "always angry and complaining," and instead should set our sights on the lights that shine down so brightly from the heavens, because we need to "look up at the stars and not down at our feet."