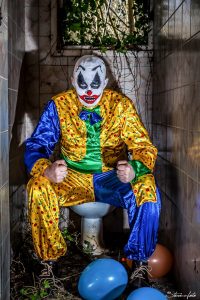 1,961 words
Part 2 of 3 (Part 1 here)
"I pondered all these things, and how men fight and lose the battle, and the thing that they fought for comes about in spite of their defeat, and when it comes turns out not to be what they meant, and other men have to fight for what they meant under another name."
— William Morris, A Dream of John Ball, about the very first English Peasants' Revolt against an alien elite
He resembled a lightweight Ed Sheeran, floppy ginger hair matching a giant orange rosette covering his pigeon chest, all freckle-faced and primed with the familiar tropes, mantras, and catechisms of the new religion – "A People's Vote," "End Inequality," "Racism: Say No!" – and shuffling glossy leaflets between his pencil-thin fingers as he went from door to door.
Earnest and sincere, articulate and shiny bright, one could almost see his rainbow-halo glowing with the self-righteous vigor of the virtuous and brave. This was no longer about winning over hearts and minds; the eyes of this disciple of tolerance betrayed the simple fact that, for him, this was a moral imperative – a crusade.
As I made my way about this town that was filled with fast-food outlets and bargain-price retail shops, I saw others just like him: faces set like John Wyndham's Midwich Cuckoos, scurrying about the crowded streets and narrow lanes. These were naïve drones or "useful idiots": products of a Newspeak that runs non-stop.
I turned on my television, and there was Boris on the steps of Number 10, waxing lyrical about LGBT rights and rejecting caps on migration because it might prevent African scientists from coming to our aid. On another channel, a cross-dressing drag queen called Mama G taught minors how to twerk in a junior school library, and on another an illegal Somali migrant called Abdi-Mahad Osamon was being granted the right to stay in the UK despite thirty-three consecutive convictions, including some involving drug-dealing.
Then there are the seemingly endless tirades from Cressida Dick, the lesbian Commissioner of the Metropolitan Police, about prioritizing the investigation of online hate crimes while her front-line force is dealing with machete attacks and nail bombs. Sadiq Khan questions the value of "stop and search" checks, but backs the building of a slavery museum in London to fight racism. His cohort, Neil Basu, head of the counter-terrorist unit, regurgitates all the familiar platitudes about the Prevent strategy, and talks about combating extremism and fighting radicalization, disingenuously mixing in references to what he describes as the "rise in toxic nationalism" after the Brexit vote and the alleged threat posed by Right-wing militants. At the same time, he very predictably holds that the best way to deal with jihadis is to strengthen "social inclusion," improve social mobility, and provide more education. He implies that it is for British society to adjust and make accommodations for Muslims by spending more and more Danegeld on these ungrateful, hate-filled harridans for Allah than we already do. Here is what he said regarding assimilation:
Assimilation implies that I have to hide myself in order to get on. We should not be a society that accepts that . . . You should be able to practice your culture or religion openly and still be accepting of others, and others are accepting of you. That is a socially inclusive society.
Is Basu living in a cave? It is Christians who are being forbidden from wearing crosses and have to continually apologize for their religion. It is little British girls who are being asked to wear the hijab for a day to "send a message about fighting intolerance." It is the English who have to be wary of flying their St. George flag or the Union Jack because of our bloated minority communities – invaders as prolific as Japanese knotweed – who brazenly walk our streets in burqas and thobes, insist on halal food, and call for the enforcement of sharia in their ever-growing ghettos. It is they who constantly complain about our emblems being symbols of racism. It is almost impossible to find a white face these days amongst the news reporters and TV "weather-persons," or in advertisements and films (such as the latest remake of David Copperfield). And on the rare occasion when they can be spotted, a little digging into their biographies reveals that they are either liberals, Jews, or gay.
Then there is the small matter of our boys in blue chaperoning a column of Muslim youths armed with bottles, stones, and scissors into a white enclave in Oldham, where Tommy Robinson and his supporters were holding a family social event during a recent election campaign. The police then stood by as women and children were assaulted by them. Likewise, leading figures in the United Kingdom's branch of Generation Identity are being doxed and forced out of their jobs by incandescent social justice warriors, and they recently had to fight a (thankfully successful) rear-guard action after their meeting was shut down and they were ambushed by an antifa mob in a car park in Sevenoaks, Kent.
But Basu insists that it is "far Right propaganda" that is stoking violence, and that society needs to determine how much of that rhetoric is acceptable:
At the moment we seem to be accepting a level which I think is potentially breeding some intolerance. That intolerance, for a small number of people, can spin up very quickly to a violent act, and we have some examples of that. We have some very awful examples of that.
No doubt he is referencing the shootings in Pittsburgh, Christchurch, and El Paso, which the media amps up with wall-to-wall news coverage while playing down all the crimes being perpetrated by immigrants and the antifa in an attempt to equate and conflate these cause-and-effect type events; acts of violence that the responsible Right openly and unequivocally condemns.
But the UK's Project Fear proselytizers will time and again exploit the alleged dire economic consequences for the British economy and the supposed risk of anarchy in the streets if a no-deal Brexit is forced through Parliament by an allegedly Right-wing Tory clique (alongside a constitutional crisis). This of course ignores the fact that the Remain lobby is represented by the likes of the fanatically anti-British Nicola Sturgeon, who will do anything to force another referendum on Scottish devolution; Jo Swinson, the leader of the patently falsely-named Liberal Democrats, whose rhetoric is filled with all the politically correct platitudes one might expect from a microchipped fembot; Plaid Cymru's overweight Elin Jones; and the pusillanimous Welsh Labour leader Mark Drakeford, all of whom seek to willfully ignore – and indeed, reverse – the legally binding result of the 2016 European debate.
And the Left are not alone. The Conservative stalwart, the lugubrious Levantine lizard Oliver Letwin, seeks an amendment to Article 50 to delay departure, and George Freeman, the Conservative Minister for Transport, described leaving the EU as an "unmitigated disaster" in an interview with the genetically-inclined Remain journalist Arj Singh of HuffPost. This is in addition to the fact that Remainers are forming electoral pacts all over the country to oust up to one hundred pro-Brexit MPs. And a key Boris Johnson donor, Crispin Odey, a hedge fund tycoon, has taken out "short" positions against British businesses such as Royal Mail owner Intu, Debenhams, and Metro Bank, and stands to make a killing at the expense of the British economy. This begs some fundamental questions about the parlous state of democracy in Britain and the motivations of some of the shadowy people forging ahead on Brexit regardless of the consequences; as well as, of course, the future composition of the British ruling class, especially when a Patel – whose ancestors would have been grateful merely to spend their lives filling out dusty ledgers in some colonial back office in Islamabad – is now Home Secretary, operating at the very heart of the Empire that once ruled over huge swathes of the globe.
Then I looked across the pond, because when the United States sneezes, the United Kingdom catches cold. I witnessed the grinding, daily mass-media assault on the President; the machinations of the virtue-signaling ingrates called The Squad; whites being literally purged from the Democratic Congressional Campaign Committee; Kamala Harris' twist-speak; the double standards the media applies to the El Paso shooting and the subsequent caterwauling for gun control and the need for a "war on White Nationalism" versus their depiction of the antifa-loving Dayton shooter; a black Princeton professor, Eddie Glaude, saying that even using the term "illegal immigrant" lays the groundwork for mass shootings; and the revolutionary Left seizing control of whole districts in Portland, Seattle and obstructing free speech in Emancipation Park in Charlottesville, Virginia.
Then there is the question mark over Jeffrey Epstein's convenient death; Jason Blum's Hollywood's wet-dream movie project The Hunt, which encourages liberals to literally kill Hillary Clinton's so-called deplorables; the fake news media's hysterical analogies about the holding centers established at the Rio Grande being like concentration camps; and the inevitable article by the likes of tribal loyalist Ben Zimmer, comparing Trump's "invasion rhetoric" to previous anti-immigration scares like the yellow scare of the nineteenth century. And we shouldn't leave out Joe Biden's sermonizing, after he called for an increase in legal immigration to unprecedented levels:
This President has fanned the flames of white supremacy in this nation . . . The energetic embrace of this President by the darkest hearts and the most hate-filled minds in this country says it all . . . We have a problem with this rising tide of . . . white supremacy in America. And we have a President who encourages and emboldens it.
This is thinly-veiled treachery and betrayal, only matched by the British media class' condescending anti-nationalist drama The Left Behind, while the Sunday Times hypes up the success of Britain's first Gujarati Life Peer, Dolar Popat, and the Daily Mirror pays homage to the "rags to riches" story of immigrant Bhasha Mukherjee, the new Miss England, who is said to have a genius-level IQ and medical qualifications. Meanwhile, Buckingham Palace refutes stories of a pedophile prince; the BBC emphasizes or downright distorts the truth about Tommy Robinson supporters marching in London; and failed ex-Prime Minister and committed Bilderberger Gordon Brown talks of nationalism pulling the United Kingdom apart, driving it towards an unprecedented economic calamity and unleashing the most serious constitutional crisis since the seventeenth century. (Brown added that the impact of a no-deal Brexit would further exaggerate the fact that England, Scotland, Wales, and Northern Ireland are "devoid of a unifying purpose," and that Britain is "sleepwalking into oblivion, fueled by a destructive, populist, nationalist ideology"; this comes from a man who, when the Chancellor of the Exchequer, sold off much of the country's gold reserves at cut-rate prices, and supported Blair and his New Labour guru Peter Mandelson in importing millions of Third-World migrants in order to bolster their voter base.)
So, for the first time in my life, I find myself in agreement with Sadiq Khan when he calls for a Unity Government in order to respond to the ongoing crisis, for it is obvious that the times we live in demand a new politics – a new party apparatus. However, I am not sure the Mayor of London and I would agree on either the road map or the methodologies by which national salvation can be achieved. At the top of my agenda would be mass repatriation for Khan and his ilk so that this land can be returned to its true-born sons and daughters, unchained from the false moral constraints imposed by Hope Not Hate zealots, the anti-white bile dripping from the mouths of propagandists masquerading as journalists such as Jon Snow and Krishnan Guru-Murthy on Channel 4 News, Eid festivities, and the endless rumble of steel drums and ganja-infused multicultural carnivals snaking through our city streets.
Enjoyed this article?
Be the first to leave a tip in the jar!