One-Stop, No Guilt Shopping for Dissident Rightists!
Announcing the Free Speech Library
News Item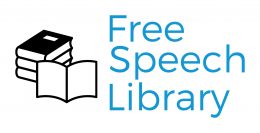 204 words
Last month, some of our Swedish colleagues affiliated with the publishing company Logik Förlag launched an exciting English-language initiative: an online bookshop called the Free Speech Library.
Fulfilling one of the Dissident Right's most pressing needs, the purpose of the Free Speech Library is to make it easy to discover and purchase politically incorrect books online, with a particular emphasis on publications that have been banned by mainstream booksellers such as Amazon. Additionally, customers can make purchases secure in the knowledge that the profits are being kept within the wider movement, rather than going to corporations that oppose our values and wish to silence us. And by spending your money with the Free Speech Library, you are also supporting publishers such as Counter-Currents in the process — all of which have been subjected to deplatforming by the major booksellers in an attempt to choke off one of our primary sources of funds.
The Library provides worldwide distribution, and is currently offering books from publishers such as Counter-Currents, Black House Publishing, Logik, and Arktos, with more to follow. (The site is also currently offering the newly-published handbook by Marcus Follin, aka The Golden One: Dauntless.) Please give your support and your patronage to this noble enterprise!