Counter-Currents Radio Podcast No. 238
Coulter, Conservatives, & Character
Posted By Counter-Currents Radio On

In Counter-Currents Radio

| Comments Disabled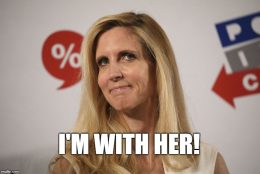 [1]161 words / 63:40
To listen in a player, click here [2]. To download the mp3, right-click here [2] and choose "save link as" or "save target as."
Greg, John, and Frodi reconvene the weekly podcast on July 4th to discuss the defects of the American national character, especially American conservatives, as revealed by Ann Coulter's discussion of the leak of Republican National Committee backgrounder reports on potential Trump administration appointees like Chris Kobach.
0:00: Introduction
0:09: Donations: We have raised $18,105.92 since the beginning of our annual fundraiser. Thanks to all our donors so far.
3:42: Counter-Currents under deplatforming attacks
6:51: Ann Coulter's essay "Coulter on Kobach: The Swamp in Action [3]" at VDare.com.
27:40: Rot at the core of the American character, especially American conservatives
43:00: The Declaration of Independence and egalitarian, bourgeois, individualist civil religion.
49:55: "Our Sacred Honor": Overthrowing bourgeois individualism in America
54:21: Patrick Buchanan on Vladimir Putin and the rising tide of anti-liberalism [4].
[give_form id="93964″]