Guide to Kulchur, Episode 18
Game of Thrones Seen from the Right
The Return of Patriarchy?
Counter-Currents Radio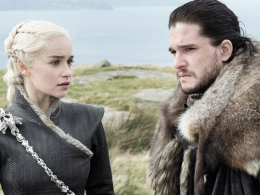 122 words / 21:31
In the latest Guide to Kulchur, Fróði Midjord and John Morgan discuss the current episode of Game of Thrones (the fourth episode of the eighth season), which begins with cringey hookups at a drunken celebration. But it then moves into more interesting territory by suggesting that perhaps it will be Jon Snow who will end up sitting on the Iron Throne instead of Daenerys. Will Game of Thrones end up eschewing the urge to please its SJW base and end the story with a restoration of patriarchy, rather than a utopian matriarchy, as many have been anticipating? The duo examine this and other issues as the series rushes to its close. The episode is available on both YouTube and Spreaker (see below).
Listen to "Game of Thrones s8e4 seen from the Right – Guide to Kulchur, ep 18" on Spreaker.
Enjoyed this article?
Be the first to leave a tip in the jar!