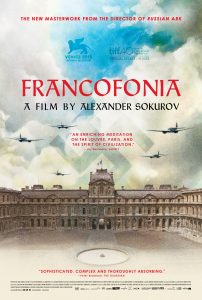 3,349 words
Alexander Sokurov has been hailed by his peers as the "living Tarkovsky." The 67 years young filmmaker has eighteen feature films to his credit and almost twice as many documentaries. A representative of the "slow and low" school of filmmakers, his work is a rebellion against the fast-paced, quick-cut, shoot em' up action films of America's Ritalin Generation. Time is the most influential element in a Sokurov film and shapes its atmosphere. To Sokurov, time is inescapable, and most directors attempt to cheat it through the editing process. He submits to it. His films require the eye of the museum attendee more than that of a Netflix subscriber looking to fill empty hours with a distraction. There are no other filmmakers today who have done so much to bring museums to the silver screen. He has turned the art documentary into an art form in itself.
He's best known for his style of blending fact and fiction, mixing factual accounts with fantastic visual narratives. His films often include a camera slowly panning over priceless artworks, accompanied by his own biblical-style narration and interspersed with hypnotic imagery and classical music. Recurring themes are death and dying, with a focus on the humble life. The exploration of the lives and work of elderly or deceased artists and literary adaptations frequently appear in his work. Intimate portraits of military and political events (although not necessarily Russian politics) are prominent as well, as is the cultural life of St. Petersburg, the city this Siberian-born auteur has come to call his own.
His films can be grouped into several categories. There's his Man in Power Tetralogy, consisting of intimate portraits of Hitler, Lenin, Hirohito, and finally, an interpretation of Thomas Mann's Faustus – all of which explore the isolation of dictatorship and the need for intimacy and companionship that one has, even while possessing the highest degree of authority over others. His cycle of Elegies has placed him prominently within the retinue of recognized post-Soviet transcendental film directors. But it's his documentary work and docu-dramas that have revolutionized cinema. This can be seen in his best-known feature, Russian Ark (2002), which has been briefly discussed by Counter-Currents contributor Fenek Solère, and its more recent companion piece, Francofonia (2015). Whereas Ark took us on a time-skipping romp through the Hermitage – filmed in one, unedited shot during Russia's shortest day, with hundreds of classically-trained actors guiding the spectral voice of the film's narrator through the Winter Palace – Francofonia tries to keep us firmly planted in the Louvre at the dawn of the Second World War, with an occasional sideways glance at its troubling present. It's the story of two unlikely friends who find a common bond in the midst of fraternal hatred over a love of art and a shared understanding of its fragility in the face of mankind's inability to coexist without conflict.
I'm fortunate to have access to a small chain of theaters in Center City, Philadelphia which screen foreign and independent films. Years ago, Wednesday all-day matinee pricing would have me taking in a double feature. Though there is certainly a lot of pro-immigration and Left-liberal themes in many of the films that are shown there, I've become adept at sifting through and finding those few diamonds in the rough. Francofonia was one of those gems. Although at the time – early 2016 – I knew nothing of Sokurov, the tale of a French municipal employee and a German aristocrat finding a common bond in their love of culture above their political arguments attracted me. Only afterwards did I come to appreciate that I had been exposed to the work of a brilliant Russian conservative and cinema revolutionary. Although in retrospect, I would say that a viewer will better appreciate his films if they first familiarize themselves with his other work and themes – so I'll lend you a hand.
A quick YouTube search will yield several of Sokurov's short films, as well as some of his older, feature-length films, some of which include English. Interviews with or about him are also a good approach, but the simplest method is to watch the documentary Hubert Robert: A Fortunate Life (1996), which is easy to find. At under half an hour, it's Sokurov's work in a nutshell, being about an eighteenth-century artist who was caught up in the whirlwind of the Napoleonic era and suffered personal tragedy which forced him to subordinate himself to the powers-that-be. Robert's wish was only to make art; he had no strong political views. It's a trait the director seems to share with him. Robert's work – which includes several speculative and whimsical designs for the Louvre – figure prominently in Francofonia as well, so watching this one first will make viewing his latest film more enriching.
For each film, Sokurov has a new camera lens made. He is a dedicated student of the ethics of seeing, and thus teaches about "gazing at life." In Francofonia, as in all his films, the history is real. The fantasy will carry us through it, like an eager Ebenezer with Alexander Sokurov as our Ghost of Christmas Past. Often, he will return to the fear of artwork that has been lost due to the breakdown of man's inability to coexist with his fellow men. That phobia is an essential ingredient for creating the atmosphere of this documentary.
Although Sokurov is not overtly of the Right or any other political persuasion, Hubert Robert is arguably pro-white in its emphasis on our shared European heritage and the need to preserve the beautiful things we create, as well as our own integrity. Sokurov and his contemporaries in transcendental cinema have expressed reverence for Georgian philosopher Merab Mamardashvili's idea of pan-European culture as a measure of humanity. Mamardashvili has contributed to rationalist theory in the vein of Descartes and Kant. Additionally, Sokurov's understanding of the relationship of space and atmosphere to time has been heavily influenced by Martin Heidegger, and he's given several university lectures on Heidegger in St. Petersburg. It is never enough to be merely an artist in Russia; one must also be a scholar and, ultimately, a philosopher.
In relation to politics, Sokurov is certainly a conservative, though when he was finally awarded the People's Artist of the Russian Federation prize in 2004, he used the occasion to criticize Putin's system – to the President's face. Nevertheless, his colleagues regard him as a reactionary with a romantic longing for the days of the Empire. His previous examinations of Hitler, Lenin, and Hirohito made no significant appraisals of their subjects' politics, instead showing the dictators as humans with natural frailties rather than titans beyond reproach. Although it is indeed the case that Sokurov's Soviet-era treatment of National Socialist Germany has been criticized for being too politically ambiguous. His ten-minute Sonata for Hitler was banned until the Soviet Union ended. Francofonia itself makes no mention of the Jews or the Holocaust (thankfully) – a fact that did not sit well with kosher critics. And such omissions in a Sokurov film should be taken as a provocation to either tradition, the viewer, or both. In Moloch (1999), Hitler doesn't know what Auschwitz is. In Taurus (2001), Lenin doesn't know who Stalin is, even after the Georgian war criminal visits him. In The Sun (2005), Hirohito is completely unaware of Pearl Harbor. In this way, Sokurov persuades his critics and fans to play Sherlock Holmes by asking themselves, "Of the things that are not here, what is the likelihood they would otherwise be present?"
It was a pleasant evening in May of 2016 when I walked across the cobblestone streets of Olde City to the Ritz 5. Cotton clouds floated through the blue skies, and the theater for its part had kept the sidewalk clean of Dorito bags, tumbleweave, and the wooly-haired big snoods often harassing tourists for spare change. I had just finished my day's work at the Pennsylvania Academy of the Fine Arts and hustled down to the good part of town, foregoing the student discussion on the desperate need to make our bathrooms more accommodating to trannies. Some soyboy had covered the urinals on the seventh floor in a righteous protest against the patriarchy and what we can assume was a Stoic rejection of the wonders of indoor plumbing.
I had made it just in time. The lights were low and the previews had just finished. As I eased into my center seat, three rows back from the front, I felt the calm and subtle joy of escape from the hectic and hateful metropolis outside. With all souls accounted for, our ship left port.
The screen went white as the film began, and typing could be heard in the distance. A phone rang and was answered, and then Sokurov's voice was heard. The white gave way and half the screen went pitch-black, with the credits rolling up the sunny side. We were eavesdropping on Sokurov's side of the conversation, which sounded like he was just working out the logistics of making a film. Possibly this film. Finally, we heard a spectral voice coming through static. It was a satellite call at sea, speaking in English, slowly fading out until all that was left were half-whispers and static. The call was disconnected.
Once again, the camera began to float, and we rose above the alleys of Paris and above. There was a cut, and we were back in Alexander's study as he ruminated on the state of that French city in June of 1940. The Germans were marching in, and Sokurov bid us to follow him through the dreamy stream of consciousness he crafted, punctuated by his own historical insights.
Inside the Louvre, the ghost of Napoleon Bonaparte and Marianne – who represented the Spirit of the Revolution – wandered the halls. It was the Emperor versus the Revolution. We all know who won that fight, don't we? Marianne stared off into the distance, trying to peer into an unknown future rather than focus on the artwork surrounding her. "Liberte! Egalite! Fraternite!" she chimed endlessly through the film. Even at the turn of the nineteenth century, liberalism was easily reduced to solipsistic mantras and angry riots.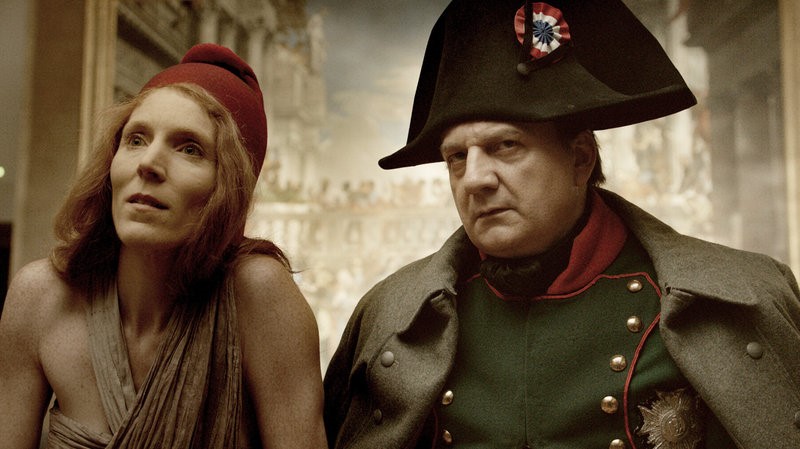 As the pace quickened, we went from floating above modern-day Paris to 1940s wartime footage. Each cut to a new scene was interrupted by an alarm – usually an industrial or electronic sound – that pulled us back to modernity. We again saw Sokurov in his office, frustrated by the failing satellite communication with his comrade at sea, so that when we returned to the Louvre, it gave us a sense of calm satisfaction. Like the Hermitage of Sokurov's Russian Ark, we were safe within a vessel of culture on a tide of social upheaval.
The camera panned slowly over the portraiture as the director ruminated:
On my first visit to the Louvre I was amazed by these faces. These are the people . . . the people. The people, as I would like to see them. Comprehensible to me. They are of their own time and I recognize them. Why? The French . . . the human stock of Europe. I wonder what would have become of European culture if portraiture had not emerged. For some reason, Europeans developed the wish, the necessity, to paint people, faces . . . Why is this study so important to Europeans while other people – such as the Muslims – don't have it at all? Who would I have been had I never known or seen the eyes of those who lived before me? In Europe, Europe is everywhere. We sit beside, opposite one another, and our lot is one and the same. Why is art unwilling to teach us prescience?
Count Franz Wolff-Metternich came from a prominent German aristocratic family. Like many bluebloods, he steeped himself in Europe's high culture, and his writings on Romanesque and Baroque architecture had earned him recognition as a scholar and art historian. When Germany occupied France in 1940, Count Metternich was appointed to direct the implementation of the Kunstschutz principle for the Wehrmacht –the protection of artwork in the conquered territories. (It is important to note that the Allied powers had no such program going into the war, as detailed in Trevor Lynch's knockout punch of George Clooney's box-office bomb Monuments Men.) That idealism helped to form a bond between the Count and Jacques Jaujard, the Director of France's national museums and one of the only high-ranking Parisian civil servants who did not abandon his post during the German occupation. They found in each other a shared concern for the survival of European culture and an understanding of the integral role a country's artwork plays in forging its national identity. Sokurov took pains to demonstrate the devastation of churches and monuments that had occurred during the First World War, which shaped the fears and aspirations of those involved in the second of Europe's bloody brothers' wars.
After introducing the main characters, the film explored the relationship France had with its occupier, and then returned to the solace of the Louvre. As the camera slowly navigated the Assyrian treasures exhibition room, the narrator reminded us that "these are but fragments of that civilization." Lamassu. The winged bulls. The bas-relief, silent yet laughing. The camera inched upward, revealing the details in the beard and faces of the imposing figures. But the quiet contemplation of all this beauty was interrupted when the film transitioned to a ship struggling at sea, the pindrop silence of the museum being invaded by the groaning of steel, ready to give way at any moment to the violence nature's elements visit upon all that man makes.
Still in awe of nature's indifference and man's attempt at overcoming it, we then saw an outstretched hand reaching upward to touch the fingers of an archer from Classical Antiquity. The parallel to Adam reaching for God's finger on the Sistine Chapel's ceiling comes to mind for all Westerners – but this was a secularized vision. Where was God in this scene? Perhaps in the inescapable grasp of time and nature's indifference to beauty, both awesome and terrible. We cannot know ourselves without our cultural heritage. Without this ark to protect us, there would be nothing but the cold and rain.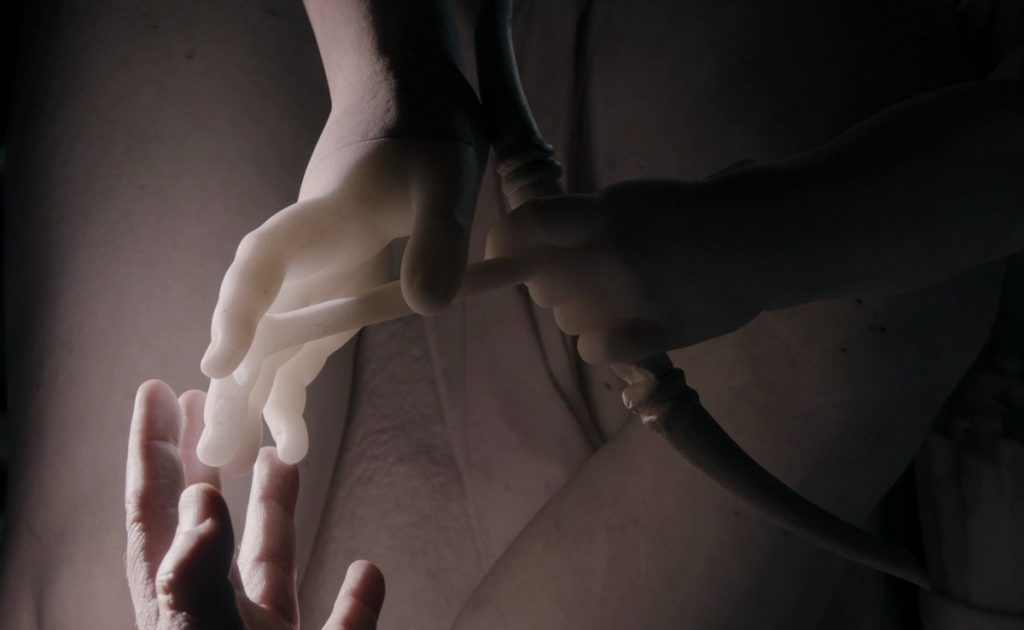 In the hall of sculpture, Napoleon's specter again appeared. Lecturing the narrator and the audience, he pointed out that all that we were seeing was thanks to him and to the wars he waged. "Why else would I have gone to war?" he rhetorically asks. "For this! I went to war for art!" Sokurov informed us that it was Napoleon who made the Louvre a museum. The wonders of the world became war trophies to Corsica's greatest strategist. But to the French people, they came to represent a historical experience that would distinguish them among the nations and forever connect them to the wider world. Bonaparte led the narrator by the hand to the depiction of him which seemed to bring him the most pride: Paul Delaroche's Bonaparte Crossing the Alps, an honest portrayal of the struggle through an unforgiving landscape. It's not a favorite to many, including Delaroche himself, who is said to have disapproved of the final result. Compare and contrast this with the more famous Napoleon Crossing the Alps by Jacques Louis David – an idealized view of a conquering Emperor astride a magnificent, long-maned steed on his way to surprise the Austrians. Five versions of this painting exist. I have a small, framed copy of the Belvedere version sitting next to my monitor as I type this. And yet in the film, the Emperor seemed to like this one the most. He was, after all, always a soldier. These scenes struck me as classic Sokurov – humanizing a giant of history.
After a visit from the Emperor, we experienced a montage of the works of Hubert Robert, some of which are paintings of the Louvre itself – including one depicting it in ruins. I was feeling honored to undergo the unique experience of viewing this film in a theater when I was overtaken by seething anger and deep hatred after a piece of human trash's cellphone began to ring, disrupting the scene's serenity. In the darkness, we began to look at each other with accusatory glances. "It's in the movie," someone said softly. I heard scattered chuckles close by, in the shadows. Good one, Alexander. You got us. If you have surround sound, then try inviting friends over to watch this film who know nothing about it, and maybe they'll be just as trolled as we were. This is a consistent tactic used by the director. In Francofonia, Sokurov forces you to feel the friction of modernity against the fragile beauty of tradition. You'll have to learn to endure the discomfort. But the pain is good for you. It will only make you stronger.
Later on, the film returned to the friendship between Metternich and Joujard, and once again the fourth wall was broken as their post-war fate was revealed. I will leave it to Sokurov to fill you in. Suffice to say, Metternich was removed from his role at the Louvre. Like Ernst Jünger in occupied Paris, Metternich made use of delaying and distraction strategies to forego his orders to move a substantial amount of the art to Germany. By that time, he wished to keep them right where Napoleon had put them. After all, it was a part of all Europeans' heritage. He played the Anarch by attempting to transcend the authority of the state via exploiting its own behemoth bureaucracy. He also wanted an end to the war as soon as possible. I'm a fan of the Reich, but I understand the choices that Metternich and Jünger made when they were called into service. They were aesthetes during a time of fraternal slaughter.
We view both art and time through different mediums in Francofonia. Perspective is the fundamental underlying value of the film, and its exploration of this theme may change the viewer's entirely. But it is the music that gives the experience an emotional intelligence that we yearn for but often fall short of in so many other cinematic experiences. In Russian Ark, Sokurov uses the method of combining Russian compositions with the works of Purcell and Telemann. In Questions de Cinema (2008), a popular French documentary on the director, Sokurov remarked that:
When I call sound "soul" and image "legs," it must be understood as a poetic formula . . . and developed as such. Image is a symbol of what man has made, but sound always creates itself, continuously and surprisingly. It is exactly in sound where the greatest artistic changes are, as the future is in composers – not filmmakers – and it may not even [be] in painters but in composers, in music. Music has no boundaries, sound has no boundaries. There lays the beauty that the art of sound offers us.
The film's final fade to red was accompanied by a cacophonous performance of the Soviet national anthem, made to sound increasingly ominous as notes were missed and its tempo was lost. Red then turned to a rich blue, and the music fought for harmony. Wagner could be heard, pushing his way through like heavy infantry overcoming the enemies' ramparts. It was the struggle of progress against the sublime that we were hearing, and none of us can escape that struggle.
Francofonia represents a debate that is worth having – and one that whites are in sore need of having. My understanding of the issue actually comes from the first of Sokurov's museum films, Russian Ark. The title says it all: the Hermitage is an ark of culture surviving on the seas of time. This is what museums represent to Sokurov, and his work has made such an impression on me that I have come to understand things in the same way.
The art of the Louvre belongs there. It's part of the historical experience of the French people. These institutions must be protected from greed, from modernity, and – dare I say it? – from cultural appropriation.