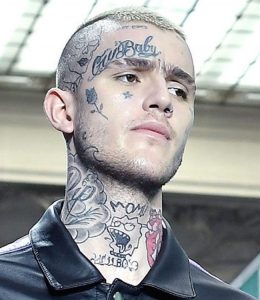 [1]1,063 words
"Lil Peep," born Gustav Elijah Åhr, died a year ago today, on November 15, 2017. Less than eighteen months earlier, he had become a popular musician worldwide through his truly unique blend of emo, hip-hop, and lo-fi.
Though his music is immediately attention-grabbing in its strangeness, it was still seconded by his appearance. A naturally handsome and youthful Nord, he was covered in tattoos, and I mean covered [2]. He had "Daddy" in Gothic lettering on his chest, near a marijuana leaf icon. Below this, there was his birthday, "11-1," and below that, "LOVE," with a sad face in the "O." He had "Miss" above one knee and "You" above the other. One set of knuckles read "HOME" and the other "SICK." He had a cross on one shoulder and an inverted cross on the other. His arms displayed a detailed piece in homage to his mother (his first tattoo, at age 14): a centipede, an Uzi, a sort of Mickey Mouse face relinquishing a tear with "MOOD" under it, a Nike brand swoop with "FLY SHIT ONLY" written inside it, and a jack o'lantern with untamed flames—to name a few. Meanwhile, his upper back read "EXIT LIFE" in huge letters. That's not mentioning anything on his neck, face, and head. His neck had Pink Panther, Lisa Simpson, and "RIP" in front of a huge puff of smoke, bats, a star, a dollar bill with angel wings, and the word "hellboy," which was a self-designated moniker and the title of his breakthrough album [3]. His head had a curious face drawn by the artist Ed Hardy on one side, and crossed race-car flags on the other.
His face was much adorned, with "Crybaby" (another moniker for himself, and the title of his first solo mixtape [4]) above his right eye, a star beneath it, and a black rose adjacent to that. His left cheek sported a large, red anarchy symbol with a very small broken heart and a cross just above it. Between his eyes was a horseshoe for luck, and along his hairline were the words "GET CAKE DIE YOUNG," which he has no memory of asking for, but just woke up with one morning.
Though on first consideration it might strike you as ironic, it was incredibly appropriate that he occasionally worked as a runway model. Nobody else on the face of the Earth looked like him, and he embraced and amplified his aesthetic with the kind of pride generally reserved for adolescents.
Lil Peep was in many ways emblematic of the postmodern West's fashionable nihilism. The Right is at odds with this nihilism, given that it advocates meaning and community. Nevertheless, I think it's interesting and valuable to focus in on this nihilism, as my earlier piece on suicide [5] was barking up the same tree.
Lil Peep always reminded me of nearly everyone with whom I spent teendom [6]: smart, creative, defiant, drug-addled, depressed, and incredibly self-destructive [7]. What Lil Peep managed to accomplish in his short life was exactly what everyone I knew who ever wrote a poem or started a band wanted: He turned his own personal unhappiness and rebellion into an art form, got famous, got paid, partied, and died at his peak (presumably). That is the highest ideal of untold millions of unhappy creatives across the country, from the guys dropping acid to become Hunter S. Thompson, to the girls praying to Marilyn Monroe as they turn on the Webcam and grab the dildo, to the queers memorizing Divine's lines in Female Trouble before a drag show. They are all just so many different attempts at discovering the alchemy that will make depression into art. The assumptions are that depression is unavoidable, and that through popularity (artistic, not personal), their depression will be validated and consoled. If that last part doesn't happen, it doesn't much matter, because with the newfound fame will come parties and drugs enough to let you die in a blissful blitz [8].
Lil Peep did this all perfectly. Like his tattoos, his songs are largely about misery and death, and reflect the randomness of contemporary pop culture. And as in his tattoos, people were drawn to them, fascinated by them, and loved them. Like Kurt Cobain, with whom critics aptly compared him [9], Lil Peep's lyrics kept his death from coming as a surprise. He died while touring for his album "Come Over When You're Sober (Part I)," which had lyrics [10] with this memorable chorus:
Sometimes life gets fucked up (fucked up)
That's why we get fucked up (we get fucked up)
I can still feel your touch
I still do those same drugs
Sometimes life gets fucked up (fucked up)
That's why we get fucked up (we get fucked up)
I can still feel your touch
I still do those same drugs
Another song [11] went:
Help me find a way to pass the time (to pass the time)
Everybody telling me life's short, but I wanna die (I wanna die)
Help me find a way to make you mine (make you mine)
Everybody telling me not to, but I'm gonna try
Now I'm getting high again, tonight
Perhaps most appropriate, though, would be the lyrics from the opening track of the album that put him on the map: [12]
And I got this vibe, I swear it's perfect to ride to
I wanna die too, we all wanna die too
I got this vibe, I swear she love gettin' high to
I love gettin' high too, I wanna hide you
How did I find you? I'll be inside, I'm makin' music to cry to
Oh, it's a lonely world, I know
Gon' get a lonely girl, that's fo' sho'
Oh, I'm a lonely boy, she made a lonely boy, yeah, I know
Oh, it's a lonely world, I know
Gon' get a lonely girl, that's fo' sho'
Oh, I'm a lonely boy, she made a lonely boy, yeah, I know
He died of a fentanyl-Xanax overdose at the age of 21. At the time of his death [13], "[his blood] tested positive for marijuana, cocaine and the painkiller Tramadol. His urine tested positive for all of those drugs, along with multiple powerful opiates, including Hydrocodone, Hydromorphone (Dilaudid), Oxycodone and Oxymorphone."
To reiterate: Lil Peep made it. His life was what modernity's dreams are made of, and across America, millions more would give just about anything to make it like he did—even their lives.