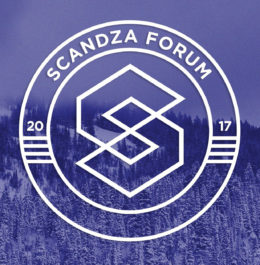 726 words
The Scandza Forum in Stockholm on April 7th was a huge success. One university professor who visited the event as a guest, and who has been active in nationalist circles since the early '80s, sent me this message:
Dear Fróði. I am proud of you and I am moved by your dedication. You must understand that I have been active since 1982 . . . and I have seen all kinds of examples of cowardice and opportunism, but at this event I found hope and courage . . .
One reviewer at AmRen wrote:
Attending Scandza reaffirmed my belief that more and more of our people are becoming aware of what is wrong with our societies, and realizing that nationalism is the solution.
We can think of no greater praise and nothing more motivating for the work we are doing. I want to thank all the speakers and attendees for making this happen.
The next Scandza Forum is just around the corner. On September 15th, we will do our first event in Copenhagen, thereby completing our mission to be active in all three Scandinavian countries. In the summer of 2017, we made the Scandza Forum the first major White Nationalist event in Norway, and with this upcoming conference, we are doing the same thing for Denmark.
As usual, we present a high-profile line-up of speakers:
Jared Taylor is returning to the Forum after his popular speech that took place in Stockholm this April. Mr. Taylor is the grand old man of white advocacy and without a doubt the foremost debater for our cause. Fluent in Japanese and French, and educated at the prestigious Yale University, Jared has dedicated more than 25 years of his life to bringing reason, dignity, and eloquence to the issues surrounding race in society. You will find his work in his several books on his website, amren.com. His latest book is If We Do Nothing (New Century Books, 2017). This will be Jared's second appearance on the Scandza Forum stage, and his first ever appearance in Denmark.
Greg Johnson, PhD, editor of Counter-Currents/North American New Right, and author of numerous articles and books pertaining to the destiny of the West. Dr. Johnson is one of the leading ideologists of White Nationalism and a first class speaker. He will be speaking on "Technological Utopianism and Racial Nationalism" and signing copies of his new book The White Nationalist Manifesto, which will be released on September 15th.
Helmuth Nyborg, professor emeritus of psychology at the University of Aarhus. Among other things, professor Nyborg has done research on the genetic heredity of intelligence and behaviour and he has written on "collective fraud" regarding the nature/nurture debate in academia. One of his debate articles in Danish mainstream media, from 2016, is titled "Danishness – culture or biology?". Professor Nyborg has previously spoken at AmRen and he recently appeared on an interview with Stephan Molyneux on the topic "Race, Genetics, and Intelligence." This will be his first speech at the Scandza Forum.
Matt Tait. A nationalist since 2004, Mr. Tait was a BNP party official until leaving in 2010. He has previously spoken at two AmRen conferences and has made several appearances on Red Ice Radio. In 2015, he gave a well-received speech in Stockholm at an event sponsored by Logik Förlag.
Christoffer Dulny, founder of the Nordic Alt-Right and former budget director of the Sweden Democrats. Mr. Dulny has a degree in law studies and runs a startup in e-trade. This will be his first appearance on the Scandza Forum stage.
In other words, this will be an unforgettable event – so make sure to register now!
We care about your safety, so all invitations are based on recommendation to make sure that everyone who attends does so with honest intentions. If you want to attend, please send me an email at: [email protected] for info on how to proceed with the registration. Remember to include your name (anonymous emails do not get a reply) and a reference to one person who can vouch for you.
If you have already registered, you can expect more information later this week.
Finally, allow me to thank our supporters and donors – you know who you are. It is with their help that the previous Scandza Forums, in Stockholm and Oslo, have been successful, and that we now are able to continue ever forward!
Sincerely
Fróði Midjord, Scandza Forum
We gratefully accept donations in Bitcoin: 1M2xWXpP4buMCxr8ANyAaHGz3tn9EmHLVv
Enjoyed this article?
Be the first to leave a tip in the jar!