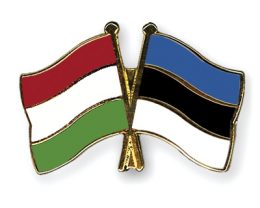 430 words
We, the Estonian nationalists apologize to the Hungarian people on behalf of the Estonian people for the actions of our representatives in the European Parliament. Under the spell of liberalism, they voted against the people of Hungary and in essence, against any notion of national self-determination that extends beyond the narrow globalist ideological boundaries of liberal democracy. Their votes do not represent the feelings of the Estonian people!
We see the Hungarian people as brothers, first because of our common Finno-Ugric ancestry, and also due to a shared historical experience in struggles against various multicultural empires over the last centuries. Those empires always attempt not only to extinguish the ethnic spirit, but also destroy its basis — the people. Today, this is expressed in the immigration agenda of the Brussels elite, which desires an amorphous, uncultured, grayish-brown, globalized Europe. Just as Hungary stood against the totalitarianism of Soviet homogeneity it now stands against an equally dogmatic liberal totalitarianism, which tolerates nothing it can't subvert.
In this, Hungary not only stands for Hungarians, nor only for its Finno-Ugric brothers, but for all European peoples who have been forced under the ideological dictatorship of Brussels. In opposing it, Hungary stands for a Europe that is in essence infinitely more than a mere legal arbitrariness. Like other nationally conscious Europeans, the Estonian people stand beside Hungarians in this existential struggle for the freedom and the future of our descendants.
Blue Awakening
Foreign Affairs Office of the Conservative People's Party of Estonia
Kiri Ungari Rahvale
Meie, eesti rahvuslased, palume ungari rahvalt vabandust oma saadikute eest Euroopa Parlamendis. Liberalismi lummutuses hääletasid meie eurosaadikud vastu nii ungari rahvale kui ka igasugusele rahvuslikule enesemääramisele väljaspool liberaaldemokraatia kitsaid globalistlikke ideoloogilisi raame. Nende hääled ei esinda seda, mida tunneb eesti rahvas!
Meie jaoks on ungarlased vennasrahvas: esiteks meie ühise soomeugri pärandi tõttu, teiseks ühise ajaloolise võitluse tõttu verinevate multikultuursete impeeriumide vastu viimastel sajandeil. Need impeeriumid üritavad alati mitte üksnes kustutada rahvuslikku vaimu, vaid ka hävitada selle alust – rahvast ennast. Täna väljendub see Brüsseli eliidi immigratsiooniagendas, mis seab sihiks vormitu kultuuritu hallikaspruuni globaliseeritud Euroopa. Nii nagu Ungari võitles Nõukogude ühetaolise totalitarismiga, võitleb ta nüüd sama dogmaatilise liberaalse totalitarismiga, mis ei salli midagi, mis talle ei allu.
Selles võitluses seisab Ungari mitte vaid ungarlaste, mitte vaid oma soomeugri hõimuvendade eest, vaid kõigi euroopa rahvaste eest, kes on allutatud Brüsseli ideoloogilisele diktaadile. Sellele vastu astudes kaitseb Ungari Euroopat, mis olemuselt kujutab midagi palju enamat kui vaid õiguslikku institutsiooni. Ühes rahvusteadvusele ärganud eurooplastega seisavad eestlased koos Ungariga ses eksistentsiaalses võitluses meie järeltulijate vabaduse ja tuleviku eest.
Sinine Äratus
Eesti Konservatiivse Rahvaerakonna välispoliitika toimkond