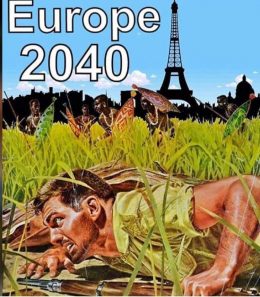 2,096 words
English original here
Si les tendances démographiques actuelles ne sont pas stoppées et inversées par le nationalisme blanc, la race blanche s'éteindra. Éventuellement. A long terme.
Mais cela pose un problème. Il est difficile de justifier des changements politiques fondamentaux aujourd'hui afin d'éviter des catastrophes qui ne se produiront que dans un avenir lointain. Un tel programme ne fait appel qu'au petit pourcentage de personnes qui ont la prévoyance de penser à l'avenir lointain et à l'altruisme de vouloir l'améliorer, même si elles n'en profiteront pas personnellement.
Mais la plupart des gens sont myopes et égoïstes. Ils ne pensent qu'au court terme et ont un très faible sens des responsabilités, même à l'égard de leurs propres enfants. Leur réponse standard à des problèmes comme l'extinction des blancs est : « Ça n'arrivera jamais de mon vivant, donc je n'ai pas à m'en soucier ».
Néanmoins, nous pouvons nous réjouir du fait que le mouvement environnemental est confronté au même problème, mais qu'il a connu un énorme succès. De plus, de petits groupes de personnes hautement idéalistes et altruistes font l'histoire tout le temps, souvent en exhortant les gens à ignorer l'intérêt personnel à court terme pour de plus grands biens à long terme.
En effet, ces élites pourraient être les seules à faire l'histoire. Après tout, les myopes et les égoïstes sont facilement dépassés. Les jeux longs battent les jeux courts, même à court terme. Et les idéalistes qui sont prêts à se sacrifier ont un avantage systématique sur les lâches et les égoïstes, toutes choses étant égales par ailleurs.
Mais même les mouvements les plus idéalistes doivent trouver des moyens de faire passer les masses par des appels à l'intérêt personnel à court terme. Heureusement, la diversité causera beaucoup de ruines dans les pays blancs avant que notre race ne s'éteigne. Ainsi, les nationalistes blancs peuvent faire appel à la fois à la menace à long terme du génocide blanc et aux conséquences négatives à court terme de l'accroissement de la diversité.
De plus, nos concitoyens n'ont pas vraiment besoin d'imaginer les conséquences du fait que les Blancs deviennent une minorité, parce qu'il y a d'innombrables villes, villes et régions où cela s'est déjà produit. Vous n'avez pas besoin d'une machine à remonter le temps pour visiter un avenir majoritairement non blanc. Vous avez simplement besoin d'un billet d'avion pour Detroit ou Los Angeles ou Londres, où l'avenir qui nous attend est déjà arrivé.
Cela rend notre travail éducatif beaucoup plus facile. Car nous pouvons simplement montrer à notre peuple l'anarchie, la corruption, la discrimination contre les Blancs, l'aliénation, l'effondrement des services publics, les banlieues infernales, les paysages urbains délabrés, les possibilités qui s'amenuisent et le désespoir omniprésent qui accompagnent le remplacement démographique des Blancs.
Et ce ne sont que des poches de mildiou au sein des pays du Premier Monde, majoritairement blancs. Pour apprécier ce que sera la vie une fois que les Blancs seront une minorité détestée et impuissante au sein d'un pays du Tiers Monde à majorité non blanche, il suffit de regarder les destins des Blancs en Rhodésie et en Afrique du Sud.
L'idée que notre avenir sera comme les minorités blanches d'Amérique latine est un vœu pieux, car ces sociétés sont essentiellement suprématistes blanches, et si les Blancs en Europe et en Amérique du Nord avaient de telles attitudes, nous ne serions pas confrontés à un remplacement racial en premier lieu.
L'appel le plus convaincant à l'intérêt personnel à court terme est de mettre l'accent sur les iniquités systématiques anti-blancs inhérentes au système actuel. Dans le jeu du multiculturalisme, les Blancs ne peuvent que perdre.
Imaginez la politique multiculturelle comme une partie de poker. Chaque groupe ethnique a une place à la table et un certain nombre de jetons, représentant sa richesse et son pouvoir collectif. Les Blancs ont actuellement la plus grande pile. Mais chaque groupe peut jouer un joker, « la carte de course », à l'exception des blancs. Peu importe l'importance de notre avantage initial, si nous respectons ces règles, nous ne pouvons que perdre.
Une autre façon de comprendre ce problème est en termes d'individualisme contrecollectivisme. Les Blancs ne peuvent pas jouer la carte de la race parce que nous sommes individualistes. Nous agissons en tant qu'individus. Nous croyons que nous devons réussir ou échouer en fonction de notre propre mérite individuel, et non en tant que membre d'un groupe. Nous croyons également que nous devons traiter tout le monde en tant qu'individu et non en tant que membre d'un groupe. Nous sommes aussi, franchement, terrifiés à l'idée d'être qualifiés de « racistes ».
Les non-blancs, cependant, peuvent jouer selon des règles différentes. Quand ils jouent la carte de la course, cela signifie simplement qu'ils travaillent en équipe. Ils exigent que les individualistes leur donnent un traitement équitable dans chaque transaction, et les individualistes les obligent. Ainsi, si des non-Blancs offrent le meilleur produit, le meilleur prix ou le candidat le plus méritoire, les individualistes leur remettent le prix.
Mais lorsque la situation est inversée et qu'un individualiste offre le meilleur produit, prix ou candidat à un non-blanc, ce dernier donnera la préférence aux membres de sa propre tribu partout où c'est possible, sans égard au mérite, sans égard à l'intérêt personnel à court terme. C'est parce qu'il pense en termes de maximisation du pouvoir collectif de sa tribu, ce qui pour lui l'emporte sur les inconvénients d'employer un cousin moins compétent.
Bien sûr, le tribaliste non blanc prétendra que sa décision n'est que méritocratie au travail, parce que s'il pratiquait des préférences tribales ouvertes, même les individualistes pourraient éventuellement se venger. Les tribus non blanches exigent que nous les traitions en tant qu'individus. Ils font semblant de se rendre la pareille. Mais pendant que nous pratiquons l'individualisme, ils pratiquent le tribalisme. Bref, ils nous trompent. La théorie des jeux prédit que tant que les Blancs joueront en tant qu'individualistes tandis que les non-blancs travailleront en tant que tribus, nous perdrons. Mais les individualistes sont lents à comprendre l'arnaque, parce qu'ils sont aveugles aux groupes.
La stratégie tribale peut aussi être assimilée au parasitisme. Une tribu parasite ne fait pas partie d'un corps politique plus large. Il s'agit plutôt d'une communauté distincte qui vit au sein d'une communauté plus large, une population hôte que la tribu parasite victimise à son propre avantage.
Tant que les Blancs continueront à jouer à ce jeu truqué, nous continuerons à perdre, jusqu'à ce que nous ayons cédé notre richesse, notre pouvoir, notre pays et tout contrôle que nous pourrions avoir sur notre destinée à des tribus non blanches – ou nous donnons un coup de pied sur la table et refusons de jouer à un jeu truqué contre nous.
Mais comment ? Il n'y a que deux solutions possibles.
Premièrement, nous pouvons en quelque sorte convertir les tribalistes non blancs en individualistes. Mais cela n'arrivera jamais, pour deux raisons. (1) Le système actuel est avantageux pour les tribus, alors pourquoi se débarrasser d'une stratégie gagnante ? Pourquoi voudraient-ils adopter un code moral qui les désarme à la même sorte d'exploitation par une autre tribu non blanche ? Pourquoi voudraient-ils être des perdants comme nous ? (2) Les sociétés blanches ont même renoncé à essayer d'assimiler les immigrants non blancs lorsque nous avons adopté le multiculturalisme et l'ouverture des frontières.
Deuxièmement, les Blancs peuvent adopter une stratégie tribale. Une société individualiste s'effondrera inévitablement si elle est piratée par des tribus parasites. Pour se protéger, les individualistes doivent se considérer comme un groupe, avec des intérêts distincts qui entrent en conflit avec ceux d'autres groupes qui vivent selon des codes différents. Dans ces affrontements, les Blancs doivent prendre notre propre parti. Même si nous considérons la politique de l'identité blanche comme un expédient temporaire pour restaurer une forme méritocratique et individualiste de la société, nous devons supprimer les tribus parasites de nos sociétés et empêcher de nouvelles tribus d'y entrer, ce qui exige que nous abandonnions le tabou dominant contre la politique de l'identité pour les Blancs.
Cela nous amène au problème des conservateurs : ils ne conservent rien. À long terme, les nationalistes blancs devront convertir les gens de tout le spectre politique, de gauche, de droite, de droite et du centre. Mais à court terme, notre électorat naturel est constitué de gens de droite, qui continuent de voter pour les partis conservateurs. Si vous ventilez les électeurs par race, les partis de centre-droite dans chaque pays blanc deviennent de plus en plus les partis des Blancs autochtones. Ce sont des partis identitaires blancs implicites, mais leurs dirigeants s'opposent catégoriquement à être explicites sur ce fait, et encore moins à l'accepter.
La gauche a été le fer de lance de l'ouverture des frontières et des politiques d'immigration de remplacement de la race, et ils reçoivent la grande majorité des votes non blancs. (Par exemple, lors de l'élection présidentielle américaine de 2016, Hillary Clinton a remporté 88 % des votes noirs, 69 % des votes asiatiques et 66 % des votes hispaniques – et elle était une candidate exceptionnellement faible. La gauche est d'ailleurs très ouverte sur les raisons pour lesquelles elle s'est engagée à créer une nouvelle majorité non blanche : les Blancs votent systématiquement pour les partis conservateurs ; une fois que les Blancs sont minoritaires, les partis conservateurs deviendront non éligibles et les valeurs de gauche triompheront. Dans ville après ville, district après district, état après état à travers les Etats-Unis, la marée montante de la couleur est en train de noyer le conservatisme, établissant un état à parti unique de gauche.
La réponse conservatrice dominante à ce plan flagrant visant à marécage démographique et à priver leur électorat est un mélange complexe d'illusion, de lâcheté et de trahison.
Premièrement, les conservateurs du courant dominant ne se rallieront jamais à la défense de leurs électeurs, car défendre les Blancs contre les non-blancs serait du « racisme » et de la « politique de l'identité blanche ». Les conservateurs sont heureux d'acquiescer et même de s'adonner à la politique identitaire non blanche, même s'ils savent qu'elle profite massivement à la gauche. (C'est maintenant une vieille blague en Amérique que le seul homme noir à un événement du Parti républicain est l'orateur principal. Mais les mêmes conservateurs sont absolument déterminés à maintenir le tabou sur la politique de l'identité blanche, même si c'est la seule chose qui peut les sauver.
Deuxièmement, pour échapper à l'accusation de politique identitaire, les conservateurs insistent sur le fait que leur but n'est pas de conserver un peuple particulier – Américains, Allemands, etc. De plus, ces valeurs sont censées être universellement valables, ce qui signifie qu'elles doivent s'adresser également aux personnes d'autres races et nations. Cela conduit à la conclusion absurde que si les Américains étaient complètement remplacés par des Mexicains, ce serait un triomphe du conservatisme tant que la nouvelle nation de bronze professerait sa foi en el Sueño Americano. (C'est « le rêve américain » pour vous Gringos.)
Il est facile de comprendre pourquoi la gauche promeut un tabou sur la politique de l'identité blanche : Les gauchistes savent que c'est la seule chose qui sauvera les Blancs du remplacement démographique. Il est cependant difficile de comprendre pourquoi la droite s'accroche à ce même tabou. J'avais l'habitude de penser que les conservateurs n'avaient pas de principes. Mais j'avais tort. Ils suivront volontiers le tabou sur la politique de l'identité blanche, quels qu'en soient les coûts. Malheureusement, cette règle a été truquée par leurs ennemis pour les détruire.
La stupidité suicidaire du conservatisme dominant est une énorme opportunité pour les nationalistes blancs de faire appel à l'intérêt personnel à court terme d'un grand nombre de Blancs.
Notre message est simple : comme les Blancs deviennent des minorités dans notre propre pays, il sera impossible pour les politiciens conservateurs de remporter des élections. Par conséquent, il sera impossible de mettre en œuvre des politiques conservatrices. Par conséquent, les choses que les conservateurs aiment disparaîtront. Aux États-Unis, cela signifie un gouvernement constitutionnel limité, la responsabilité fiscale, l'entreprise privée, la liberté d'expression, la liberté de religion, les droits des armes à feu, etc. Ces valeurs ont des prises de pied assez ténues même dans les pays blancs et sont presque inexistantes dans les pays non blancs. Si nous voulons préserver ces valeurs, nous avons besoin de politiques d'identité blanche aujourd'hui.
La clé pour gagner les conservateurs blancs à la politique de l'identité blanche – et éventuellement aussi les libéraux blancs – est de les convaincre que les choses qu'ils valorisent ne sont pas universelles, mais particulières aux Blancs. Nous n'aurons jamais le capitalisme américain ou un État providence scandinave si les personnes qui ont créé ces systèmes sont remplacées par des envahisseurs non blancs. Toute politique blanche – droite ou gauche – est une politique de l'identité blanche en fin de compte.
Source: http://grandfacho.com/a-court-terme/
Enjoyed this article?
Be the first to leave a tip in the jar!