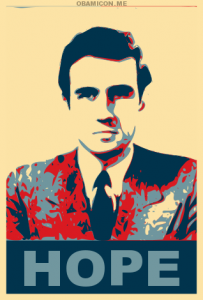 230 words
We have two remaining pieces missing from our anthology of Francis Parker Yockey's shorter writings, The World in Flames, and we are asking to see if any of our readers can help with them. The first is Yockey's "China estimate," that he wrote shortly before his death and which received limited circulation in photocopies in the 1970s. We've asked about this before, and we do have a lead on it, but if anyone else has a copy of it, it would help to expedite matters. 
The other thing is that we only have an incomplete copy of an essay entitled "Brotherhood" that was published in the National Renaissance Bulletin, the newsletter of James Madole's National Renaissance Party, in four parts in 1953. Frederick Weiss was listed as its author, but we believe it was written by Yockey himself. We have most of it, but part of the third segment, which appeared in the October 1953 issue, is missing from the copy we have. So far, contacting libraries that have copies of the Bulletin listed has been fruitless. If anyone has a copy of this issue or of the "China estimate," or knows where we might find one, please either post a comment below or else contact editor John Morgan at jmorgan [at] counter-currents.com.
Thank you from Counter-Currents, and both Yockey and future generations of readers will thank you as well!