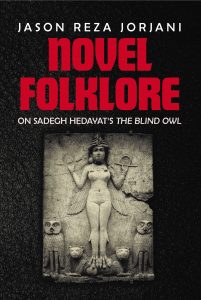 321 words
Jason Reza Jorjani
Novel Folklore: On Sadegh Hedayat's The Blind Owl
San Francisco: Counter-Currents, 2018
166 pages
Hardcover: $35
Paperback: $20
Kindle E-book: $5.99
Sadegh Hedayat's novel The Blind Owl is widely considered to be the greatest work of modern Persian literature. Often compared to the classics of Existentialism and Gothic horror, The Blind Owl is widely believed to be cursed, so that anyone who reads it seriously is driven to suicide. This belief is no doubt influenced by Hedayat's own suicide in Paris in 1951.
In Novel Folklore, Jason Reza Jorjani, whose grandfather was best friends with Hedayat, offers a revolutionary interpretation of The Blind Owl. Jorjani reveals Hedayat's complex appropriation and adaptation of libertine Gnostic and antinomian Tantric ideas and argues that he aimed to reestablish Iran's perennial role as the cultural crossroads of the Western world and the Indo-Buddhist East.
On Jorjani's reading, The Blind Owl is ultimately about the "Imaginal" metamorphosis of humans into higher beings. These beings are addressing us from our own future. We think of them as "aliens" because we are alienated from our own future possibilities. Their business here is to re-write their past by re-engineering the folkloric substratum of human consciousness and identity.
Jason Jorjani's Novel Folklore is a stunningly original interpretation of The Blind Owl and an original philosophical work in its own right.
Contents
Introduction – 1
Chapter 1. An Untimely Madman's Angel of Destiny – 14
Chapter 2. Soul Mates & Psychic Shadows – 37
Chapter 3. Poisoned Wine & the Serpent Power – 71
Chapter 4. The Eighth Clime – 91
Chapter 5. Star Blood – 117
Index – 155 (print edition only)
About the Author – 158
About the Author
Jason Reza Jorjani, Ph.D. is a member of the Society for Scientific Exploration (SSE) and a Senior Advisor to the Executive Committee and Board of Trustees of the Persian (Iranian) Renaissance Foundation. His first book, Prometheus and Atlas, won the 2016 Book Award from the Parapsychological Association (PA). He is also the author of World State of Emergency and Lovers of Sophia. His website is jasonrezajorjani.com.
Enjoyed this article?
Be the first to leave a tip in the jar!