1,397 slov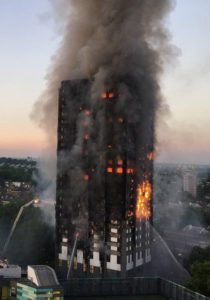 English original here
Fakta sice jsou důležitá, mnohem důležitější ale bývají příběhy. Fakta – izolovaná data – lze snadnou zapomenout, ale příběhy se shlukují do infrastruktury našeho světonázoru. Jejich prostřednictvím si utváříme tento světonázor, který následně ovlivňuje, jaké příběhy vyslechneme v jakési nekonečné smyčce zpětné vazby – a právě proto má kontrola nad narativem tak nenahraditelný význam.
Když ráno 14. června vyšlehly plameny z Grenfell Tower, příběh se fakticky psal sám: nejchudší lidé v zemi žijící hned vedle těch nejbohatších. První veřejně identifikovanou obětí byl syrský uprchlík Mohammed Alhajali. O dvě míle dál si někdo nedávno koupil střešní byt ve věžáku na 3 Merchant Square za sedm a půl milionu liber – snad jeden z ruských oligarchů, oněch polomytických stvoření, která si zřejmě jen tak z rozmaru kupují tucty drahých nemovitostí v nejlukrativnějších částech Londýna. Příběh dvou měst, příběh dvou imigrantů.
A tím náš příběh zdaleka nekončí: obyvatele domu na 3 Merchant Square chrání detektory kouře a automatické protipožární systémy v každém bytě, zatímco chudí nájemníci Grenfell Tower žádné automatické hasicí systémy nemají a musí jim stačit jen pár vadných detektorů kouře. Co hůř, loni proběhla v Grenfell Tower rekonstrukce, která měla vylepšit její vzhled při pohledu zvenčí (tj. pro zájemce o ony luxusní byty). A jak už dnes víme, (protože se z nás v průběhu posledních dní bez výjimky stali experti na obložení patrových budov), vnější zateplovací vrstva na Grenfell Tower podle všeho zafungovala jako komín a rozšířila tak oheň po celé budově.
Před našimi zraky se tak odvíjí příběh obyvatel chudé imigrantské favely: na její bezpečnosti nikomu nezáleží, ale její oku nelahodící budovu je třeba být nebezpečně zamaskovat tak, aby neurážela jemnocit milionářů ze sousedství. Z tohoto narativu se pak bezodkladně a bez sebemenšího úsilí zrodil další: ten o krvelačných rasistických toryích bez srdce, kteří etnicky čistí Kensington a Chelsea. První popsaný narativ sice úplně nepostrádá opodstatnění, jeho automatický přerod do dalšího však svědčí o tom, do jaké míry a hloubky proniklo levicové smýšlení napříč celým politickým systémem. Na chudé totiž kašlou levicové i pravicové vlády, vina je za to však zdá se přičítána jen pravici. Přestože jsou všechny hlavní politické strany v Británii neoliberální sociální demokraté, levici se podařilo z požáru Grenfell Tower vytěžit politický kapitál, protože se jí daří udržovat při životě auru bojovníků za práva slabých i mýtus o navrácení moci do rukou lidu. Odtud také pramení Corbynův úspěch. Pravice si zachovává svou víru v neoliberalismus, své svědomí však utišuje sociální demokracií. Přestože ve svém srdci vyznává a upřednostňuje neoliberalismus, chybí ji odvaha Thatcherové stát si za pravicovými příběhy o příležitosti a nezávislosti, a v zásadě se tak s levicí shoduje na tom, že neoliberalismus vede k ostudným kontrastům, jako byl ten odhalený v severním Kensingtonu. Jedině na levici tak lidé v prostředí britské politiky nalézají alespoň nějakou pozitivní vizi, což začíná vytvářet své vlastní smyčky zpětné vazby.
Grenfell Tower postavili roku 1974 v brutalistickém stylu. Toto pojmenování vzešlo z francouzských slov béton brut, tedy surový beton, a označuje architektonický styl typický průmyslovými stavebními postupy, využitím prefabrikovaných konstrukcí a modernistické estetiky, který se vyžívá v drsných, hranatých formách a smělých rovných i nepravidelných tvarech. Veřejnému mínění tento směr k srdci nikdy nepřirostl, což ostatně ani nebylo jeho primárním cílem. Hlavní příčinou poválečného stavebního boomu v Británii bylo ohromné množství za války zničených domů a všechny poválečné vlády si tak coby svou prioritu vytknuly postavit dostatečné množství obytných jednotek, aby tento nedostatek vyrovnaly. Při pohledu zpět je celkem snadné odhadnout, že výstavba paneláků se sociálními byty poslouží jako semeniště zločinnosti a společenského rozkladu, ale neměli bychom zapomínat na idealistický přístup, který autoři k projektům ve své době zaujímali. Futuristická estetika moderní architektury obecně a brutalismu především byla neoddělitelně spojena s vírou ve společenský pokrok a technologické inovace, a proto je Britové z dělnických tříd, kteří v těchto budovách měli žít, často vítali s nadšením. Do jisté míry pak byly projekty poválečného sociálního bydlení ovlivněny i staršími utopickými idejemi zahradních měst (garden cities) a modelových vesnic (model villages).
V posledním desetiletí se brutalismus poznenáhla začíná znovu vracet do módy, což se ukázalo mj. v několika místních iniciativách za záchranu významných památek poválečné architektury. Z Balfron Tower Ernő Goldfingera se stal magnet přitahující mladé a bohaté "gentrifikátory", jejichž příliv dále přiživuje narativ o sociální čistce. Proto se rozhodnutí, že vnějšek Grenfell Tower je třeba obložit, a tak skrýt její brutalistickou podobu, jeví jako poměrně ironické. Nová úprava totiž dodala věžáku vzhled budovy postavené v mezinárodním stylu: sklo a ocel, k nerozeznání od ostatních velkoměst světa. Ironie v tomto případě spočívá v tom, že mezinárodní styl sám je dnes oproti brutalismu, který se mezi vlivnými mladými vizionáři stal nesmírně de rigueur, dosti zastaralou architektonickou formou. Kromě toho bychom měli také zmínit, že v průběhu vývoje modernistické architektury patřily drsné a ošlehané betonové exteriéry neodmyslitelně k sociálnímu bydlení, zatímco uhlazené skleněné povrchy se staly tváří byznysu a obchodu. Jako by tak mělo vnější obložení skrýt to, že budova slouží k bydlení, vymazat z obrazu přítomnost jejích obyvatel; přání, jež se v infernu 14. června naplnilo měrou víc než vrchovatou.
I zde se příběh píše sám. Z řetězu utržené neoliberální síly bez milosti strhávají všechny překážky neomezeného toku globálního kapitálu. Čím rychleji tak všechno sociální bydlení vyhoří (a uvolní tak místo plnému zhodnocení hodnoty pozemků, na nichž stojí), tím líp. Tento příběh pěkně zapadá na pravolevou osu. Jeho odvrácená strana, tedy příběh lidí přivlečených do Londýna přes půl světa globálním kapitálem, jako by ale do tohoto příhodně prefabrikovaného obrázku příliš nepasoval. Právě skrz tuto asymetrii mezi globálním pohybem kapitálu a globálním pohybem lidí bychom ale měli načrtávat nový náhled na politický systém, protože globální tok kapitálu i lidí jsou jen na různých úrovních probíhající projevy téhož fenoménu. Předstírat spolu s levicí, že lze současně vystupovat proti kapitalismu a přitom podporovat volný pohyb osob, je vrchol pokrytectví. Ve srovnání s přitažlivou silou mýtu ale přece jen toto pokrytectví i fakt, že nabízené falešné řešení by ve skutečnosti problémy, jež chce údajně vyřešit, ještě dále zhoršilo, rychle bledne.
Zdá se mi, že každé protikapitalistické hnutí či tendence by si měly dát velký pozor, čím že se to vlastně zaklínají. Globální kapitalismus mi totiž nápadně připomíná předpovídanou umělou inteligenci – singularitu, tedy okamžik, kdy kapacita strojů překoná lidské možnosti a stroje se ujmou vlády nad planetou. Není to ale právě něco, co se kapitálu už povedlo? Dávno přerostl veškeré metafory a skutečně se z něj stala samu sebe regulující mašinérie, která se krmí lidskou kořistí. Kdokoliv se tak pokusí zmírnit dopad společensky škodlivých účinků kapitalismu, měl by se držet oblastí, jež dosud zůstávají pod naší kontrolou. Znovunabytí kontroly nad hranicemi – v tom spočívá skutečný význam Brexitu.
Bohatí hipsteři uplatňující na brutalistickou architekturu svůj specifický druh historického revizionismu mají nepochybně pravdu v jedné věci: provinční – i když třeba ošklivé – je lepší než internacionalistická šeď. Zajištění hranic nezastaví pohyb kapitálu (to ostatně ani není jeho smyslem), ale mohlo by nám poskytnout příležitost vytvořit si naši vlastní provinciální smyčku zpětné vazby v rámci většího mechanismu. K tomu však bude zřejmě třeba přehodnotit, co to znamená být občanem – a možná dokonce i nastavit imigrační politiku, která ve své úplnosti nevychází ze sebevražedného šílenství.
Vraťme se ale ke Grenfell Tower: tento typ sociálního bydlení vznikl jako labouristická inciativa, k níž se ale brzy přidali i konzervativci. Bylo to nezbytné řešení poválečného nedostatku bytů. Problém dostupného bydlení existuje v Británii i dnes a před nedávnými volbami slíbili labouristé postavit další půlmilion obecních bytů/domů, přestože by se nabízelo mnohem zjevnější a ekologicky přijatelnější řešení: utlumit poptávku omezením počtu lidí, kteří přicházejí do země. Rizika tohoto modelu "víc kapitálu/víc imigrace se navíc neomezují jen na problémy s přelidněním a stoupající náklady na údržbu, ale přelévají se i do podstatně temnějších společenských jevů jako Rochdale a šíření džihádu.
Správnou reakcí na Grenfell Tower by tedy byl tvrdý Brexit, aby se počet obyvatel mohl stabilizovat a předešlo se tak nutnosti stavět velké množství nových bytů a domů. Zdroje pak bude možné alokovat (a ještě štědřeji) těm, kdo už dnes žijí v sociálním nebo nájemním bydlení. Něco takového by bylo pro pravici pozitivním a zároveň dosažitelným cílem – musela by však učinit rozlišení "my/oni", na což jí v minulosti opakovaně scházela pevná páteř. Přešlap elit s referendem o Brexitu nám však nabízí skvělou příležitost k propagaci vlastní politiky: politiky soudružnosti a stability společnosti vycházející ze silných hranic. Toto pozitivní poselství pak může napomoci k vytvoření skutečně morálního narativu, který by mohl nahradit ten stávající, tj. prázdný farizejský moralismus.
Překladatel: Tomáš Kupka
Source: https://deliandiver.org/2017/08/architektura-a-moralka-zkaza-grenfell-tower.html
Enjoyed this article?
Be the first to leave a tip in the jar!