1,331 words
English original here
Je tomu již asi dvacet let, kdy jsem poprvé zaznamenal, že přání "Veselé Vánoce" bylo postupně nahrazováno neslanými nemastnými termíny "Sezónní pozdravy" (Season's Greetings) a "Veselé prázdniny" (Happy Holidays). 
Zeptal jsem se učitelky jednoho mého známého, která je jako zatvrzelá liberálka neomylným ukazatelem aktuálních proudů politické korektnosti, proč se tomu tak děje. Na můj dotaz odpověděla otázkou: "Pokud byste byl Žid, neurazilo by vás, pokud by vám někdo přál Veselé Vánoce?" Pronesla to tónem, který předem stvrzoval, že musíme takovým urážkám zabránit za každou cenu a že jsem hlupák, pokud se na to i jen ptám. Evidentně strávila příliš mnoho času podobným kázáním ke svým studentům.
V duchu jsem pomýšlel, "Nevadilo by mi, pokud by mi Žid přál Veselou Chanuku. Naopak, pokud by mi to vadilo, byl by to výraz omezenosti. Proč by tedy měl být nějaký Žid dotčen, pokud bych mu popřál Veselé Vánoce? Co činí Židy natolik odlišnými? Proč mají lidé tendenci být tak omezení?"
Stejně tak jsem si myslel, "Neměl by pluralistický, liberální postoj logicky obsahovat mnoho odlišných svátečních přání, namísto jednoho bezvýrazného, unifikovaného?"
Rovněž jsem si povšimnul stále častějšího užívání zkratky "X-Mas," dokonce i na pohlednicích, letácích ve výkladních skříních a reklamách. Zkratky jsou naprosto přirozené v ručně naškrábaných poznámkách nebo e-mailech. Je však ignorantské, používat je při formálnějších, slavnostnějších příležitostech. Zajímalo mě, co motivuje toto společenské faux pas. Proč lidé doslova vyškrtávají Krista z Vánoc ("X"ing "Christ" out of "Christmas")? Je to jen další z příznaků sekularizace a komercionalizace Vánoc? A kdo je za tímto trendem? Jsme svědky nějakých protikřesťanských úkladů?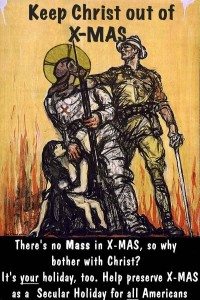 Vyškrtnutí Krista byl jen začátek
V nedávné době se objevilo více zpráv o potlačování křesťanských Vánoc v Británii a Spojených státech, s cíle uspokojit zvyky protikřesťanských minorit. Například v roce 2002 byla každoročně (od roku 1945) pořádaná "vánoční přehlídka" v alabamském městě Mobile přejmenována na "Veselou sváteční přehlídku" ("Jolly Holiday Parade"). Pořadatelé akce prohlásili, "že chtěli více všeobecnejší ("inkluzivní" – další magické slovo v arzenálu multikulturalistů – pozn. překl.) název, jelikož toho roku přehlídka zahrnovala i židovskou Chanuku a africký svátek Kwanzaa, současně s tradičními Vánoci [sic]."
Ztrácime Vánoce abychom se zalíbili těm, co slaví svátek Kwanzaa? Odpověď zní, ne.
Kwanzaa je náhražkový africký svátek, vymyšlený v roce 1966 americkým černochem, známým pod jménem Maulana Ron Karenga. Kwanzaa je zamýšlena jako africká náhražka Vánoc. Jedná se o týden trvající svátek, od 26. prosince do 1. ledna, kdy se oslavuje jednota (ne diverzita, ta je jen pro nás), sebeurčení, kolektivní práce, odpovědnost, družstevní ekonomiku, účel, kreativita a víra (typicky africké hodnoty, díky jimž africký kontinent odedávna vzkvétá a prosperuje – pozn. překl.)
Potud většina lidí dopřává tomuto svátku sluchu. Je zde však jeden zádrhel – typické pro tento svátek je zapalování svíček na sedmiramenném svícnu zvaném kinara. Kinara má připomínat menoru, jen s počátečním písmenem "k", jako Kwanzaa. Chápete to? Původ jména jen svědčí o tom, jak dětinská, vyumělkovaná a nepůvodní Kwanzaa je. Dokonce i ti nejvíce povýšenečtí liberálové obrací oči v sloup.
Avšak stupidita není na překážku v dnešní Americe a tak je Kwanzaa na pomalém vzestupu. V roce 1997 vydala americká pošta známku k příležitosti svátku Kwanzaa. Obchodníci vidí v Kwanzaa potenciální profit, a proto také i politici. Jako první začal s projevy u příležitosti svátku Kwanzaa Bill Clinton a tento zvyk pokračoval i za "konzervaticního" prezidenta George W. Bushe.
Není to však Kwanzaa, co ničí Vánoce. Většina Američanů doposud o tomto svátku neslyšela a žádný bílý Američan o tom nepřemýšlí bez pocitu trapnosti. Pravděpodobně i bílí liberálové pravděpodobně nad Kwanzaa radši vůbec nepřemýšlí a nemají to v podvědomí, když vám srdečně přejí "Veselé prázdniny!" Kromě toho, většina černochů, kteří slaví Kwanzaa zřejmě slaví i Vánoce a je nepravděpodobné, že by cítili nutkavou potřebu horlivě obhajovat Kwanzaa pokud bychom jim popřáli "Veselé Vánoce!"
Ne, jsou to Židé, kdo ukradl Vánoce. Kwanzaa jen napodobuje Chanuku. Chanuka je jeden z méně významných židovských svátků, který oslavuje, jako většina židovských svátků, masakr domácích, kmenových nepřátel. Jsou to především Spojené státy, kde je Chanuka prosazována jako židovská konkurence vánočním svátkům.
Důvody pro to zůstávají nejasné. Jedním může být crypsis ("ukrytí"), snaha některých Židů rozplynout se mezi hostitelskou populací. Crypsis je nepochybně hlavní hnací silou reformního judaismu. Reformní synagogy dokonce převzaly okenní vitráže a varhanní hudbu s cílem vytvořit dojem, že judaismus je jen jednou z dalších "židovsko-křesťanských" denominací.
Dalším důvodem může být rivalita. Židé prostě uznávají přitažlivost Vánoc a chtějí své děti zanaprázdnit nějakou jinou činností během vánočních svátků.
Nevraživost zřejmě také hraje roli.
Zaprvé je zde zášť věčného vydělence (outsidera), který se snaží vyvarovat nepříjemných pocitů a cítit se v klidu, a toprostřednictvím smazání rozdílu mezi příslušností (insider) a vydělením (outsider). Aby toho mohl dosáhnout, musí zničit dominantní symboly hostitelské kultury. Žid se cítí cize (vyděleně ze společnosti), když mu popřejete "Veselé Vánoce," a naopak, potěšeně, když řeknete "Veselé prázdniny". Je tímto navíc potěšen, neboť je to ukázka jeho kulturní a politické moci.
A pak je zde jedna specifická zášť, kterou Židé chovají vůči křesťanství. Existují k ní přinejmenším tři důvody. První, Ježíš byl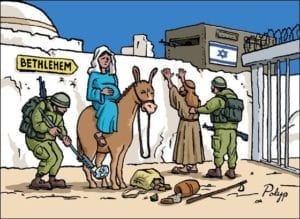 Tak by to asi vypadalo dnes..
židovský odpadlík a nikdo nemá rád odpadlíky. Druhý, Ježíš odmítl judaismus pro jeho tribalismus, nelidskost a intelektuální nepoctivost a tato pravda bolí, proto Židé nenávidí Ježíše jako posla špatných zpráv. Třetí, ačkoli je dnes islám vůči Židům nejodolnějším náboženstvím – a křesťanství nejvíce trapně apologetické a podrobující se – tato skutečnost je problémem až od doby, kdy byl založen stát Izrael. Do té doby žili Židé v muslimských zemích v bezpečí, zatímco byli vyhnáni prakticky z každé křesťanské země v Evropě. Pátá kapitola knihy Israela ShahakaHistorie a náboženství Židů obsahuje poučné ukázky židovských názorů na nežidy, včetně srovnání židovských názorů vůči křesťanům a muslimům.
Žid Philip Roth je autorem brakových románů, které však nicméně s brutální otevřeností odhalují židovské myšlenkové pochody. Ve svém díle Operace Shylock škodolibě poznamenává: "Bůh dal Mojžíšovi desatero přikázání a poté Irvingu Berlinovi 'Velikonoční přehlídku´ a 'Bílé Vánoce', dva svátky, které oslavují božský původ Krista – a co Irving udělal? Oba je Krista zbavil! Velikonoce změnil v módní přehlídku a Vánoce v prázdniny, které jsou jen o sněhu."
Jak si tedy vezmeme Vánoce zpět? Zaprvé, uvedu na pravou míru své motivy. Byl jsem vychováván jako křesťan, nicméně to nikdy nezabralo. Přál bych si křesťanství, které by se nepletlo do politiky a také bych z duše nenáviděl žít v netolerantní křesťanské společnosti. Upřímně řečeno, byl bych radši, kdyby si naši předkové udrželi sva pohanská náboženství. Samozřejmě, Vánoce obsahují mnoho starodávných evropských pohanských prvků, stojí však za povšimnutí, že zastánci multikulturalismu nevyvíjí žádnou snahu o uchování germánského svátku Yule, římských Saturnálií nebo oslavu narození solárního boha Mithry. Multikulturalisté totiž neobhajují nic, co má spojitost s bílou rasou a Evropou.
I přesto mám však Vánoce velmi rád. V čase, kdy dny se krátí a počasí drsní, je příjemné si vytvořit prostředí dobré mysli a vůle. Moje námitky jsou v podstatě kulturního a ne náboženského rázu. Jen prostě nenávidím nečinně přihlížet, jak homogenizující, sekularizující a nivelizující síly modernity ničí náboženství, i když je to náboženství, které nevyznávám.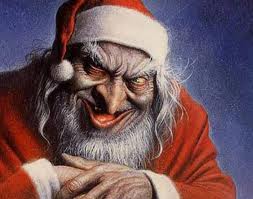 Veselé prázdniny! Výprodeje začínají!
Co tedy dělat? Zaprvé, ačkoli jsou Židé hnací silou v boji za zničení Vánoc, jsou jen nepatrnou minoritou, neoblíbenou a nemilovanou. Veškerý jejich nátlak, vyvíjený po celém světě by neslavil triumf, pokud by Evropané nebyli tak snadným soupeřem. Zadruhé, incident s "Jolly Holiday Parade" v alabamském městě Mobile je nám příkladem. Nežidé se ohradili: "na základě telefonních a e-mailových výhrůžek od obyvatel města, kteří jsou proti přehlídce bez Vánoc v jejím názvu … společnost Mobile Christmas Parade Inc. … oznámila, že se přehlídka tento rok nebude konat. … Tři hodiny poté, dobrovolníci z Main Street Mobile, městem založené organizace za účelem podpory aktivit v centru města, oznámili, že přehlídka se konat bude a to pod názvem Mobile Christmas Holiday Parade."
Letos dávám najevo svůj odpor lehkým, avšak nekompromisním způsobem. Přeji lidem při každé příležitosti Veselé Vánoce, obzvláště poté, co mi lidé přejí "Veselé prázdniny". Přeji Veselé Vánoce i svým ateistickým a odinistickým přátelům.
Tudíž, s touto dlouhou předmluvou na mysli, od jednoho infidela druhému: "Veselé Vánoce!"
Source: http://deliandiver.org/2013/12/vesele-vanoce-infidelove.html