Avant-propos à Kerry Bolton, Artists of the Right
Greg Johnson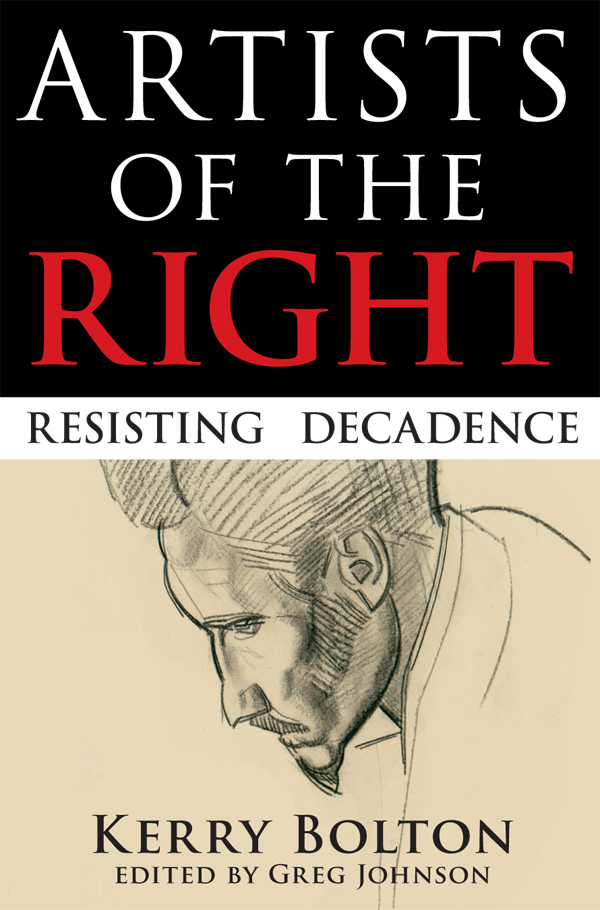 511 words
Les gens de gauche pensent que leur croyance en l'égalité humaine les rend meilleurs que le reste d'entre nous. Ils sont particulièrement attachés à l'idée qu'ils ne sont pas seulement le parti de l'humanité, mais aussi celui des élites intellectuelles et artistiques. C'est donc un profond embarras pour la gauche que quelques-uns des plus grands esprits créatifs du XXe siècle – incluant des modernistes de premier plan – étaient des hommes de droite, et pas seulement des conservateurs, mais des fascistes, des nationaux-socialistes, et des compagnons de route. 
Le livre de Kerry Bolton, Artists of the Right: Resisting Decadence [Artistes de droite : résister à la décadence], se concentre sur dix grandes figures littéraires du XXe siècle : D. H. Lawrence, H. P. Lovecraft, Gabriele D'Annunzio, Filippo Marinetti, W. B. Yeats, Knut Hamsun, Ezra Pound, Wyndham Lewis, Henry Williamson, et Roy Campbell.
Les dix étaient immensément doués. Yeats et Hamsun remportèrent le Prix Nobel de littérature. Lawrence, Pound, Marinetti, et D'Annunzio furent des figures de premier plan à leur époque. Campbell, Williamson, et Lewis (ce dernier étant aussi un peintre de première force) eurent des audiences plus petites mais intensément fidèles, alors que la renommée croissante de Lovecraft est presque entièrement posthume.
Comme Joseph S. Salemi l'a remarqué, l'indépendance d'esprit qui permit à ces artistes de rompre avec l'orthodoxie de gauche les empêcha aussi de former une nouvelle orthodoxie de droite. Ils étaient en désaccord sur de nombreuses questions,  incluant la religion, l'économie, et les moindres points de l'idéologie politique.
Cependant, ils étaient tous sans exception unis dans leur rejet de l'égalité humaine – la racine commune du capitalisme et du communisme – et dans leur affirmation d'un modèle hiérarchique de société. Mais ils recherchaient une société hiérarchique libre de l'exploitation et des distinctions injustes, défendant un modèle organique de société dans lequel toutes les parties devaient servir le bien commun de l'ensemble. Enfin, ils étaient unis dans leur rejet de l'individualisme atomiste, bien qu'ils affirmaient aussi la possibilité d'un individualisme créatif et héroïque.
En tant qu'hommes de droite, ces artistes rejetaient la décadence moderne et cherchaient à préserver et à restaurer des formes sociales pré-modernes à l'intérieur du contexte de la modernité. En tant qu'artistes, ils exploraient souvent la décadence moderne depuis l'intérieur, même s'ils manifestaient le désir de quelque chose de supérieur : une forme de vie caractérisée par la santé, la beauté, la complétude, et la sacralité, basée sur les modèles de l'Antiquité classique, du Moyen Age, ou du monde naturel. Ils combattaient aussi la décadence en cherchant à libérer les forces créatives vitales emprisonnées par les traditions artistiques ossifiées, donnant souvent naissance à des formes surprenantes de modernisme, incluant le vorticisme et le futurisme.
A l'exception du chapitre sur Lovecraft, Artists of the Right est composé d'essais largement enrichis et réécrits provenant du précédent livre de Kerry Bolton, Thinkers of the Right: Challenging Materialism [Penseurs de droite : défi au matérialisme]  (Luton, England: Luton Publications, 2003). Un volume jumeau sera consacré à T. S.  Eliot, Yukio Mishima, Rex Fairburn, P. R. Stephensen, au comte Potocki de Montalk, et à d'autres.
Enjoyed this article?
Be the first to leave a tip in the jar!